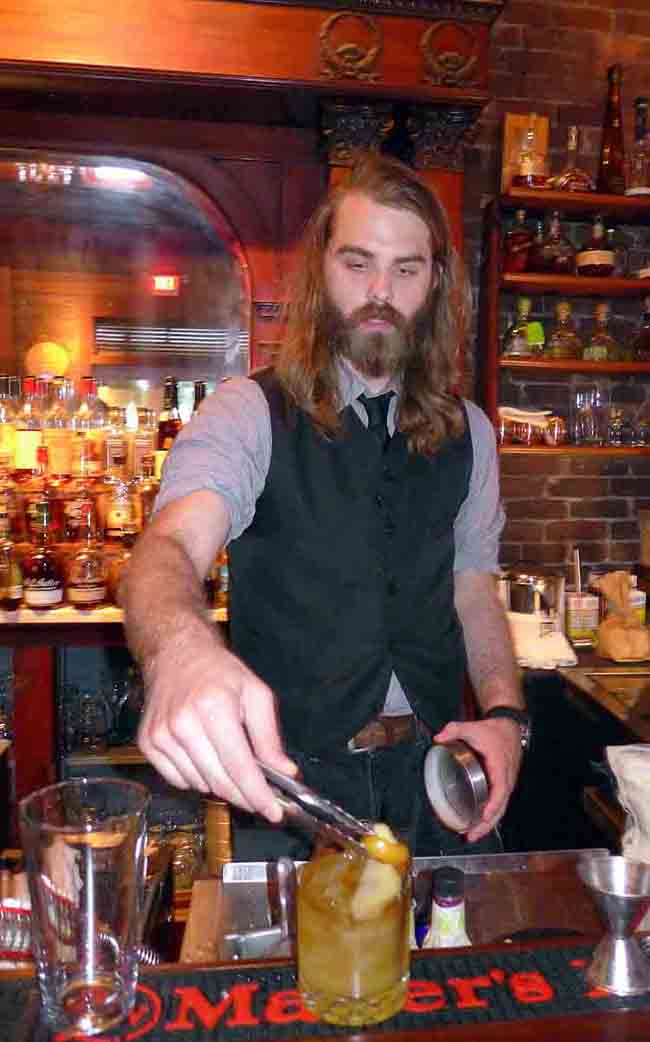 Among the bourbon craft cocktails we tasted in Lexington, one of the most intriguing was the Blue Heron 46, a house specialty at the Blue Heron Steakhouse (185 Jefferson St, Lexington, Kentucky; 859-254-2491; blueheronsteakhouse.com). The menu describes the drink as Maker's 46 (a smoother, woodier version of Maker's Mark with more pronounced caramel notes) with handmade apricot ginger syrup served on the rocks. How do you make that syrup? Bartender Seth Kinder—the "Hell on Wheels" character mixing a drink here—was downright coy.
He did suggest that the syrup was made by cooking down a pound of apricots with sugar and water, and an equal amount of fresh ginger also boiled in syrup. We'd make it like this. Combine 1 pound of dried apricots and two cups of coarsely chopped fresh ginger and process in a food processor. In a large saucepan, combine two cups of sugar and one cup of water. Heat and stir until sugar dissolves. Add the apricot-ginger mixture and cook over medium heat until mixture comes to a boil. Simmer for 10 minutes and strain, reserving the liquid.
Here's the recipe as we observed Kinder making it. Experiment a little. It's basically an especially sweet apricot whiskey sour.
BLUE HERON 46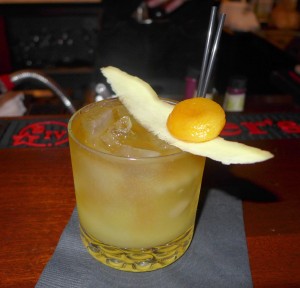 1 1/2 oz. Maker's Mark 46
1 1/2 oz. sour mix (equal parts lemon and lime juice with simple syrup)
juice of a half lemon
1 1/2 oz. apricot ginger syrup
raw ginger
dried apricot
Combine ingredients with ice in a cocktail shaker and shake until well blended and chilled. Strain into a rocks glass half filled with ice cubes. Garnish with thin slice of raw ginger and rehydrated dried apricot.
—
With the Breeder's Cup coming up at Keeneland (www.keeneland.com) in Lexington, Kentucky, at the end of October, we bet a lot of folks will be drinking the racetrack's signature bourbon cocktail. The Keeneland Breeze drinks sweet, citrusy, and deceptively light. (A few of these could have you staggering down the back stretch of the evening.) It's a genuine breeze to make. Since Maker's Mark is one of the sponsors of Keeneland, that's the bourbon that track bartenders use. To make it light, prepare in a highball glass. For a stronger breeze, use a rocks glass.
KEENELAND BREEZE

1 1/2 oz. Maker's Mark
1 oz. Triple Sec
splash orange juice
ginger ale
orange round
Fill glass about two-thirds full with ice and add bourbon and Triple Sec. Pour in a splash of orange juice and fill glass with ginger ale. Attach orange round as a garnish.