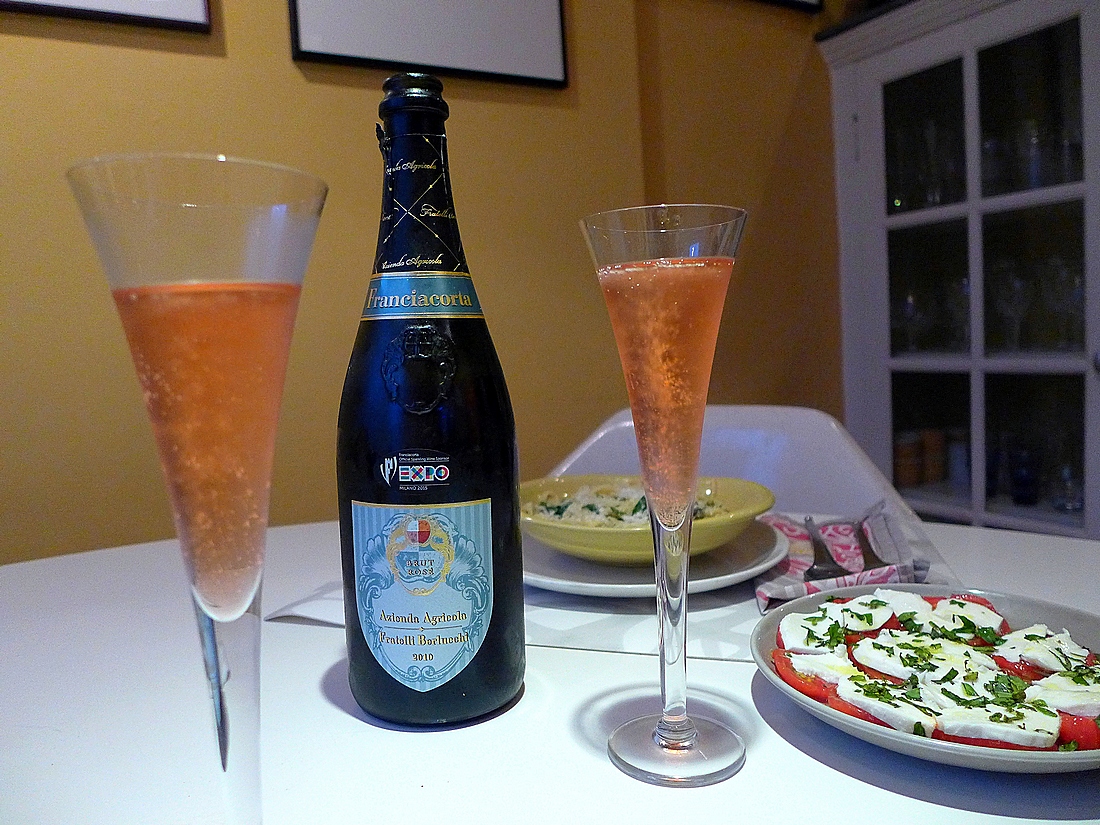 Contrary to common usage, there's nothing like real Champagne, the sparkling wine made in a delimited area in France. We'd suggest that there is also nothing like Franciacorta, the elegant and more affordable sparkling wine made in the Lombardy countryside an hour east of Milan. In fact, that city's fashionistas have been drinking a lot of Franciacorta for the last several days during Milan Fashion Week.
The district has been growing grapes at least since the 16th century under the aegis of the region's monasteries. (The name of the region indicates a region of monasteries not subject to ducal taxes.) Serious spumante production is much more recent, dating from the years after World War II, and the big players are industrialists, not monks.
That said, Franciacorta did almost everything right from the start, and won DOCG status (Italy's top quality designation) before any other sparkling wine in Italy, including Prosecco DOCG. The grapes are a familiar bunch to Champagne lovers: chardonnay, pinot noir, and pinot blanc. Secondary fermentation is carried out in the bottle in what the Italians call metodo classico and the rest of the world calls méthode champenoise. The chief advantage is that the wine develops on the lees, gaining a yeasty complexity that bulk carbonation cannot impart.
The DOCG regulations recognize two styles and three aging designations, each of which can be made with varying residual sugar ranging from brut to demi-sec. The Non-Vintage must be made of chardonnay and/or pinot noir (with up to half pinot blanc) and be aged at least 18 months. Sàten is a blanc-de-blancs style made with only white grapes, of which chandonnay must constitute more than half; it's aged a minimum of 24 months. Rosé is made with chardonnay and pinot blanc with a minimum of 25 percent pinot noir to give it the desired color. Millesimato is a vintage Franciacorta in either style and indicates that at least 85 percent of the wine came from a specified quality vintage and has been aged a minimum of 30 months. A riserva is a vintage-dated Sàten or Rosé aged at least 60 months.
The Sàten style is something of a misnomer, since silkiness is characteristic of all good Franciacortas, which typically sell at retail for $20-$40, except for a few rare riservas. Personally, we like the Rosé style, since the pinot noir gives it a little fruitiness and extra structure. We popped a 2010 Millesimato Fratelli Berlucchi Rosé (fratelliberlucchi.it/) for the meal shown above: lemon risotto (Franciacorta is splendid paired with the acidity of the risotto) and a plate of our final garden tomatoes in an insalata caprese.
We expect to be drinking even more Franciacorta as the holiday season approaches.
Salute!