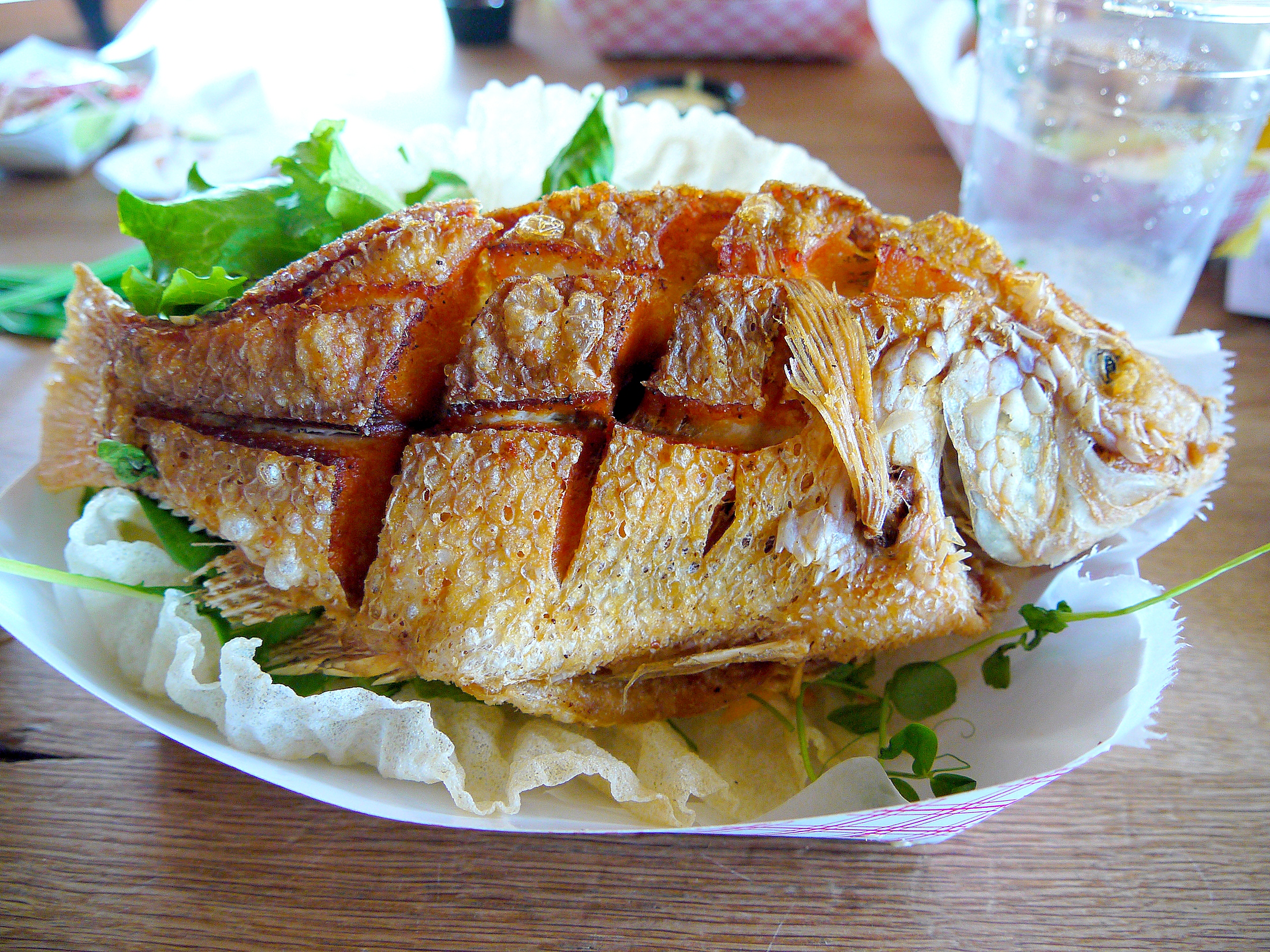 Chef Ouita Michel, who calls Holly Hill Inn (www.hollyhillinn.com) in Midway, Kentucky, her home base, is completely on board with the vision of FoodChain (see previous post). She's so on board that she opened the little takeout seafood restaurant inside the Bread Box called Smithtown Seafood (smithtownseafood.com) and installed the immensely talented Jonathan Sanning as her chef de cuisine. (That's Jonathan below holding the fried fish.)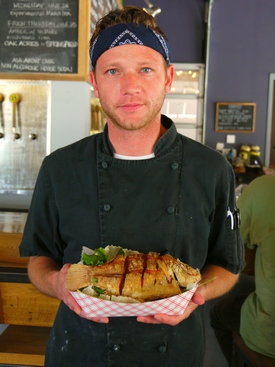 Ouita (as everyone in Lexington seems to call her because everyone in Lexington who cares about food knows her) studied at the Culinary Institute of America in Hyde Park, and took as her primary lesson the observation that the best French and Italian chefs create meals out of what they find around them. She's inculcated that same respect for local products in Sanning, who is Kentucky trained but has the chops to cook anywhere and at any level. For the moment, he's getting a kick out of working hard at Smithtown, and Lexingtonians are lucky that he does.
Smithtown Seafood is easily the chief customer for the tilapia being raised on the other side of the wall at FoodChain, and is also a big user of FoodChain's herbs and lettuces. You order at the counter, and when your food is ready, you walk about 20 feet to the taproom of West Sixth Brewing, where, if you're smart, you order a Lemongrass American Wheat to go with the fish dishes or an amber with the meat.
The fish excite us the most. Smithtown offers three variations of tilapia baskets using the FoodChain fish. The one shown above is Tilapia Singapore, a fried whole fish with sweet and spicy pickled vegetables and FoodChain microgreens. Another version pairs the fish with a tomatillo-serrano salsa verde and corn tortillas. And finally, there's a basket of fried pieces battered in Weisenberger cornmeal, served with fries and hushpuppies (of course).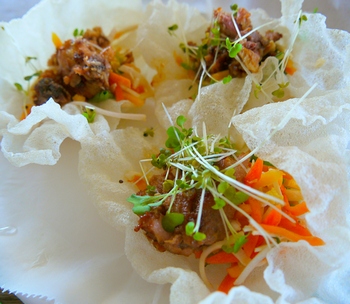 Sanning's own palate skews Mexican, Southeast Asian, and West African—and he's not afraid to mix them up. The Rockin' Rice Paper Catfish Taco pictured here is a smart twist on the Baja fish taco with pieces of fried wild-caught saltwater catfish and Thai-style pickled vegetables and microgreens on puffy pieces of fried rice paper. The rice crisps are far better than a taco shell for holding everything together in your hand.
Another good way to enjoy Sanning's signature acid-spice style is by ordering a side of one of his salads. The Nebbe Black-Eyed Pea Salad could be a vegetarian meal all by itself. Here's the recipe:
NEBBE BLACK-EYED PEA SALAD

This adaptation of a spicy Senegalese bean salad is typical of Jonathan Sanning's propensity for using an ingredient that's traditional in Southern cuisine as the base for something light, bright, and completely contemporary.
Makes about 16 cups
Ingredients
1 lb. dry black-eyed peas
1/2 cup lime juice
1 cup minced parsley
1 tablespoon kosher salt
2 teaspoons black pepper
1 habañero pepper, seeded and finely minced
1 cup light salad oil (olive, sunflower, canola, blended….)
10 green onions, thinly sliced (both white and green parts)
2 roasted red bell peppers, peeled and diced small
1 English cucumber, peeled and diced small
2 cups cherry tomatoes (quartered) or grape tomatoes (halved)
Directions
Cover black-eyed peas with water and bring to a boil. Reduce heat to simmer and cook until tender (about 1 hour, less if pre-soaked). Leave the peas in the water and salt heavily—a real brine. Let sit for 2-3 minutes, then drain.
Combine lime juice, parsley, salt, pepper, and habañero in a food processor. Add oil and blend until smooth.
Combine black-eyed peas, green onions, red bell peppers, cucumber, and cherry tomatoes. Toss with lime and herb mixture. Taste and adjust salt and pepper, if necessary.