A Saturday afternoon tour at FoodChain (foodchainlex.org) in Lexington's Bread Box complex might change the way you look at "local" food. At the very least, it can give you a peek into a somewhat promising food future where excess building space is converted into a living factory to produce vegetables and protein—or, more specifically, salad and microgreens and big plump tilapia.
The brainchild of Rebecca Self, native Lexingtonian, MIT graduate, and spouse of Ben Self (see last post on West Sixth Brewing), FoodChain is a demonstration project of an "aquaponics" farm. The growing techniques are a hybrid of aquaculture and hydroponics, which have complementary strengths and weaknesses. Aquaculture is generally used to grow fish or crustaceans in closed tanks or ponds. Most cheap frozen tiger shrimp, for example, are farmed this way in Southeast Asia. So is a lot of cheap tilapia from China. Hydroponics is most widely used in cold climates to grow vegetables indoors under lights on a soilless medium. A lot of microgreens, baby lettuces and spinach are produced this way.
Both practices have significant shortcomings. Aquaculture produces a lot of waste that has to be cleaned from the water before it makes the fish or shrimp sick. Hydroponics requires a lot of nutrients to be added to the water that the plants grow in. To grossly simplify, aquaponics uses the plants to scrub the waste from the fish tanks, and the "waste" provides the nutrients to grow the plants. The details, of course, require considerable ingenuity and fine tuning.
The system at FoodChain circulates about 7,000 gallons of water through the growing trays and the fish tanks. Weekly harvest is about 35 pounds of lettuce and herbs as well as seven large trays of microgreens. About 15 pounds of full-grown tilapia—10-20 fish—are harvested from the tanks each Friday as well.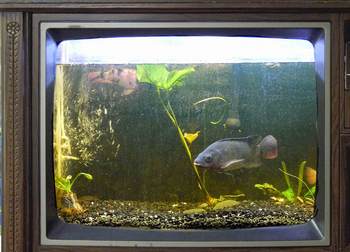 The plants are grown under lights (FoodChain uses Inda-Gro induction lighting, which draws less electricity than conventional grow lamps) and some minerals are added to the water for proper plant and fish nutrition. FoodChain is experimenting with feeding spent grain from West Sixth Brewing to the fish.
Becca Self is a bit of a visionary, as the aquaponics project is just Phase I of an envisioned three phases for FoodChain. Phase II is projected to grow mushrooms in the basement using the brewery's spent grain as a substrate while simultaneously expanding to raised beds and hoop houses to grow food on the 20,000 square feet of flat roof over Bread Box. Phase III will be a kitchen incubator, with cooking stations to do small-batch processing. Tours are offered on Saturdays at 1 p.m. at a charge of $10 for adults, $5 for children. See the web site for details.
In the meantime, Lexington restaurants are gobbling up the greens and the tilapia are stars of the plate at adjacent Smithtown Seafood. (The future is now!)