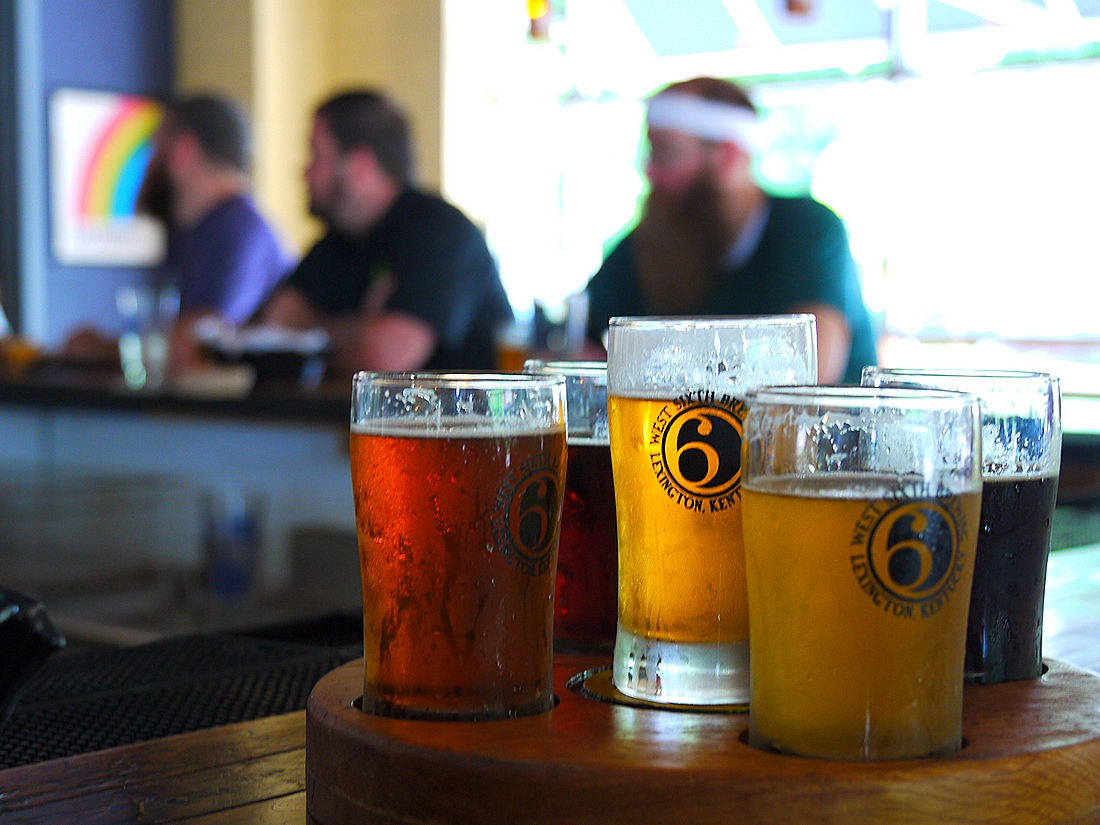 Nothing says more about Lexington, Kentucky as a locus of good ideas, good food, and good drink than the Bread Box. The 90,000-square-foot building at the corner of West Sixth and Main streets spent about a century turning out classic American white bread before ending its active baking life as the Rainbo Bread Factory in 1995.
There's nothing white bread about it now. A group of friends bought the building in 2011 to create West Sixth Brewing (501 West Sixth St., 859-951-6006, www.westsixth.com) with some of the space and to develop the rest of it for some nifty businesses to make life better in Lexington. Those of most interest on the food scene are the aquaponics demonstration project called FoodChain (foodchainlex.org) and the farm-to-table seafood restaurant called Smithtown Seafood (smithtownseafood.com). More on both of them in later posts.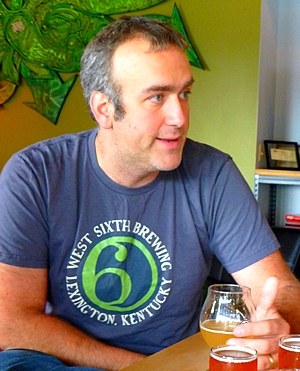 Lexington native and Massachusetts Institute of Technology grad Ben Self (at left) was a co-founder of Blue State Digital, the digital consulting company often credited with delivering the youth vote for presidential candidate Barack Obama, but these days he's busier with malts and barrels than with bits and bytes. Lexington already had a great bourbon culture. Self and his partners set out to build a great local beer culture with West Sixth Brewing at the center. It's the only brewery we know with its own running club (every Tuesday evening at 6:30 p.m., with a free pretzel afterward at the taproom) and free yoga class (every Wednesday at 6 p.m.), as well as a summertime Monday night cycling club.
West Sixth has been growing quickly. In 2014, the brewery produced 11,000 barrels and is on track to make about 17,000 in 2015. Using 15-barrel and 30-barrel fermenters, the company makes four year-round beers and several seasonal ones as well. The beers are barrel aged in a variety of former wine and whiskey barrels. The flagship brew, as with many craft breweries, is an IPA—distinctly bitter but with citrus and piney notes and a 7% ABV kick. The other West Sixth brews tend to go a little easier on the alcohol—most at 5.5% ABV—but offer a nice range of flavors from the easy-drinking amber to the caramel notes of the nut brown to the wonderfully refreshing shandy-like flavor of the lemongrass American wheat beer (think Corona with lemon and a more pronounced malt). The Pay-It-Forward porter is a hefty brew (7% ABV) with strong chocolate notes delivered by the organic cocoas nibs inside the aging barrel.
You can take a seat in the taproom to sample the range of beers for a relative pittance. A flight of the "Flagship Five" in 4 oz. glasses is only $8, and there are always some unusual beers from other breweries available as well. (A pick-your-own flight also costs $8 but includes just four glasses.) Adventurous beer drinkers should plan on visiting on Wednesday nights, when West Sixth taps a different experimental beer each week.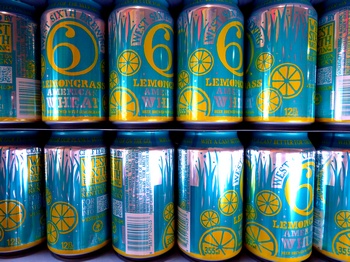 If you're looking for beer to take home, West Sixth puts its beer in cans with a special recyclable plastic holder for six-packs. Self explains that cans are better than bottles for beer because they don't let in light or air. They're also better for the environment, since 60 percent of aluminum gets recycled versus only 20 percent of glass. Besides, Self says, cans are better at the pool, the golf course, and anywhere outdoors where broken glass would be a hazard. The six-packs sell for $9.95, of which 50 cents goes back to a nonprofit in the Lexington community.