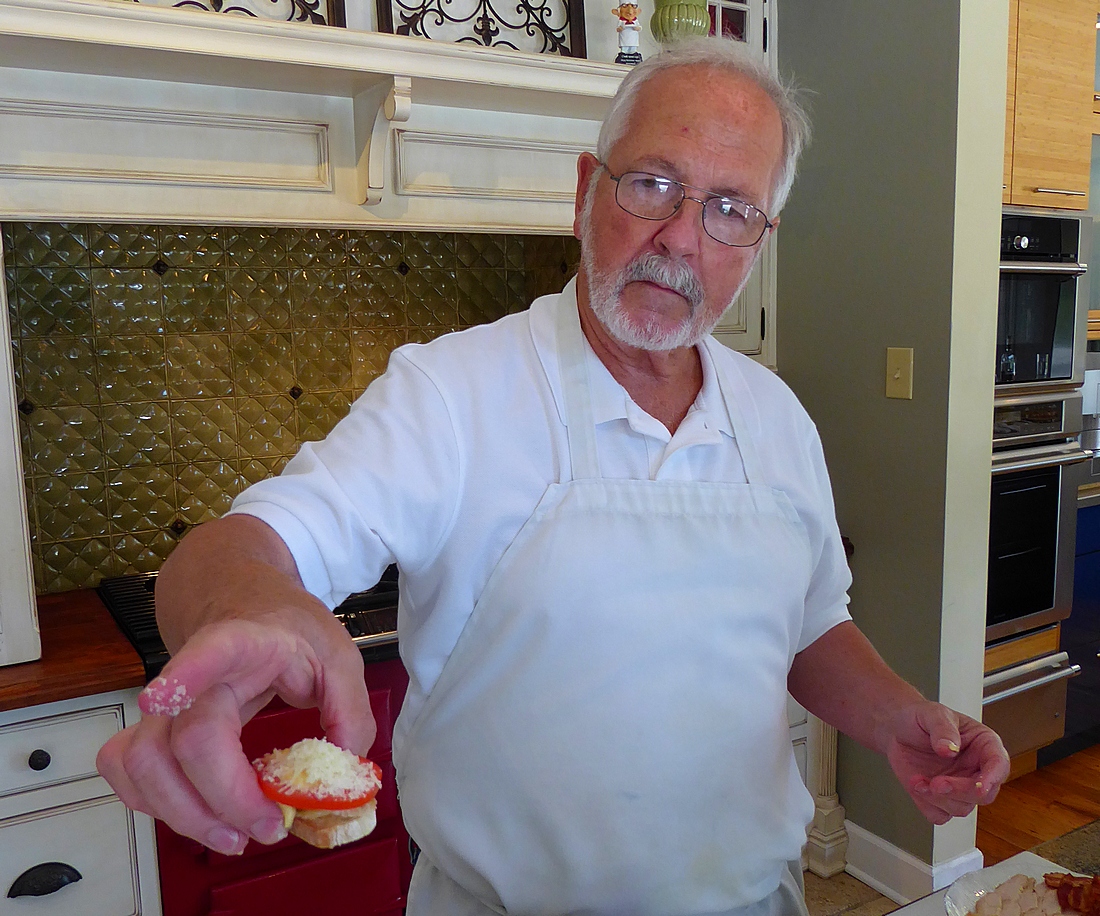 When England's horse-loving Queen Elizabeth first visited Lexington, her personal chef was Phil Dunn. We don't know what dishes he served to the Queen, but we do know that Dunn favors gourmet meals and enjoys exploring international flavors. He's particularly fond of making European pastries—and anything with pasta.
A gorgeous display kitchen at Architectural Kitchens & Baths (345 Lafayette Ave., www.akandb.com) is the perfect setting for Dunn's popular half-day cooking classes. We attended a recent session and learned that Dunn is equally comfortable with down-home Kentucky cooking. He makes familiar dishes his own through refined technique and a penchant for turning larger plates into finger food—perfect for parties in this most social of cities.
Dunn makes a spicy version of Kentucky Beer Cheese (a cracker spread) that has a thick, rich texture. "You must use flat beer," he told us. "It's too fluffy if you use carbonated beer." He also cautions against over-pulsing in the food processer. "It should be a little chunky."
He also showed us how to make mini versions of Kentucky's iconic Hot Brown open-face sandwich by layering Mornay sauce, slices of turkey, bacon, and tomato on slices of baguette. That's Phil above handing one over to a hungry onlooker.
But we were most taken with his bite-size Bourbon Cakes, a clever use of Kentucky's signature spirit to round out a meal. He soon had us dipping one-inch squares of firm vanilla cake into a warm bourbon mixture and then rolling them in ground vanilla wafers and chopped walnuts. It took a couple of tries to get the rhythm of wet hand for the bourbon and dry hand for the crumbs, but we were soon on a roll. The little bites are addictive, but if you have any left over, Dunn claims that they will keep for three to four months in the freezer. For information about classes, send an email to phildunn1948@gmail.com.
KENTUCKY BEER CHEESE

1 cup beer
1 lb. extra-sharp cheddar cheese, shredded
2 cloves garlic, minced
1 teaspoon dry mustard
1/2 teaspoon ground black pepper
1/2 teaspoon cayenne pepper
1/4 teaspoon salt
1/4 teaspoon Tabasco sauce
1/4 teaspoon Worcestershire sauce
Pour beer into a mixing bowl and whisk until it loses its carbonation. Place in food processor, add remaining ingredients, and process until well-mixed but still slightly chunky. Adjust seasoning to taste and refrigerate before serving.


PHIL DUNN'S BOURBON CAKES

Makes 200 squares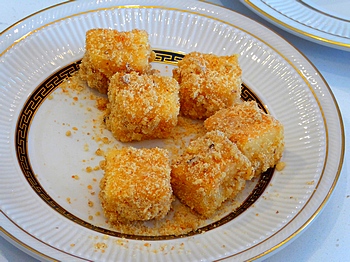 For the cake
6 oz. (1 1/2 sticks) softened unsalted butter
1 1/4 cups sugar
8 egg yolks
2 1/2 cups all purpose flour
1 tablespoon baking powder
1/4 teaspoon salt
3/4 cup warm milk
1 teaspoon vanilla extract
Combine butter and sugar in mixer and blend well. Add egg yolks and blend well. Sift dry ingredients together and add mixture alternately with milk and vanilla extract. Beat until batter is very smooth. It will be thick. Spray a half sheet pan (18×13 inches) with cooking oil and spread batter evenly with a metal spatula.
Bake at 325 degrees for about 25 minutes until cake is golden brown. Cool completely. Cut into one-inch squares.
For the soaking liquid and coating
8 oz. (2 sticks) unsalted butter, melted
1 1/3 cups bourbon (Dunn used Very Old Barton)
2 lb. confectioners sugar
12 oz. vanilla wafers, ground
2 cups walnuts, finely chopped
Combine melted butter with bourbon and confectioners sugar. Combine vanilla wafers with walnuts.
Dip cake squares in warm bourbon mixture. (Do not let it cool.) Quickly drain cake squares, then roll them in vanilla wafer-walnut mixture.