Usually Pat and I write about buying specialty foods in overseas grocery stores, but Cajun cooking stands so far apart from most other American regional food that the grocers have developed lines of goods we can rarely find anywhere else.
The pickled tabasco peppers, gumbo file powder, and various hot pepper sauces shown above are cases in point. In fact, I was once told by a northern grocer that file powder was illegal. (Not true, but it is allegedly mildly carcinogenic. If you eat three pounds at a time, you might develop a tumor in 20 years.) Needless to say, file powder can be hard to find up here in the chilly north.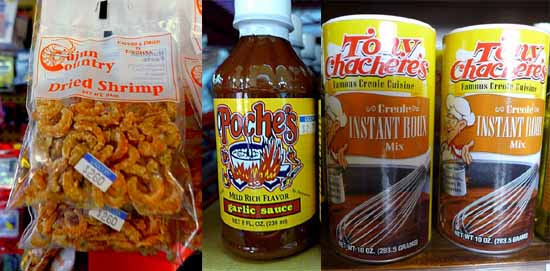 The ingredients immediately above are even more local. Dried shrimp might be a worldwide commodity, but Louisiana dried shrimp has a distinctive flavor of the Gulf of Mexico. It's great in a shrimp cream sauce or a soup. The garlic sauce from Poche's is an essential ingredient in some quarters for dousing boiled crawfish tails. The instant roux mix, while not so different from Wondra flour, makes a great tan roux.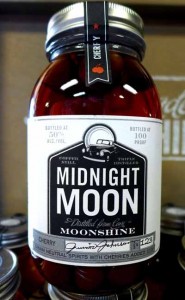 The last item is a latecomer, at least to legitimate grocery stores. At 100 proof, this colored corn likker has the requisite kick to be called moonshine — minus the chemicals to make you go blind.