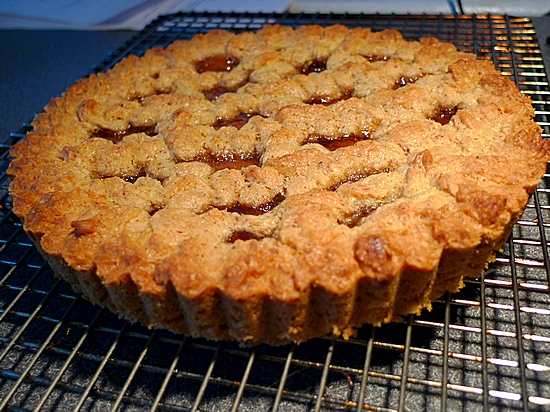 Last year for the holiday season we made saffron shortbread cookies, and we were feeling bad that we didn't have a new holiday cookie this year. We got to thinking about winter sweets and some of our all-time favorite flavors, and the two sort of came together.
Some of the quintessential tastes of Spain are almonds, saffron, and bitter oranges. Why not adapt our standard linzer tart recipe to reflect that different range of flavors? Instead of hazelnuts in the dough, we could use almonds. Instead of vanilla, we could use saffron. And in place of raspberry jam, we could use Seville orange marmalade. (OK, we know that the marmalade is more a Scottish than Spanish flavor, but it does use the bitter oranges of Andalucía.)
Our first thought was to make almond meal using toasted Marcona almonds since they are the classic snack almond of southern Spain. We did that, but by losing the skin of the almond, we also lost a lot of the taste. Moreover, toasted blanched almonds ground up into too fine a flour. The result was a perfectly edible tart, but one with a more crumbly crust and less pronounced flavor than we were looking for.
Back to the drawing board. In the end, it turned out that the much less expensive California almonds gave the best flavor and were the easiest to work with. We toasted them in a dry pan in the oven at 400°F for about 10 minutes, then ground them into fine meal in a food processor after they had cooled. This technique gives a good toasted almond flavor, and also makes the saffron flavor more pronounced. The strength of saffron will depend on what kind you are using. It's not very Spanish, but we got the best results with "Baby Saffron" from Kashmir, using four blisters of the single-serving packs.
Slices of the finished tart go well with espresso or a flute of cava.
ANDALUCÍAN CHRISTMAS TART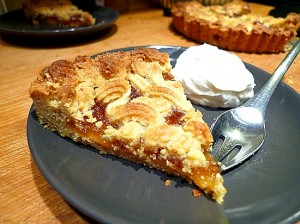 Makes one 7 1/2-inch (19 cm) fluted tart (serves 6-8)
Ingredients
1/3 cup (66 grams) granulated sugar
1 generous pinch saffron (0.2 gram)
1/4 teaspoon (1.5 grams) salt
1/2 cup (1 stick, 114 grams) butter, softened
1 egg
2/3 cup (96 grams) all-purpose flour
1/2 teaspoon (2 grams) baking powder
1 cup raw almonds (150 grams), lightly toasted
1/2 cup + 1 tablespoon (200 grams) Seville orange marmalade
Directions
In coffee or spice grinder, mix sugar, saffron, and salt. Grind briefly. Empty into medium bowl. Add butter and beat until light and fluffy. Add egg and beat to mix well.
In another medium bowl, place flour and baking powder. Whisk to blend. Grind almonds to fine meal in food processor. Whisk nuts into flour mixture. Add nut-flour mixture to butter mixture. Mix on low speed until all ingredients are incorporated.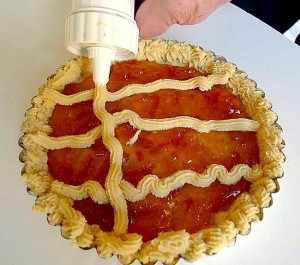 Pat 2/3 cup of the dough into bottom of 7 1/2 inch (19 cm) fluted tart pan with removable bottom. Place remainder of dough into cookie press or pastry bag fitted with a 3/8-inch fluted tip. Pipe around the edges to make side crust. Place orange marmalade into shell and smooth out until even. Pipe a lattice over top of tart.
Refrigerate tart for 30 minutes while preheating oven to 350°F. Bake tart until preserves just begin to bubble – about 35 minutes. Transfer to rack on counter to cool. Serve with a dollop of whipped cream or vanilla ice cream to balance the bitterness of the orange.