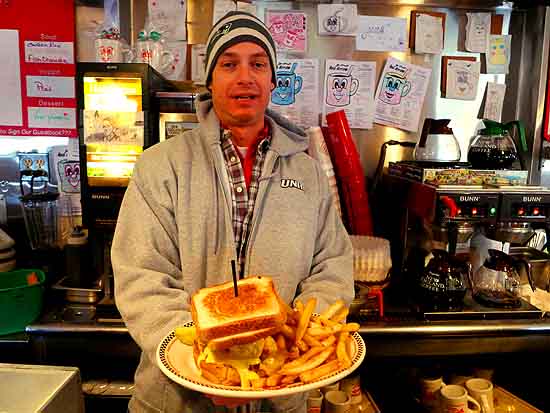 Old-fashioned diners certainly love their giant burgers. We wrote about the Miss Washington Diner in New Britain a few weeks back, marveling at the monstrous burger called The Monument. In a piece in today's Boston Globe about the 24-hour Red Arrow Diner (61 Lowell Street, Manchester, N.H. 603-626-1118, www.redarrowdiner.com), we came face to face with the Newton Burger, presented above by general manager Herb Hartwell.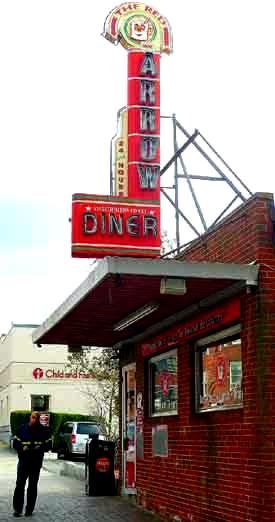 In all fairness, the Red Arrow does serve salads, Jell-O, and other low-fat options, but the main clientele seems to gravitate to some of the heavier entrées. The place is known for its mugs of chili and its baked mac and cheese.
And its burgers. A burger on toast was on the menu when the Red Arrow opened in 1922, and there are some truly giant burgers on the menu today. The Newton Burger might be the ultimate cheeseburger, since instead of placing the ground beef patty on a bun, the kitchen stuffs it between two complete grilled cheese sandwiches — but not before dressing it with a scoop of deep-fried mac and cheese. The lettuce, tomato, and onion are window dressing. Didn't you mother tell you to eat your vegetables?
Given its location in New Hampshire's biggest city, the Red Arrow gets more than its share of campaigning politicians, especially during the quadrennial presidential season. The Red Arrow could save the country a lot of grief, trouble, and expense if they invited the candidates to a Newton Burger challenge.
May the best eater win.