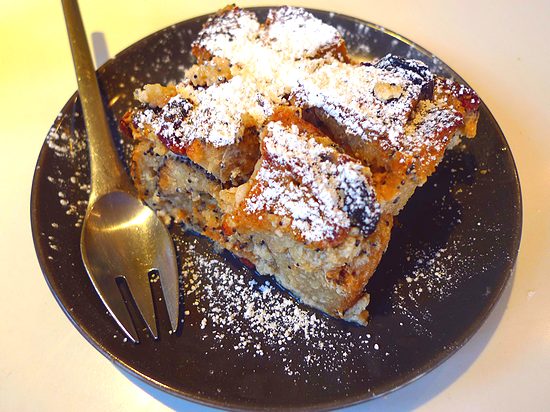 The poppyseed baguettes from the Paul boulangerie (see previous post) are a taste treat unto themselves. But like all great French bread, they are best the day they're baked. We decided that the logical thing to do with stale poppyseed bread would be to make lemon poppyseed bread pudding. The custard does not have any strong additional flavoring (like vanilla extract) and we didn't make a heavy sweet sauce to go on top. Compared to most American bread pudding recipes, this one is almost austere. The dish is really all about the toasted nuttiness of the poppyseeds, the aromatic freshness of the lemon, and the delicious wheatiness of the bread.
LEMON POPPYSEED BREAD PUDDING

Makes 6-8 servings
Ingredients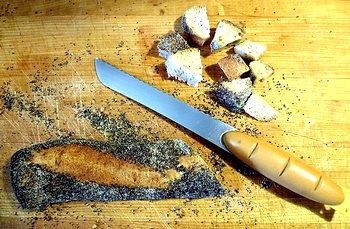 1 tablespoon butter
6 cups (375 grams) 3/4-inch cubes of day-old poppyseed baguette
4 large eggs
1/2 cup (125 grams) brown sugar
1/2 teaspoon cinnamon
1/4 teaspoon salt
zest and juice of 2 lemons
3 1/2 cups whole milk
confectioner's sugar for serving
Directions
1. Grease an 8-inch square baking pan. Spread bread cubes in it. Add the poppyseeds and crumbs from cutting up the bread.
2. In a large bowl, whisk together eggs, brown sugar, cinnamon, salt, lemon zest, and lemon juice. Add milk and mix well. Pour the mixture over the bread cubes. Let stand, pressing down on bread occasionally, for at least 20 minutes or until bread is saturated.
3. While bread soaks, preheat oven to 350°F (180°C). Have a large shallow roasting pan ready.
4. Place bread pudding pan inside roasting pan. Add very hot water to come about halfway up the sides of the baking dish. (Do not overfill, as bubbling water can flood the dish.)
5. Bake until a knife inserted in the center comes out almost clean, roughly 55 minutes. Serve warm or at room temperature with a dusting of confectioner's sugar.