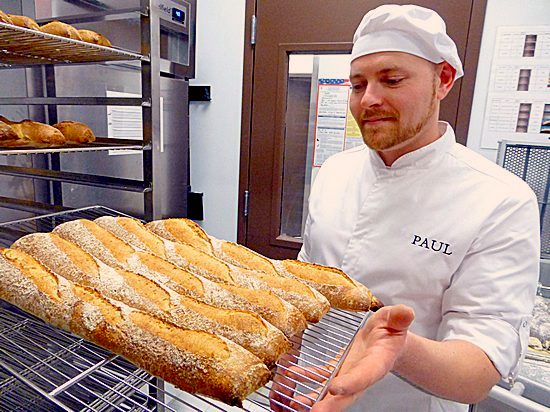 We've been known to drive from Boston to Montreal to get our fix of good bread, but even the Quebecois can't make a baguette like the French can. Neither can we, and we frankly gave up trying years ago. Now we don't have to. Whenever we get a jones for French bread, Maison Paul is now a 15-minute drive away. The famed French boulangerie began in Croix, near Lille, in the north of France in 1889. Some 125 years later, it has 600 locations around the world, with several spots in the Miami and D.C. metro areas, and now in Boston. On Friday, November 21, Paul started serving at Assembly Row in Somerville. The local flagship is opening in Boston's Downtown Crossing in January.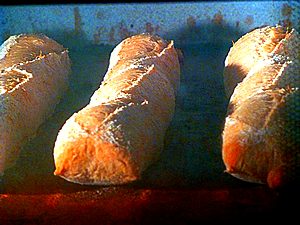 There are a lot of reasons why Paul's baguette is so good (and so French, which is sort of the same thing). First, it is made with T65 flour, which is hard to find in the U.S., although King Arthur sells it in three-pound bags for $9.95. T65 is flour made with wheat that retains 65 percent of the chaff and germ. The protein content is rather low for bread flour (about 10-11 percent) but since the dough is proofed under refrigeration for nine hours or more, it develops very complex flavors and a stretchy texture. Second, it's cooked in steam-injection ovens, which keeps the crumb moist while ensuring a perfect glaze on the skin of the loaf.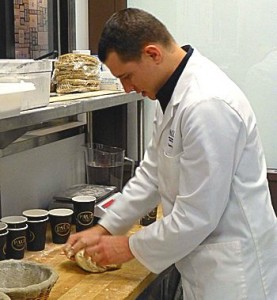 Paul uses huge mixers with spinning arms that lift and stretch to mix the dough. But chef baker Nicolas Gautier (above), who will oversee all the Boston bakeries, and Thomas Crombez (a chef baker from Paris shown at right here) gave us a quick lesson in making baguettes by hand. In the tiny kitchen of the Somerville shop, they had us spill 500 grams of flour onto a wooden counter and measure out 300 grams of water. We used a little water to dissolve 10 grams of cake yeast in a cup, and 10 grams of salt in a separate cup. (Put salt and yeast together and the yeast will die.)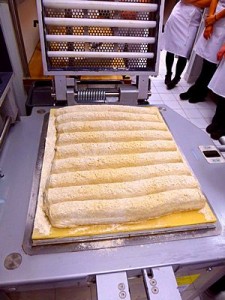 We made a well in the middle of the flour pile and poured in half the remaining water. We mixed by hand, made another well, and added the rest of the water. When that was absorbed, we made a well in the center again and incorporated the dissolved yeast. As the dough began to develop, hand-blending turned to rough kneading. Finally we added the salty water and kneaded until the loaf was smooth and elastic and had the texture of an earlobe. This dough ball was set aside to proof (rise). It was enough to make almost three baguettes, each about 18 inches long (45cm, to be exact).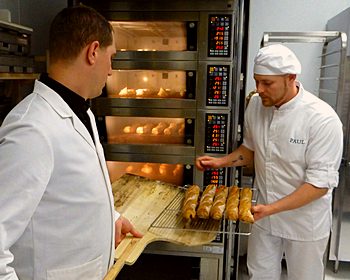 The Paul bakeries proof their dough in trays and use an ingenious pneumatic dough divider to measure each baguette to a precise size, producing 10 baguettes per tray. (Before cutting, some trays are covered with poppy seeds on each side.) Each baguette is placed on a rolling cloth, five to an oven, and scored with a sharp knife to create the release points for extra steam. If you want to get fancy, you can use kitchen shears and snip alternating diagonals, then lift and twist the tips to create "ears." (It's a good technique for people who like lots of crust.)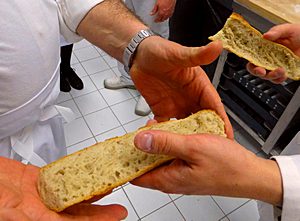 We then rolled the baguettes into preheated ovens (250°C, or 480°F) and cooked them for 22 minutes (21 minutes for loaves cut with ears to avoid burning the tips). To confirm that they're done, Gautier explained, turn a loaf over and tap the bottom. It should sound hollow. Crombez carefully sliced a loaf in half lengthwise so we could see the honeycomb texture of the crumb—and observe that it gummed up if you don't wait for the bread to cool a little before cutting. It was perfect, even before he brought out some French butter.
We brought several loaves home, enjoyed one with beef stew, gave some away, and found ourselves with leftover poppyseed baguettes. See our next post for our take on Lemon Poppyseed Bread Pudding.