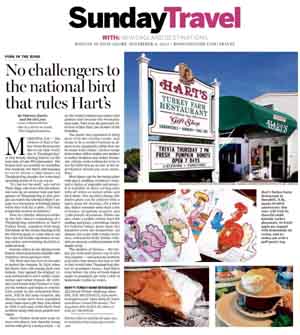 The motto at Hart's Turkey Farm is that "every day is Thanksgiving" at this family-dining fixture. It sits in Meredith, New Hampshire, on the west side of Lake Winnipesaukee. Truth is, the busiest days of the fall season are already over. The place was jammed over Columbus Day weekend. But they're gearing up for the onslaught of diners (probably around 1,600) on Thanksgiving Day.
On a busy day, Hart's serves more than a ton of turkey and 40 gallons of gravy. Most diners choose the turkey plate with gravy, stuffing, cranberry sauce, and a choice of vegetable and potato. It is available in three serving sizes with either all white meat, or a mixture of white and dark meat. The jumbo plate can even be ordered with a spare plate for sharing.
We had fun writing about the Granite State fixture for the Boston Globe. We hope you click your way over to read all about it. If you're planning to visit on Thanksgiving, be prepared for a wait of around 45 minutes. You can sit outdoors in the tented beer garden, watching TV until you're called–almost just like home.