Our latest book, Food Lovers' Guide to Vermont & New Hampshire (Globe Pequot Press), just arrived two days ago and it brought back fond memories of the research. One of our favorite meals was at the Bedford Village Inn, when Benjamin Knack, fresh from a season on Hell's Kitchen, had just take over the dining program for this romantic destination property.
It so happens that Ben makes a killer gnocchi, which he claimed was so simple that even his then 4-year-old daughter could do it. There are a couple of secrets to getting just the right texture. The potatoes should be cooked so they "squeak like Styrofoam when you squeeze them," he says. And they should be pushed quickly through the sieve so the potato remains warm while you're making the gnocchi.
That particular night we ate the gnocchi tossed with duck confit, but they're equally good dressed in a light sauce made of roasted tomatoes, olive oil, salt, pepper, and nothing more. We managed to get the Bedford Village Inn into Food Lovers' Guide to Vermont & New Hampshire, but the gnocchi recipe arrived too late to make the first edition. Next time, maybe. In the meantime, here it is in all its glory (and simplicity).
GNOCCHI WITH ROASTED TOMATO SAUCE
Ingredients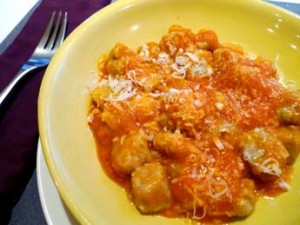 3 russet potatoes
1/3 cup finely shredded Parmesan cheese
1 teaspoon salt
1 pinch pepper
1 egg
1 cup flour
Directions
1. Bake the potatoes until they are soft (about 45 min) in a 350-degree oven. While still warm, cut in half and, using the skin, push through a sieve or tamis onto a table top.
2. Sprinkle cheese, salt, and pepper over potatoes and cut in with bench scraper. Break egg on top and cut into potato mix until well incorporated.
3. Add flour and cut in until it is fully incorporated. Knead gently until a ball is formed. Flatten dough to about 3/4 inch.
4. Cut dough into 3/4 inch dowels and cut dowels into 1/2-inch pieces. Toss uncooked gnocchi in flour and allow to dry for 15 minutes.
5. Set 6 quarts water, well salted, to boil in large pot.
7. Drop gnocchi into boiling water and cook until they float. Then allow to cook for 2-3 more minutes.
8. Toss with 1/4 cup canola oil and store covered in refrigerator up to 48 hours until ready to serve.
ROASTED TOMATO SAUCE
Ingredients
5 vine-ripened tomatoes
1/2 cup extra virgin olive oil, divided
salt and pepper to taste
Directions
1. Set oven to 350F.
2. Cut tomatoes in half lengthwise. Toss with 1/4 cup olive oil and season with salt and pepper. Place in roasting pan and cook 25-30 minutes.
3. Remove tomatoes from oven. Separate skins and discard. Purée tomatoes until smooth. Add 1/4 cup olive oil while blending and add salt and pepper to taste.
from Benjamin Knack, executive chef at the Bedford Village Inn