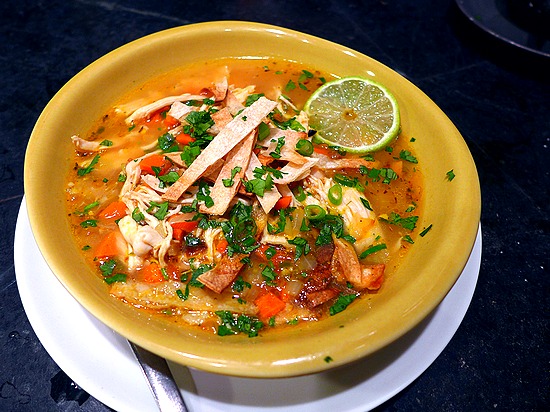 We thought we might be done adding versions of tortilla soup to our repertoire after our encounter with Loteria Grill at LAX, but then Cancun's tourism office sent us a batch of recipes that included a classic sopa de lima, or "lime soup" and we headed back into the kitchen to perfect our own version of this chicken tortilla soup with a heavy dose of vegetables and tart lime juice. It's definitely Mexican comfort food, but with a Yucatecan accent. We tweaked the traditional recipe to trim some of the fat and emphasize the fresh flavors.
SOPA DE LIMA YUCATECA
Serves 6-8
In the traditional preparation of this dish, the tortilla strips are fried in vegetable oil until brown. We prefer the cleaner corn flavor you get by toasting them in the oven, which also saves a lot of calories. The recipe calls for Mexican oregano (also known as marjoram), but Italian oregano can be substituted for a more herbaceous flavor.
Ingredients
8 corn tortillas
1 tablespoon vegetable oil
1 medium onion, chopped
1 celery rib, thinly sliced
1 carrot, thinly sliced
1 large serrano pepper, stemmed, seeded and finely chopped
salt
4 cloves garlic, minced
1 bay leaf
1/4 teaspoon dried Mexican oregano, crumbled
1 large tomato, peeled and chopped
8 cups chicken stock
1 1/2 pounds boneless, skinless chicken breasts
2 green onions, finely chopped
3 limes, juiced (about 1/3 cup)
1 large avocado, peeled, pitted and coarsely chopped
2 tablespoons chopped fresh cilantro leaves
Directions
1. Set oven to 375°F. Cut the tortillas into 1/4-inch strips. Place on narrow mesh cooling racks and set racks in middle of preheated oven. Bake 6-8 minutes or until golden brown. Remove immediately and turn out on counter to cool. Depending on oven and rack size, you may have to toast chips in batches. Set toasted chips aside.
2. Place oil in a large saucepan and add the chopped onion, celery, carrot, and serrano pepper. Sprinkle with about a teaspoon of salt. Cook over medium-high heat, stirring occasionally, until vegetables have softened, about 4 minutes. Add the garlic, bay leaf and Mexican oregano and cook, stirring for 1 minute. Add the tomato and season lightly with salt. Cook, stirring, until the tomato is softened and has released its liquid and the mixture is nearly dry (4 to 5 minutes).
3. Add the chicken stock and chicken breasts and bring to a boil. Reduce heat to a slow simmer and cook until the chicken is just cooked through (12-15 minutes). Remove chicken from the soup and set aside until cool enough to handle. Allow soup to continue simmering.
4. When the chicken has cooled a bit, shred into bite-size pieces and return to the pot along with the green onions and lime juice. Cook for 5 minutes, or until the chicken is heated through and the soup is piping hot. Season the soup to taste with salt and ladle the soup into wide soup bowls, with a handful of tortilla strips added to each bowl. Garnish with the avocado and cilantro and serve immediately.