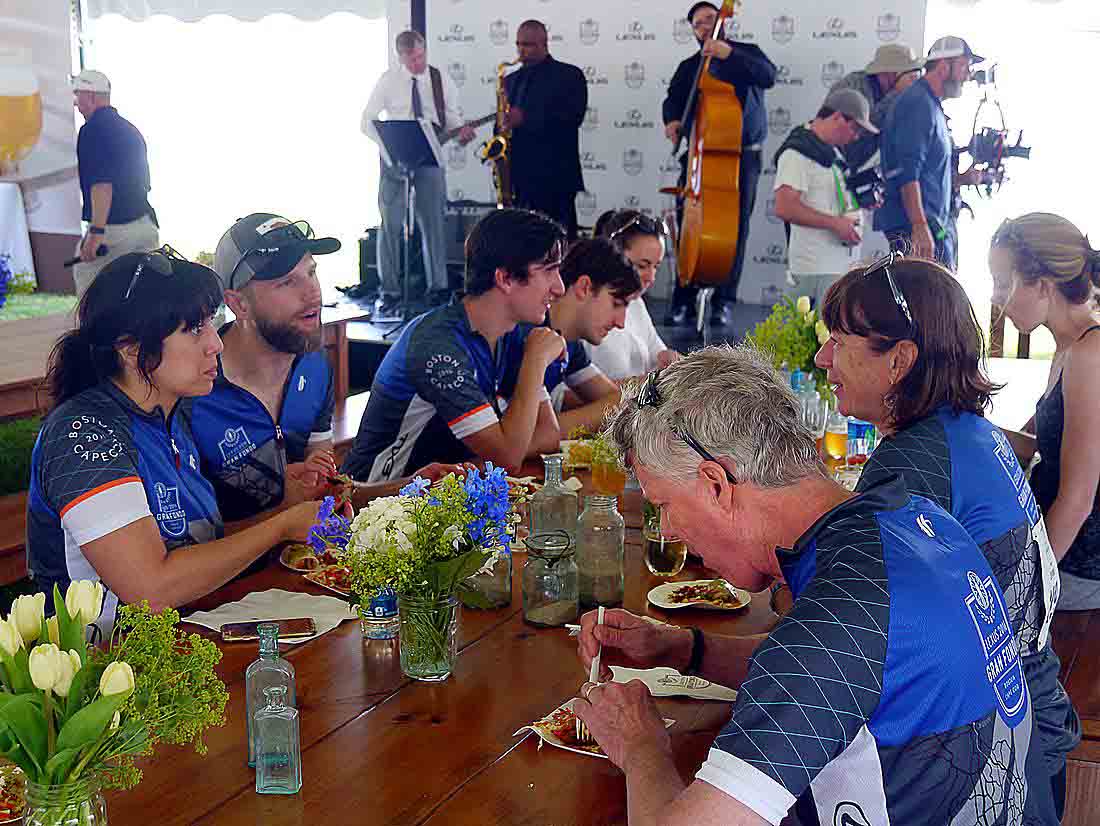 The Lexus Gran Fondo riders found a fine feast awaiting them. Lexus ambassadors and retired racers Christian Vande Velde and George Hincapie led the 100-mile riders coming to the finish line in Chatham. All the riders arrived hungry, and the Finish Line Festival cookout trumped even the best backyard barbecue.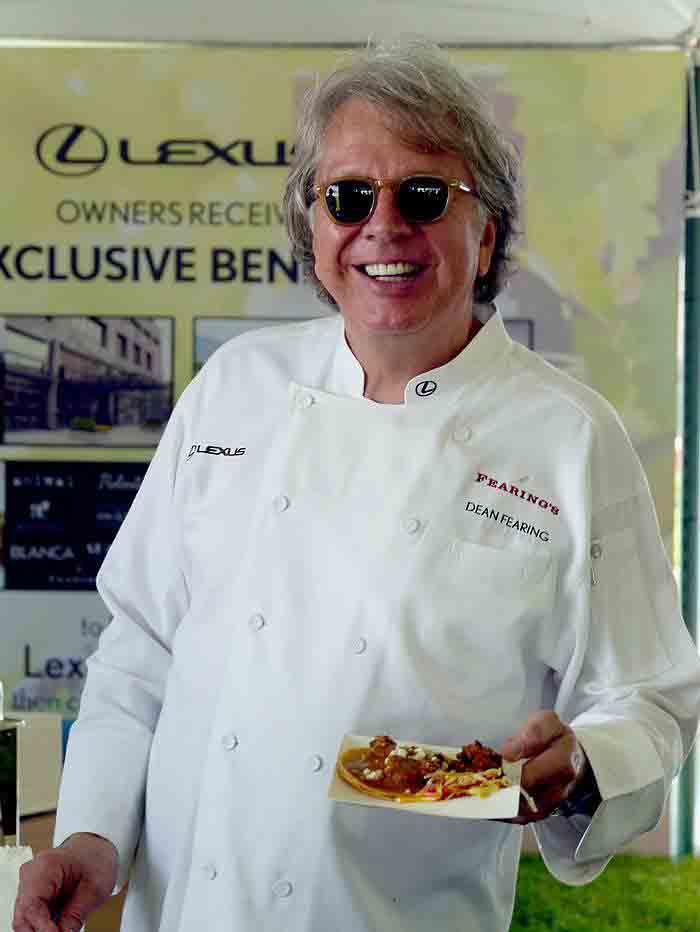 Lexus augmented the chefs of Chatham Bars Inn by inviting the brewery at Blackberry Farm and Lexus Master Chef Dean Fearing (fearingsrestaurant.com). The dean of Dallas dining lent a little longhorn swagger to the party. With his sons on hand to help serve, Fearing loaded up plates with lobster tacos and smoky brisket tacos with a tangy, piquant sauce. On the side were his classic cowboy beans and cole slaw. "I thought, here we are in New England with all this great seafood," Fearing said. "So what if we make a lobster taco?" Fearing topped the lobster soft tortilla with a tomatillo-based salsa verde and a crumble of feta cheese. Participants loved it.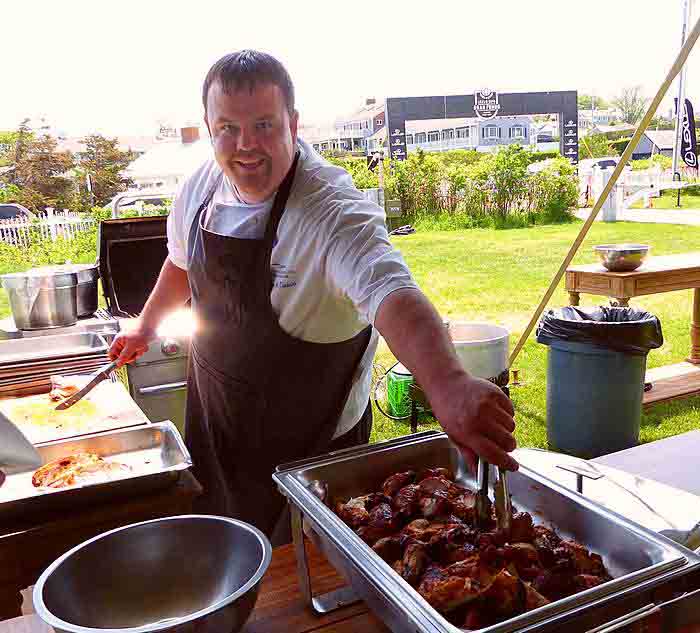 Chatham Bars Inn chefs Anthony Cole and Andrew Chadwick volleyed Fearing's Southwestern dishes with some serious heat of their own. Not only did they serve ribs with a tear-inducing kimchee broccoli, they also set out roasted Mexican street corn. The spiciest dish from Chadwick (shown here grilling it) was the Bloody Mary barbecued chicken.
Diners debated which Blackberry Farm saison ale was best with the hot and smoky food. Both ales were brewed with lightly roasted barley malt, but one was made with Czech Saaz hops. The milder of the two beers showed a slightly resinous herbal note and a delicate bitterness. The other ale was made with Eureka! hops. Those experimental hops made it very assertive. Strong pine and mint notes came on first, followed by a tang of grapefruit rind bitterness. The Saaz version paired well with Fearing's lobster taco. The Eureka! ale showed best with Chadwick's Bloody Mary chicken.
We didn't get a recipe from Chadwick, but we've worked out own version. There is no vodka in the marinade because the alcohol precooks the flesh and makes it tough. Like many tomato-based marinades, this is almost a brine, thanks to the salt in most tomato juice. V8 juice will also work.
BLOODY MARY CHICKEN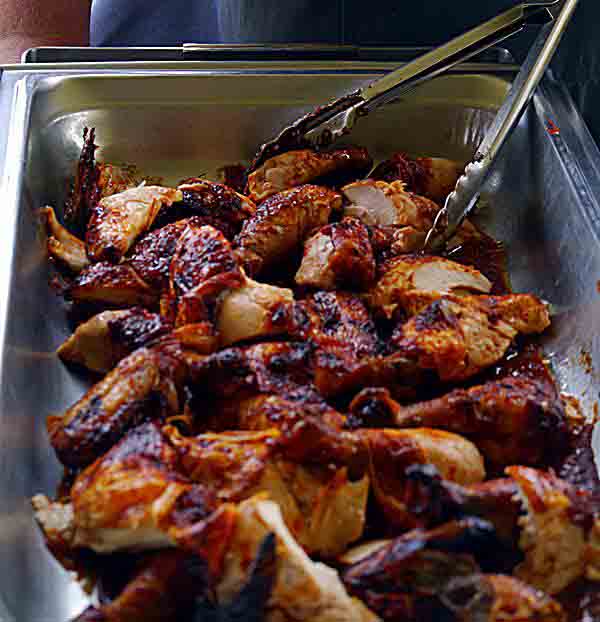 Ingredients
12 ounces tomato juice
1 teaspoon prepared horseradish
1/2 teaspoon Tabasco sauce
1 tablespoon Worcestershire sauce
1 teaspoon celery seed, ground up
small onion, chopped
1 lemon, juice and grated zest
12 pieces chicken, skin on
Directions
Combine ingredients through lemon juice and zest in a food processor. Process until smooth.
Place chicken pieces in one or more sealable plastic bags. Add marinade. Close bag(s) and marinate in refrigerator for at least four hours—preferably overnight.
Build fire on one side of grill. When coals are ready, place chicken, skin side up, on other side of grill and cover, leaving vent holes fully open. Let cook 10 minutes. Turn chicken over and grill, covered, for about 5 minutes. Finish over hot coals to crisp up skin.