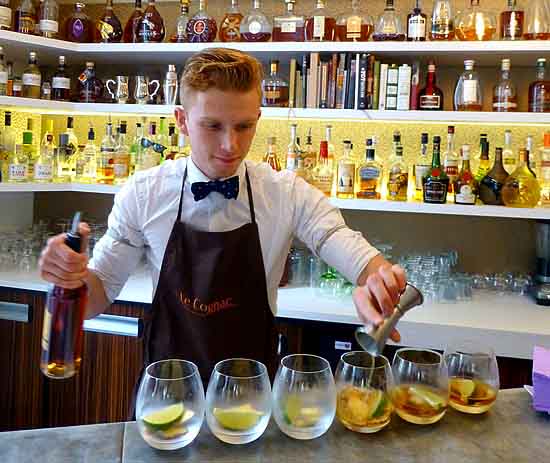 I was surprised to learn at the Camus Cognac House that the French are rather tepid Cognac drinkers. Sales in France account for only a paltry 3 percent of the brand's market. (America, by the way, is the leader, followed by Russia and Asia.)
Perhaps that Gallic lack of enthusiasm spurred the Cognac trade association to assemble mixologists to devise new cognac cocktails that might give the storied brandy a modern edge. One such concoction, the Cognac Summit, appears to have caught on and a great place to try it is at the Bar Louise at the Hôtel François Premier Cognac Centre. It occupies a gorgeous, newly renovated old building right in the heart of town.
Young mixologist Yoann Saillard (above) hails from Normandy and knows that region's signature Calvados apple brandy well. But he has become a big fan of Cognac. "It's a most interesting spirit," he said. "It has all the complexity of wine. Lots of people drink it on its own." Saillard, however, is a showman at heart and mixing cocktails is his thing. For the Cognac Summit he prefers VSOP, which has at least four years of aging. "This cocktail respects the Cognac," he told me as he sliced ginger and limes and muddled them with the spirit in a chilled water glass. "All the flavors are equal."
The resulting drink is refreshing and bright, with a peppery sass from the ginger, a fruity tartness from the lime, and bubbly effervescence from the soda. Here is Saillard's version of the simple, soon-to-be classic Cognac Summit. He uses Fever-Tree Sparkling Lemon but Sprite makes a good substitute here in the U.S.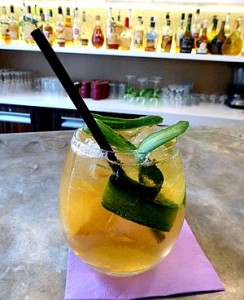 COGNAC SUMMIT
Makes one serving

Ingredients
3-4 large slices of fresh ginger
slice of lime
1 shot (40 ml) Cognac
sparkling lemon soda
cucumber peel for garnish.
Directions
Muddle the lime, ginger, and Cognac in a chilled water glass.
Add ice to fill.
Top with lemon drink.
Garnish with cucumber peel and serve with a straw.