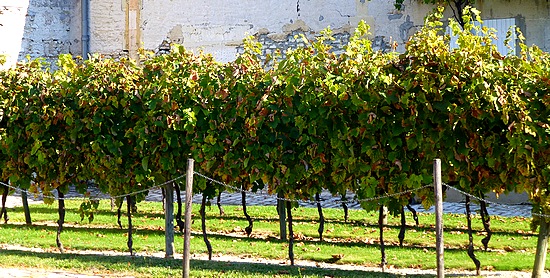 "You cannot make a mistake," Frederic Dezauzier assured my small group as we filed into a blending workshop at the Camus Cognac house. We must have looked intimidated by the sparkling clean room and the array of beakers and flasks waiting for us on an orderly workbench. I pushed memories of high school chemistry class out of my mind and concentrated on the four small glasses of amber liquid at each work station. "The best cognac is the cognac you prefer," the former cellar master and global brand ambassador told us with a smile.
Founded in 1863, Camus is the largest Cognac house still in family hands. On a quick tour en route to the blending room, I learned that Ugni-Blanc, Colombard, and Folle Blanche are the three white grapes (above) most commonly used in making Cognac and that they grow in the abundantly sunny rolling hills surrounding the town of Cognac here in the Poitou-Charentes region of southwestern France.
To intensify the grape flavor, wine from the grapes is double distilled in traditional red copper alembics (right). Each distillation concentrates the flavors into only one-third of the original volume of liquid.
Although it's often said that wine is made in the vineyard, Cognac is truly a product of the blending room. Each bottle has a mix of different grapes and different vintages artfully combined by a cellar master with a refined sense of smell and taste and years of experience. Nothing to be intimidated about here.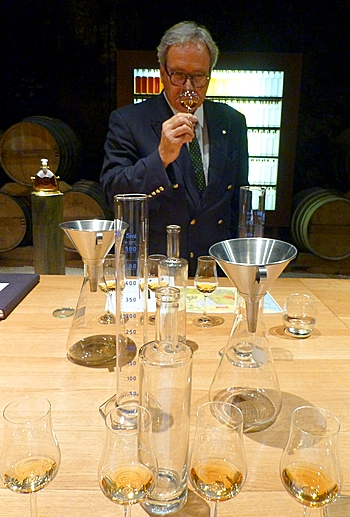 For our workshop, Dezauzier (left) had selected four XO Cognacs from grapes grown in four of the six zones strictly delimited for Cognac production. Together they make up the Cognac AOC, which stands for appelation d'orgine contrôlée, or "controlled area of origin." Each distillate had been aged from 6 to 18 years and I felt a little more confident knowing that we had such good spirits to start with.
Dezauzier instructed us to first sniff and then sip each of our choices and to compare them to each other as we made our way down the line of glasses. Each was surprisingly different and Dezauzier described them with unpretentious good humor. The slightly salty yet sweet Fins Bois, he said, "was like a teenager, very enthusiastic and with a good body." The delicate Borderies had a feminine quality and a floral hint of violets. More acid than the first two, Petite Champagne required longer aging to smooth out its masculine cedar aroma, which Dezauzier likened to a cigar box. Dezauzier was careful to be impartial, but I sensed that his heart belonged to the spicy Grande Champagne, which had been aged the longest and was redolent of cinnamon, dried fruit, and toasted almond.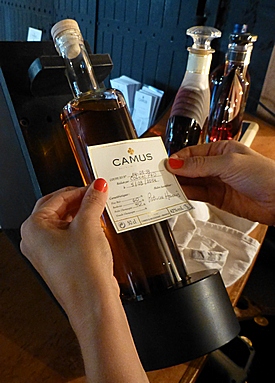 In the end I decided on a little gender blending. I took my beaker to the large barrels in one corner of the room and released the spigot to mix 200 ml of Petite Champagne with 300 ml of Borderies. Using a funnel, I poured my blend into my bottle. Each formula was duly noted in the Camus record book. I've yet to taste my bottle (which fortunately survived the flight home in my checked luggage), but I may have to amend Dezauzier's pronouncement: The best cognac may be the one you make yourself.
For information on tours, tastings, and the Master Blender Workshop see www.camus.fr.