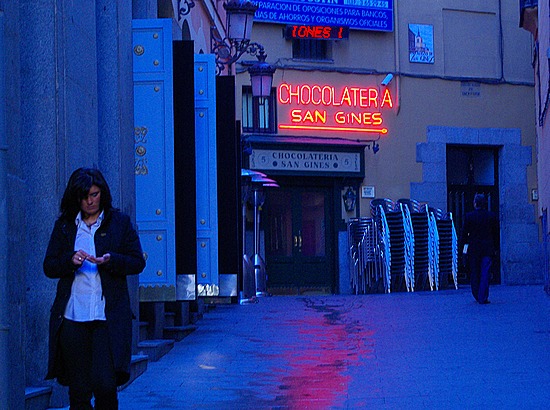 Chocolate seems to have its "day" several times a year, with October 28 being named as National Chocolate Day, courtesy of the National Confectioners Association ("Making Life Sweeter Since 1884").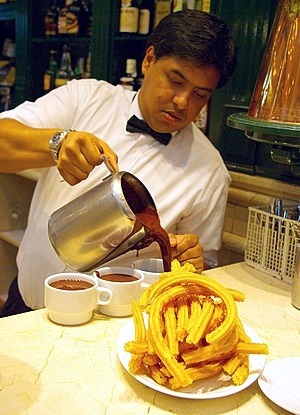 Truthfully, we think chocolate is worthy of international celebration. Our favorite place for hot chocolate, especially during what Spaniards call the "madrugada" (between midnight and dawn) is Madrid's Chocolatería San Ginés (Pasadizo San Ginés 5; tel 91-365-6546; www.chocolateriasangines.com). Here's what we have to say about it in our new edition of Frommer's Spain:
"At some point, all of Madrid comes into Chocolatería San Ginés for a cup of the almost fudgy hot chocolate and the fried dough sticks known as churros. When the music stops in the wee hours of the morning, disco queens from Joy Eslava next door pop in for a cup [see above], and later on, before they head to the office, bankers in three-piece suits order breakfast. There's sugar spilled everywhere on the tables, yet the marble counters are an impeccable tableau of cups lined up with the handles all facing at the same angle and a tiny spoon on each saucer. Dipping the sugar-dusted churros into the hot chocolate is de rigeur, and, yes, it's OK to have the snack in the afternoon."
FYI, Chocolatería San Ginés closes briefly in the early morning for cleaning. Cash only.