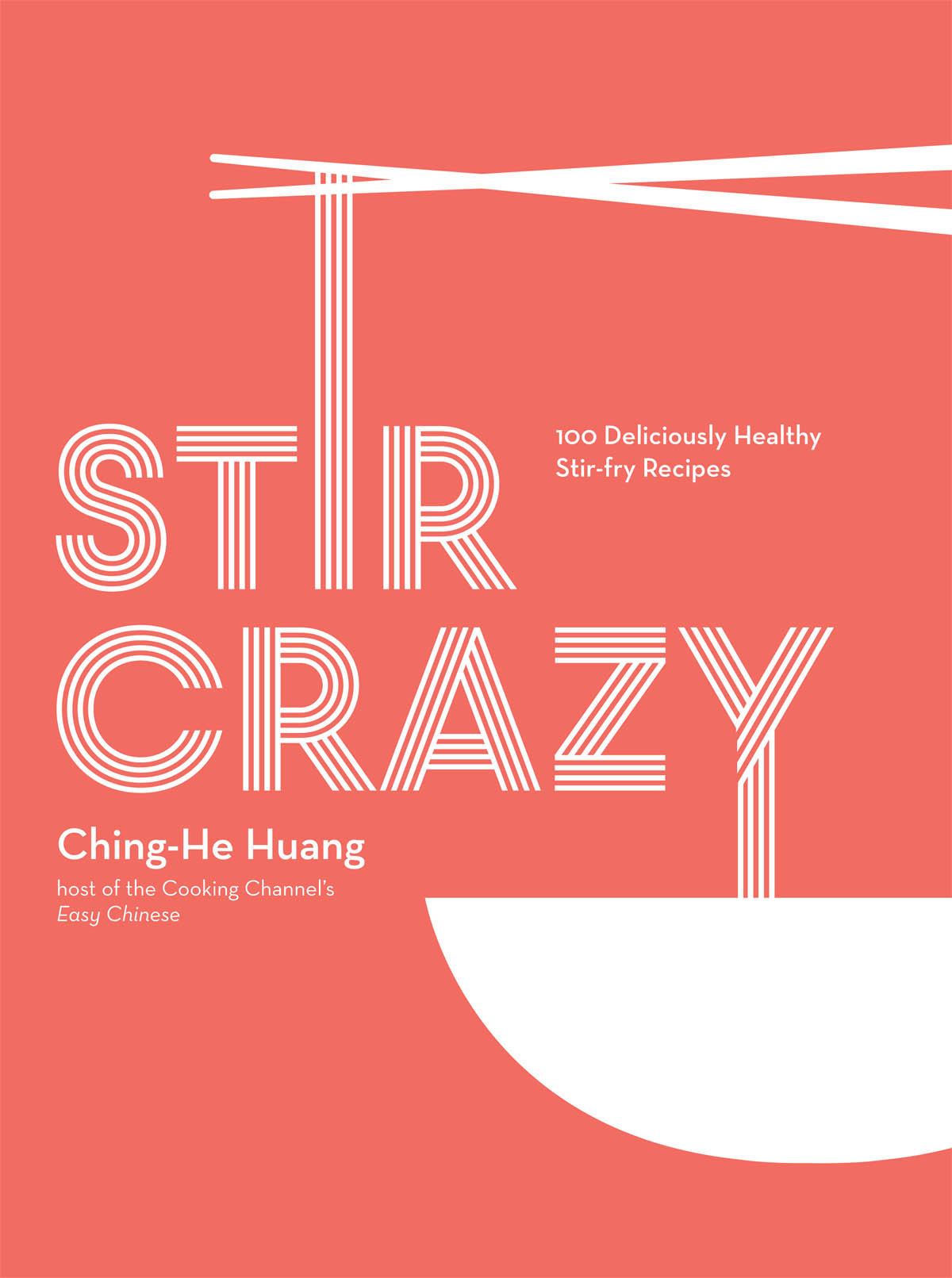 Rarely does a new cookbook so readily insinuate itself into our weekly menu planning. Stir Crazy by Ching-He Huang (Kyle Books, $24.95) is the latest volume of make-at-home Chinese cooking by the prolific Taiwan-born chef and host of Cooking Channel shows. The subtitle—"100 Deliciously Healthy Stir-Fry Recipes"—speaks volumes. The recipes for two servings include estimated prep and cooking times along with calories and grams of carbohydrate, protein, and fat.
Few dishes exceed 400 calories per serving, yet every one is a satisfying one-dish meal, especially if paired with rice or noodles. It's no secret how she keeps them in nutitional bounds. Wok cookery uses very little oil, and cooking times are brief. Most ingredients are readily available in most supermarkets.
Once we embraced the book, we did have to change a few habits. First, we stocked up on a few seasonings we don't usually keep on hand—oyster sauce, fish sauce, toasted sesame oil, and an upgrade to our usual soy sauce. Ching mostly uses peanut or canola oil; we found a grapeseed-canola blend with a little higher smoke point. After trying some wok recipes in conventional frying pans, we relented and bought a good wok at C-Mart in Boston's Chinatown.
Once we were appropriately equipped, it was surprisingly easy to incorporate some of these recipes into our menus. Ching uses somewhat larger portions of meat than traditional in most Chinese cooking. Beef might be 4 ounces for two servings, chicken is almost always 7 ounces. (We suspect that the original British edition of the book gives those measurements as 150 grams and 250 grams, respectively.) What has so far impressed us is that Ching's proportions produce perfectly balanced flavors.
Here's one of our new favorites.
BEEF AND SPINACH FRIED RICE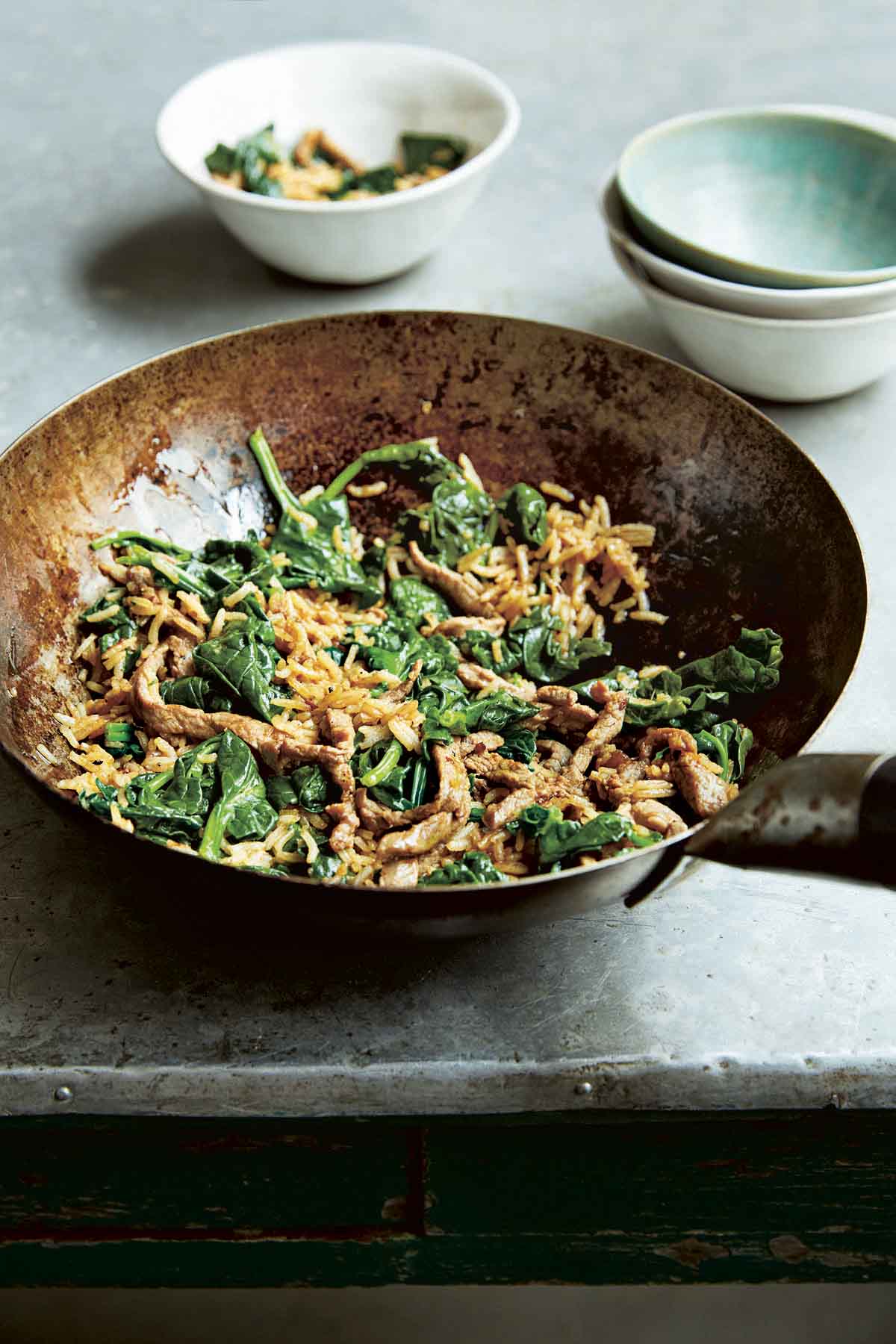 If you have some cooked basmati rice to hand, this dish is incredibly quick to make. If you want to make it carb-free then omit the rice and add some add some broccolini or Chinese cabbage to make the dish go further.
Preparation 20 minutes (includes cooking the rice)
Cooking 6 minutes
Serves 2
cal 429 carbs 43.7g protein 19.4g fat 20.7g
For the beef
4 ounces beef sirloin, fat trimmed off, sliced into thin strips
knob of fresh ginger, peeled and grated
pinch of sea salt flakes
pinch of ground white pepper
1 tablespoon Shaoxing rice wine or dry sherry
For the fried rice
2 tablespoons canola oil
1 garlic clove, crushed and finely chopped
7 ounces spinach leaves
1½ cups cooked basmati rice (¾ cup uncooked)
1 tablespoon low-sodium light soy sauce
1 teaspoon oyster sauce
1 tablespoon toasted sesame oil
pinch of ground white pepper
Directions
Combine all the ingredients for the beef in a bowl, then set aside.
Heat a wok over high heat until smoking and add 1 tablespoon canola oil. Add the garlic and stir-fry for a few seconds to release its aroma, then add the spinach and cook for 5 seconds. Add in the cooked rice and toss with the spinach for 30 seconds.
Push the rice to one side, then heat up the center of the wok and pour in the remaining canola oil. Add the beef and let it brown and sear for 10 seconds, then flip it over. Stir-fry until all the beef has coated the rice, then season with the light soy sauce, oyster sauce, and toasted sesame oil. Sprinkle with some ground white pepper and serve immediately.
CHING'S TIP
Work quickly so the spinach doesn't become mush.
Reprinted from Stir Crazy by Ching-He Huang, published by Kyle Books. Photography by Tamin Jones.
Here's the link to buy it on Amazon: https://www.amazon.com/Stir-Crazy-Deliciously-Healthy-Stir-Fry/dp/1909487678