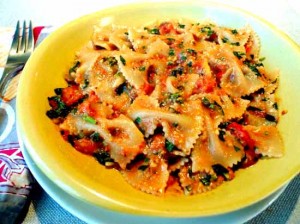 We're in the midst of the tomato and basil harvest–lots of Costoluto Genovese tomatoes and lots of Genovese basil. Most nights that means slicing up some fresh mozzarella cheese and enjoying giant plates of insalata caprese.

But what do you do with the tomato shoulders and irregular bits left over when you make a pretty plate of caprese? We took a little inspiration from Sicily and added lemon and ground pistachio nuts for a solid pasta plate that takes full advantage of the harvest.
FARFALLE WITH TOMATOES, LEMON, AND PISTACHIOS

Serves 2 as main dish, 4 as pasta course
Ingredients
2 cups farfalle (bowties)
1 1/2 cups peeled, chopped tomatoes
1/2 teaspoon sea salt
2 tablespoons olive oil
2 cloves garlic, grated
grated zest of 1 lemon
juice of 1 lemon
1/4 cup pistachio nutmeats, coarsely ground
1/3 cup chopped basil leaves
1/4 cup grated Parmigiano Reggiano cheese
extra Parmigiano Reggiano for the table
Directions
1. Heat 4 quarts salted water to a boil. Add farfalle and cook al dente (about 10 minutes).
2. While pasta is cooking, carry out other steps. Place chopped tomatoes in sieve and toss with salt. Let drain over bowl, reserving liquid.
3. In heavy-duty skillet, heat olive oil until smoking hot. Remove from heat and add grated garlic and grated lemon zest. Stir until lightly browned.
4. Place skillet back on medium heat and add lemon juice. Cook until reduced by half. Add juice that has drained from tomatoes and reduce by half, stirring frequently to emulsify and get creamy texture.
5. When pasta is done, add to juice mixture in skillet. Add ground pistachios and stir well. Add chopped basil and stir well, cooking about 2 minutes. Remove from heat and stir in grated cheese.
Serve with additional cheese for the table.