In our last post, we mentioned six items we like to bring home from trips to Vermont. Since Food Lovers' Guide to Vermont & New Hampshire has about the same number of entries from each state, it seems only fair to mention some of our favorite foods to bring back from the Granite State.

Flag Hill Winery & Distillery (297 North River Rd., Lee, N.H.; 603-659-2949; flaghill.com) doesn't need our imprimatur to sell their immensely popular, often sweet wines made from berries and apples as well as first-generation French-American hybrid grapes. Our preference goes to products from the artisanal distillery. The barrel-aged apple brandy is a classic American applejack, and the neutral spirit, a vodka triple-distilled from apples, is smooth and sultry. It's named for Revolutionary War hero General John Stark. Deeply chilled, it is excellent to sip neat.
Doug Erb's family has operated Springvale Farm since the mid-20th century, but the dairy herd really rose to greatness in 2009 when Erb launched Landaff Creamery (546 Mill Brook Rd., Landaff, N.H.; 603-838-5560; landaffcreamery.com). We're fond of his original Caerphilly style cheese, but the French-style, washed-rind tomme is even more evocative for its taste of terroir. Many stores sell the original Landaff, but we've only found the tomme at the farm.
The Littleton Grist Mill (18 Mill St., Littleton, N.H.; 603-259-3205; littletongristmillonline.com) started grinding flour and meal in 1798 and continued into the 1930s. Restored in the 1990s, it produces a prodigious variety of stone-ground flours from organic grains. We're partial to the buckwheat flour to use in making pancakes and crepes.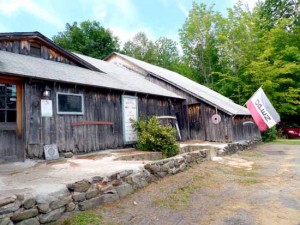 We like bacon with our pancakes, and some of the most subtle New Hampshire bacon comes from the chambers of Fox Country Smoke House (164 Brier Bush Rd., Canterbury, N.H.; 603- 339-4409; foxcountrysmokehouse.com). Located on a backwoods road, the facility looks like something from the opening minutes of the Loretta Lynn biopic Coal Miner's Daughter. Many stores sell Fox Country bacon in sliced form, but we like to pick out our own packages of unsliced bacon, opting for smoky pieces with good streaking for the breakfast table, more lightly smoked extra-lean chunks for dicing into seasoning for risottos.
Even with the great salumerias of Boston's North End, we finding ourselves stopping in Manchester, N.H., so we can shop at Angela's Pasta and Cheese Shop (815 Chestnut St., Manchester, N.H.; 603-625-9544; angelaspastaandcheese.com). The homemade sauces are Italian-American heaven, but what suckers us in every time are the handmade gnocchi that we buy from the freezer case. These are the best frozen gnocchi we have ever found.
If we're anywhere in the upper Connecticut River Valley, we make sure we visit the Robie Farm & Store (25 Rte. 10, Piermont, N.H.; 603-272-4872; www.robiefarm.com). The honor-system store has organic beef and sausages from the family's own cattle and pigs. They also sell raw milk, cream, and a couple of farmhouse cheeses. The Italian-style alpine Toma (also available smoked) has a rich creaminess that conjures up the valley's green pastures when you bite into a piece and close your eyes.