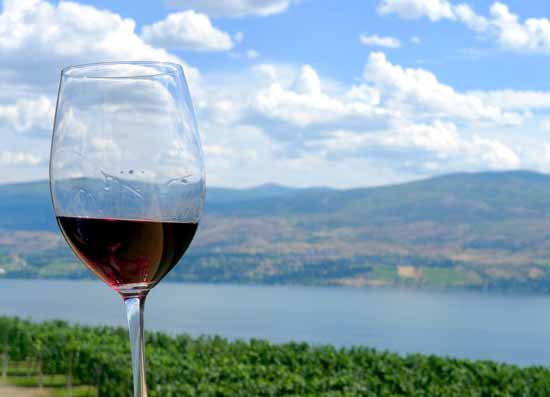 No, we didn't take this photograph in the cute little Kelowna airport, located in the heart of the Okanagan Valley of British Columbia. Once principally an orchard area (the peaches and cherries are incredible), the valley now boasts more than 150 wineries and an untold number of vineyards. It is emerging as one of the hottest new table wine region in the North American west as well as continuing its excellent production of Canada's best-known ice wines.
We spent a few days touring and tasting and have to admit that it's hard to beat the striking vistas from the hillside vineyard tasting rooms that overlook the chain of lakes in the Okanagan Valley. Looking down the long green rows to the blue water–and then across to the opposite bank where more vines climb the hills to the horizon is pretty special. The lakes help hold the heat and the high desert climate makes the region nearly perfect for growing grapes organically. We've seen few places in the world where organic viticulture (and agriculture in general) was the rule rather than the exception.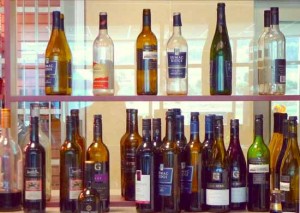 To our surprise, the Kelowna airport's Skyway Cafe & Bar is a fine place for a final glass before boarding a flight, if only to get a last taste of an Okanagan wine in situ (assuming you skip the wine-in-a-box "Premium Red" and "Premium White"). The bar offers selections by the glass from some of the most respected vineyards in the region, including a Mission Hill Five Vineyards cabernet sauvignon-merlot blend and a pinot noir from Grey Monk.
Alas, the bar doesn't pour any of the ice wines that first made the region's reputation. So if you find yourself flying from Kelowna, make sure a bottle or two is in your checked bags. If you're flying nonstop, there's a wine shop by Gate 5.