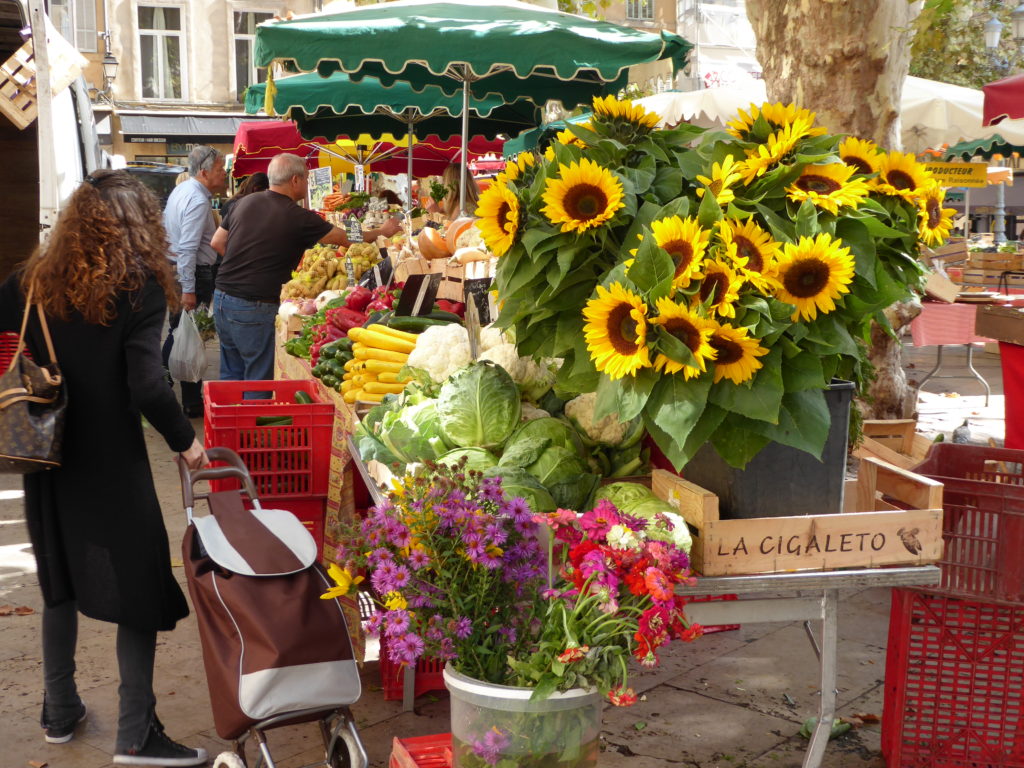 Just 45 minutes north from Marseille by train, Aix-en-Provence is incredibly cute and utterly Provençal. It almost seems fabricated by a clever group of artisans to send tourists home with suitcases full of the accoutrements of French country design and the ingredients for the celebrated cuisine of the sun.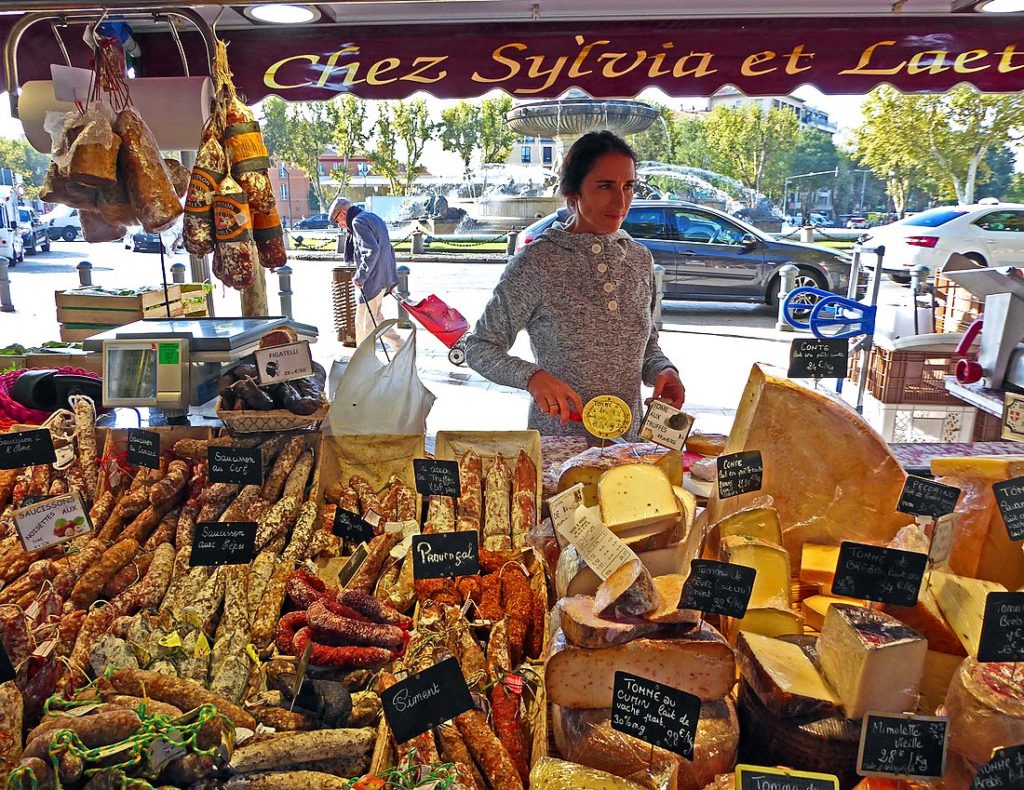 Since it was our first opportunity to visit one of the great market towns of Provence, we scheduled our trip for a Tuesday for the broadest range of open-air markets. Also available on Thursdays, the produce market, flea market, flower market, and textiles and crafts markets are less crowded during the week than on Saturdays. Or so we were told. It's hard to imagine if any more people could have crowded into the mostly pedestrian streets of the medieval old city.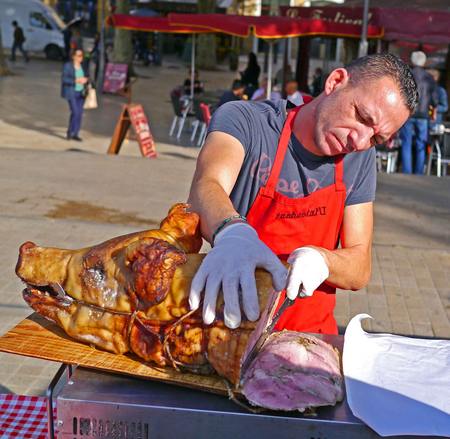 We almost didn't make it to the narrow old streets. The markets commenced outside the tourist office on La Rotonde, the big fountain and traffic circle that marks the west end of leafy Cours Mirabeau. Although we had enjoyed a good breakfast in Marseille (amazing French natural yogurt and a flaky croissant), the fancy food vendors immediately made us hungry. A number of gourmet specialists had set up next to La Rotonde. Several vendors had vast arrays of sausages and cheeses, while another offered every size, shape, and color of mushroom.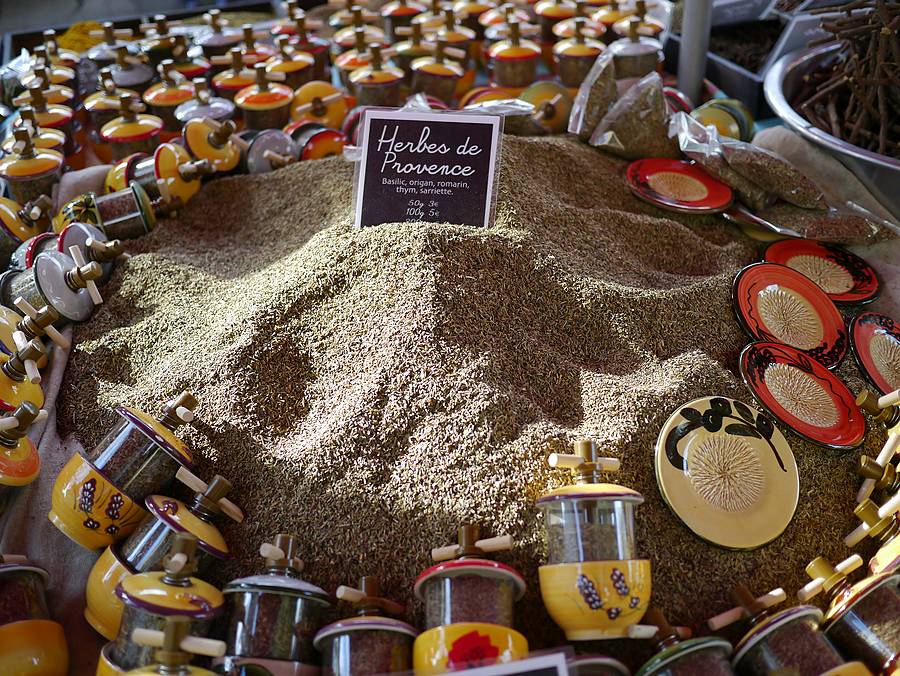 One man had nothing but honey, while another was slicing that quintessentially French sausage called "head cheese" (above). Call us ignorant, but we had never stopped to think exactly how literal that name is. The gourmet market also sported stalls with artisanal breads and small-production olive oils. We seriously considered investing in a small spice mill filled with herbes de Provence or in sleekly beautiful salad utensils or a mortar and pestle fashioned from olive wood.

Into the old town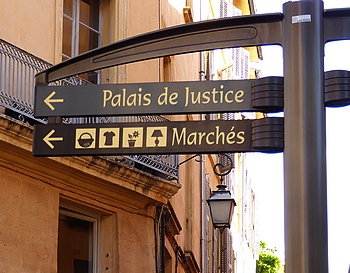 We were told that the markets were set up at La Rotonde and along Cours Mirabeau because some of the plazas in the old city were blocked off for reconstruction. We ran the gauntlet of recycled clothes and Chinese imports in the flea market almost unscathed—though we were seduced by some dish towels made of Provençal fabric. Just seeing the colors reminded us that Paul Cezanne hailed from Aix-en-Provence. At the end of Cours Mirabeau, a sign seemed to confirm what we had been told. It pointed to the markets in the same direction as the Palais de Justice. Only the farmers' market and the flower market were in their original square (at top of post). But the find of the day was the lavender lady profiled in the next post.