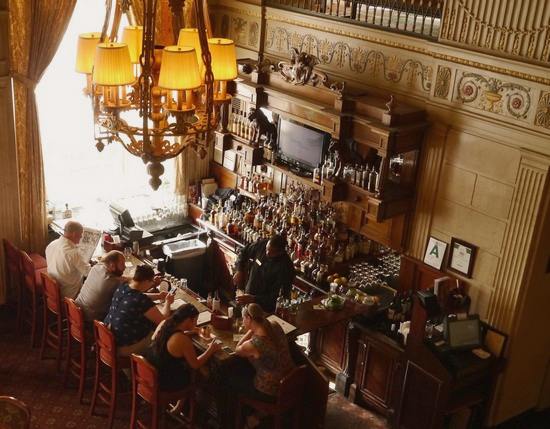 Louisville certainly has some nice new hotels, but for old-city ambience and sheer Southern comfort it's hard to beat the Brown Hotel (335 West Broadway, Louisville, 502-583-1234, brownhotel.com). A bastion of hospitality since 1923, it's a pillar of the New Old South. Its English Renaissance-inspired architecture has a polite reserve that reflects Louisville's role as the epicenter of bourbon and thoroughbred racing.
If we were true barflies, it would be hard to pry us out of the Brown's elegant sepia-toned lobby bar. The room opens at 3 p.m. and by late afternoon it begins to fill with Louisville's business elite. As befits one of the city's finest and most storied bars, it even has a bourbon steward. On our last stay, it was Troy Ritchie, and he definitely knew his way around the deep bourbon list.
We usually drink spirits neat or on the rocks, but cocktail history runs deep at the Brown and we couldn't resist. The bartenders make the Brown Manhattan with two parts bourbon to one part Dolin Rouge Vermouth de Chambéry, which is more aromatic and less sugary than most vermouths. They use both orange and Angostura bitters (and a house-cured cherry) to produce a drink with precison and finesse. FYI, the bar also makes a mean Old Fashioned, Louisville's official drink said to be invented in 1881 at the esteemed Pendennis Club.

English Grill captures art of dining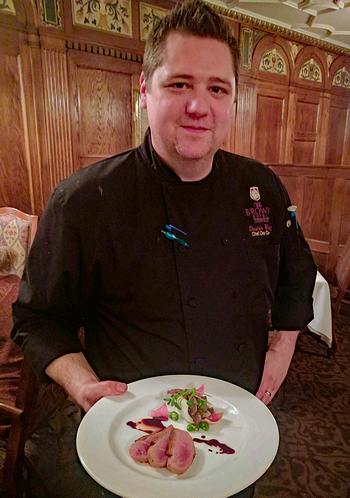 We may not have the connections to rub elbows at the Pendennis Club, but the refined elegance of the Brown Hotel's English Grill suited us just fine for dinner. The dark oak paneling, the equestrian paintings, and the leaded glass windows are all original to the hotel's opening in 1923. But the kitchen is as contemporary as the room is traditional.
Chef de cuisine Dustin Willett is a graduate of Culinard in Birmingham, Alabama, with stints in New Orleans and in the Washington, D.C. branch of the Four Seasons on his resume. He describes his cooking as modern Southern cuisine with international flavors. "I like to look at things in a modern way," he says. That's Willett above on the left, presenting a delicious plate of sliced roasted duck breast accompanied by duck confit in an endive leaf garnished with watermelon radish.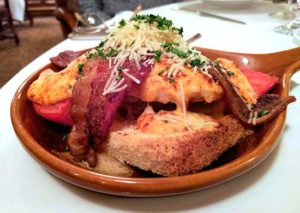 Of course, you can find a superb all-American steak on the menu. The prime ribeye Delmonico is served with asparagus, roasted garlic aioli, and killer fries sprinkled with freshly grated Parmesan cheese. The most homegrown dish of all—it never leaves the menu—is the Hot Brown, invented here in 1926. To quote the menu, it consists of "roasted turkey breast and toast points with Mornay sauce pecorino Romano cheese, baked golden brown, finished with bacon and tomatoes." It's shown here. To read the background story and get the recipe, see this post.

Sweet conclusion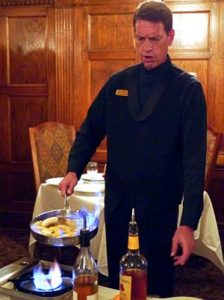 As befits a special-occasion dining venue, the English Grill even does dessert with panache. The staff prepares the venerable Bananas Foster tableside. But this isn't the original Bananas Foster created at Brennan's in New Orleans in 1951. No-siree-bob. It would be heresy in Louisville to use any brown spirit other than bourbon. The steps are pretty much the same for so-called Bananas Foster Kentucky Style. Caramelize some brown sugar and cinnamon in a generous pool of butter, add banana liqueur, some Four Roses bourbon, and squeezes of lemon and orange. Cook until the alcohol burns off. Add freshly peeled bananas and cook until warm. Then pour on more Four Roses and tilt the pan until the alcohol catches fire with a snazzy blue flame. Once the flame dies, serve with vanilla ice cream.