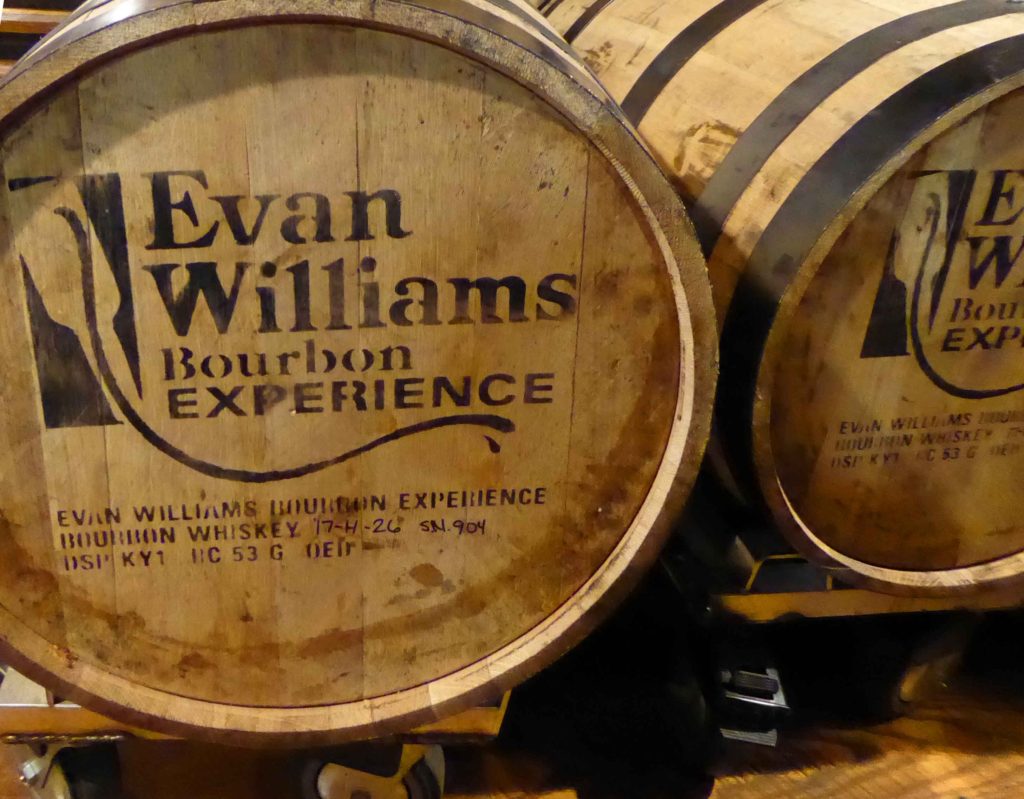 When Heaven Hill Distillery opened the Evan Williams Bourbon Experience (528 West Main St., Louisville, 502-272-2611, evanwilliams.com/visit.php) in 2013, it marked the first new bourbon distillery in downtown Louisville since the late 19th century. The brand is named for the man said to be Kentucky's first licensed commercial distiller, Evan Williams. Some folks dispute that, pointing to Elijah Craig. What is known is that Williams erected a still on a spot across Main Street in 1783 and began making corn whiskey that he shipped downriver in oak barrels. Other distillers soon followed suit and by 1800 the street was known as Whiskey Row. Everyone on the street was making, selling, or shipping bourbon.
The Evan Williams Bourbon Experience is a delightful blend of low-tech history dioramas with a walk-through small-batch distillery and a welcoming barroom for tasting. (There's also a store, but you kind of expected that, didn't you?) What animates the tour is the dynamic presentation by the guides. In our case, Andy Embry led us from origins to final tasting.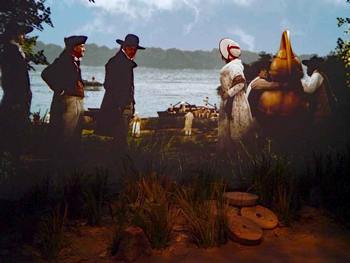 The dioramas (complete with "historical" voice-overs) explain the basic Creation story of bourbon. Kentucky farmers discovered that the best way to preserve corn was to ferment corn mash and distill it into whiskey. (That many of those Kentucky farmers hailed from Scotland and Ireland, where malted and distilled barley was a way of life, probably aided the "discovery.") Louisville enters the picture when it is settled in the late 18th century as a transshipping point for traffic on the Ohio River. (This photo shows the diorama of Evan Williams on the riverbank, where his copper alembic is being unloaded from a riverboat.)
Since distilled spirit was in great demand on the western frontier, making whiskey and shipping it downriver was a natural business for the new community. Lo and behold, by the time the neutral spirit packed into oak barrels reached New Orleans four months later, it had mellowed and picked up color and flavors from the wood. Since much of the whiskey came from Kentucky's Bourbon County, it became known as Kentucky bourbon.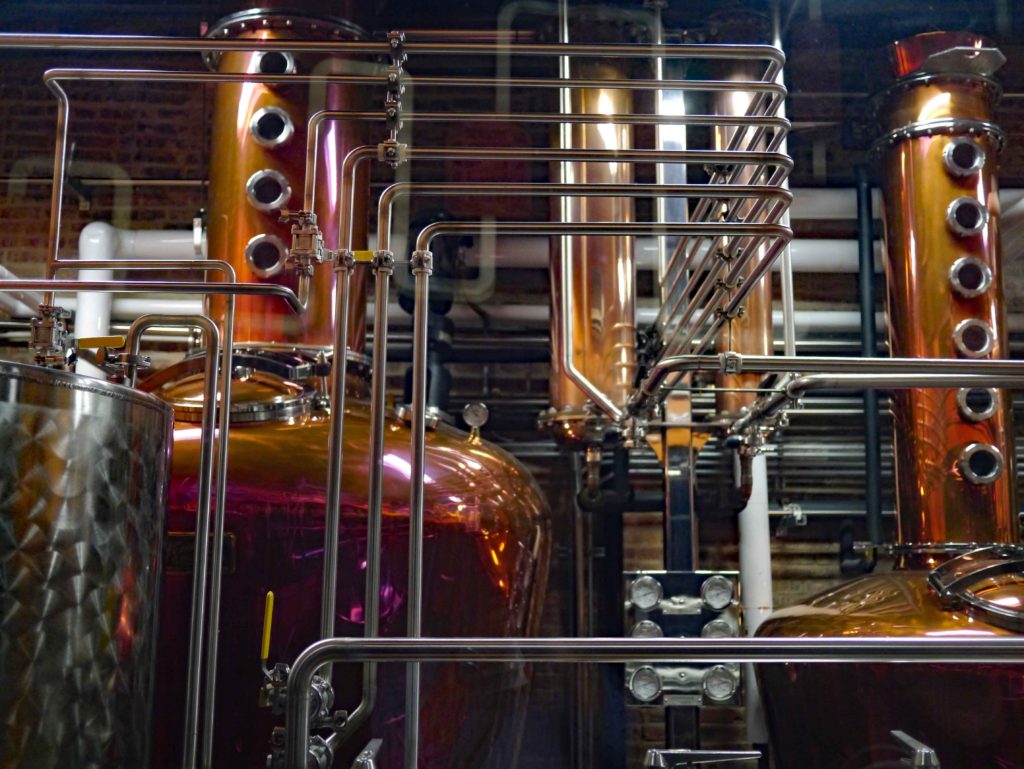 Get you a copper kettle…
That's probably all the history any bourbon drinker needs to know, as the taste of the spirit is what really matters. There's a real alchemy to distilling, but the magic is more philosophical than physical. This small artisanal distillery (above) produces just two barrels of spirit per day. (Each barrel requires 14 bushels of corn, so you do the math.)
The distillery area has that pleasant smell of warm malt, as the facility brews a fresh batch of distiller's beer each day from a mash of at least 51 percent corn, barley malt starter, and some rye and wheat. (Mash bills, as the proportions are called, vary with the brand.) The low-alcohol beer is distilled in a 70-foot-high column still, then redistilled in a "doubler" to produce a clear "new make." To be called bourbon, the new make has to come in at 160 proof or lower. Evan Williams puts its spirit into charred oak barrels at 125 proof. By the time the spirit and caramelized wood have married so the bourbon is ready for bottling, evaporation will have reduced the alcohol level further.

Proof is in the tasting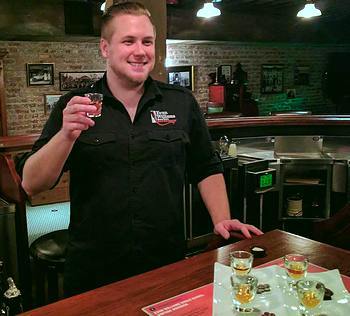 In the tasting room, Embry explained the basics. "Always nose it," he said. "A tulip-shaped glass is good. Put your nose right in the glass, part your lips, and inhale." We'd never thought about the parted lips, but the extra oxygen supercharges the palate to pick up a broader array of smells. "Then take a small taste to cover your tongue," Embry added. "Roll it across your tongue to hit every tastebud. Don't toss it all back. If you're paying over $75 a bottle, you owe it to yourself to taste it first."
The spirit goes down with a glowing warmth. "That's what we call a Kentucky hug," he said with a smile.
Embry had us taste several styles of Heaven Hill whiskies. First came Evan Williams Single Barrel. The 8-year-old 86.6 proof bourbon starts with strong notes of oak and sweet tobacco on the nose giving way to caramel and butterscotch in the mouth. Our second sip was Larceny, a small batch 92 proof wheated bourbon. Soft and sweet, it delivers all its flavor in the front of the mouth. Properly aerated, it has pleasing notes of sweet spices and black pepper. Our third whiskey was Rittenhouse Rye, a 100 proof straight rye with 15 percent corn in the mash bill. After the Larceny, it tasted especially dry, with cocoa and citrus dominating over nutmeg and maple tones. By contrast, the Henry McKenna bourbon—a 10-year-old 100 proof single barrel bourbon—was sweet and smoky, redolent of toffee and oak.
Once a week, the facility offers a tasting pairing bourbon with the artisanal candies of Cellar Door Chocolates. We previewed the experience at Mesa in New Albany and will be writing more about it soon.