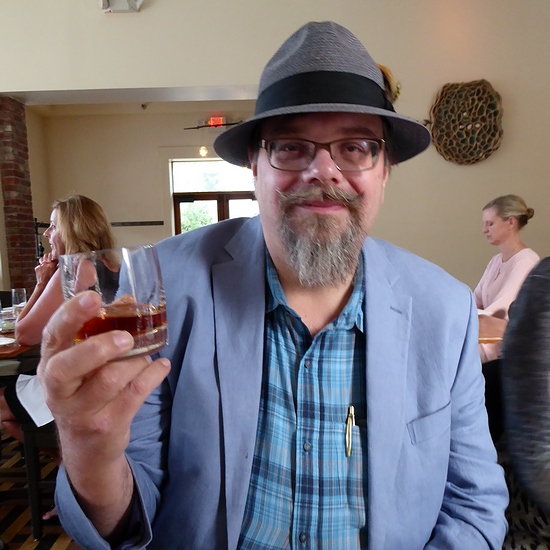 While we were in Louisville, we met historian Michael R. Veach for dinner one night at Decca (812 E. Market St., 502-749-8128, deccarestaurant.com). It was a felicitous convergence of Kentucky food and spirits. Veach, pictured above, is the author of Kentucky Bourbon Whiskey: An American Heritage (University Press of Kentucky, $24.95). And under chef Annie Pettry, the farm-to-table restaurant is one of the city's best.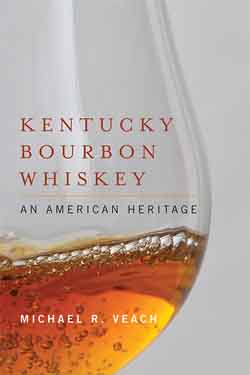 Veach absorbed bourbon history as archivist for United Distillers and later for the Filson Historical Society. He has also worked closely with the Oscar Getz Museum of Whiskey History in Bardstown, Kentucky. While at United Distillers, he sharpened his palate by joining the quality control sampling of barrels in the warehouse.
"We did ten a day," he recalled, describing what for many would be a dream job. "I got to learn from the quality control tasters."

Eat, drink, smile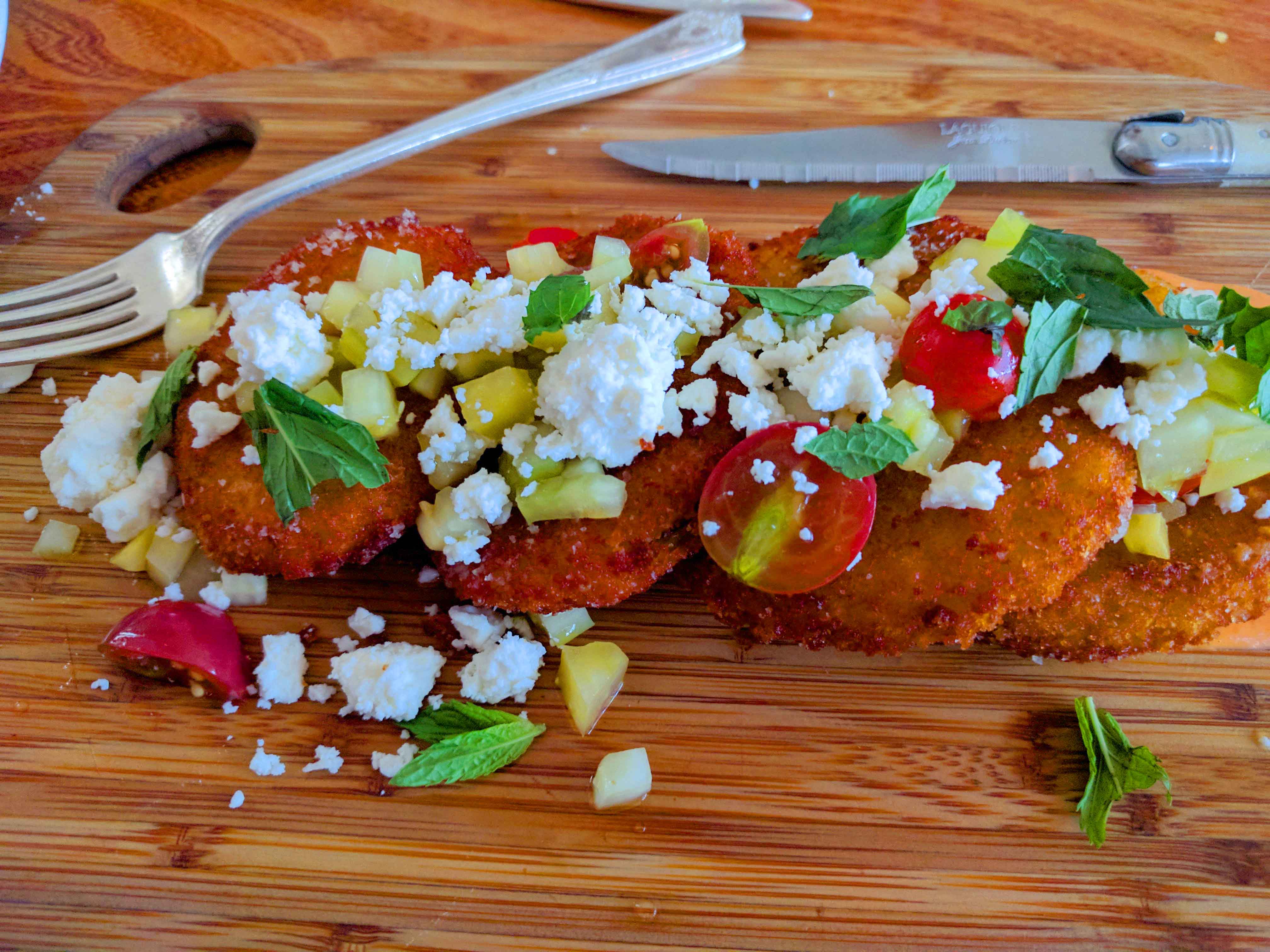 With his hipster fedora and Colonel Sanders beard, Veach enjoys playing the part of a Kentucky character. As we chatted about bourbon, we all shared a board of fried green tomatoes sprinkled with harissa, cut cherry tomatoes, and feta cheese. Half salad, half crunchies, the plate did what an appetizer should do. It made us want more.
Veach ordered a glass of Michter's Bourbon neat to accompany his entree of wood-grilled pork chop with pickled peaches, fennel, and a mustard jus. The bourbon's faint butterscotch and cinnamon nose played nicely with the tart peaches. Veach sipped the drink slowly throughout the meal. "People are starting to drink bourbon with food," he told us. The spirit has enough unique characteristics to make pairing with food relatively easy. "Bourbon can be spice-forward, wood-forward, or fruity. It's just a matter of thinking about what you are going to eat."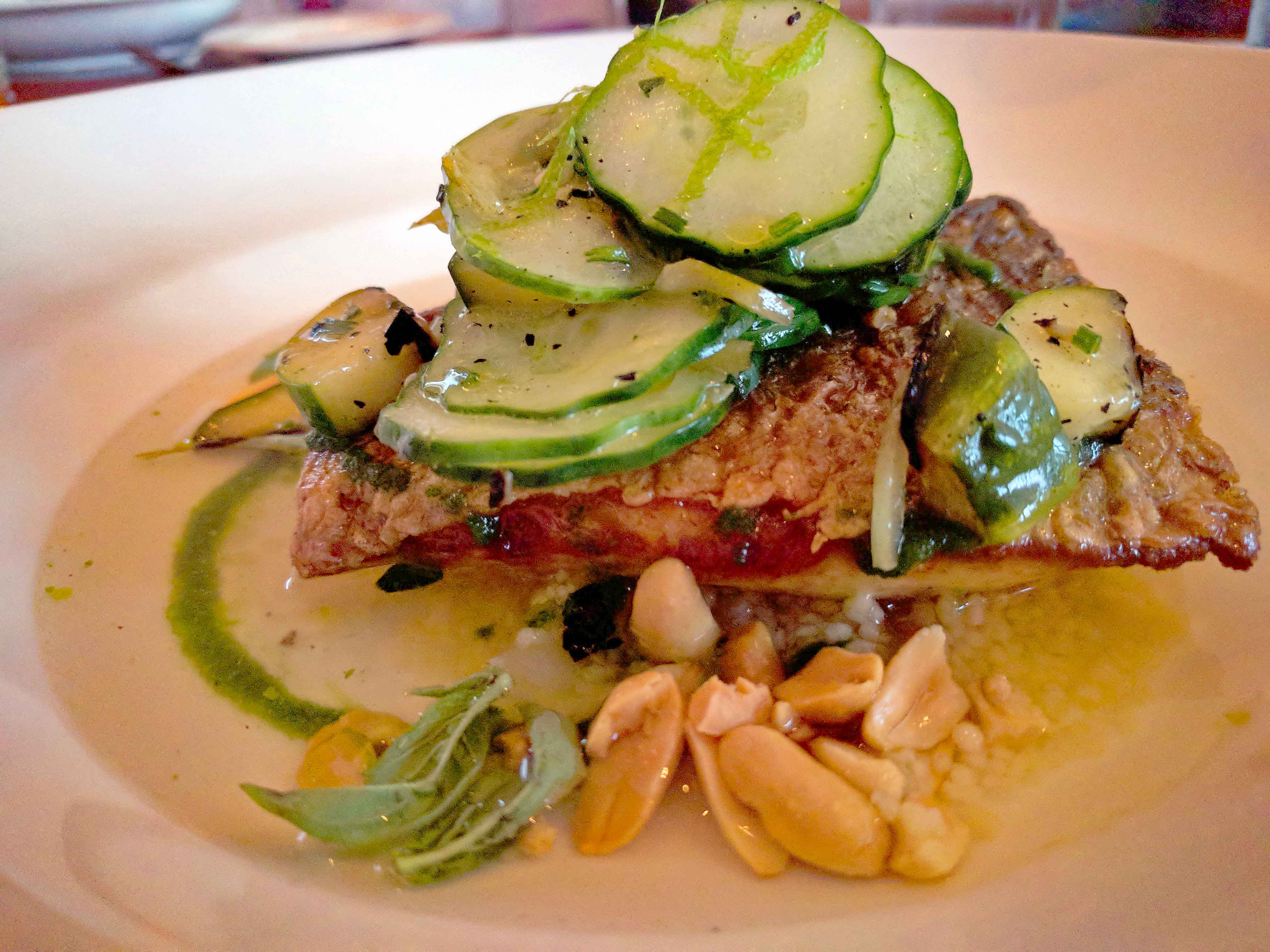 With his advice, we paired Old Forester Classic with one of Pettry's signature dishes (at right). She serves her crispy Texas redfish in a shallow bowl with a light leek broth, some couscous, slices of cucmber, and some crunchy roasted peanuts. The vanilla, orange peel, and slight bit of mint in the bourbon matched the fresh and bright tones of the dish perfectly.
Veach has simple advice for developing a palate. "It is practice, practice, practice," he says. "You have to pay attention to what you are drinking. Don't just knock it back. Nose it, then sip it."
To truly appreciate the nuances of bourbon requires patience. "Let it sit," Veach advises. "It will aerate. The more it sits, the more it will change."