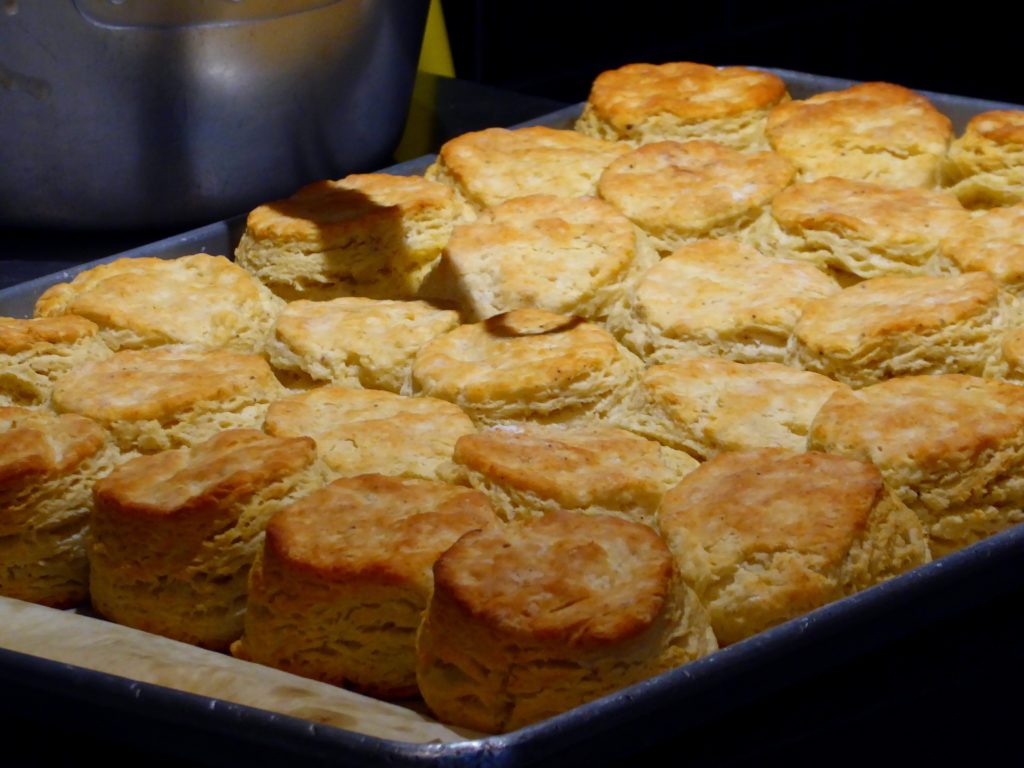 Humble plates spring from big ideas. Between meals in Louisville, we toured the Old Louisville historic district, visited the grave of Muhammed Ali, and checked out the Speed Art Museum (2035 South 3rd St., Louisville, 502-634-2700 speedmuseum.org). It's probably the top art collection in the state and had mounted a great temporary exhibit called Southern Accent: Seeking the American South in Contemporary Art. It made us think about identity and cultural cohesion. Part of the opening wall text struck a particular chord.
"The South is not so much a geographical place as an emotional idea," it proposed. The South is "more a shared sensibility than a consistent culture." Powerful stuff. What makes a place Southern? It has to be more than a love of gardens, firearms, and hunting dogs. Then it hit us. Biscuits—or at least biscuits of a certain style—define what it is to be Southern. And by that standard, both Louisville and the cross-river towns of SoIN are part of the South.
We started our morning on both sides of the Ohio with hot biscuits, butter, and dollops of jam. But a few places exalted the humble biscuit into gastronomic extravagance. Here are three: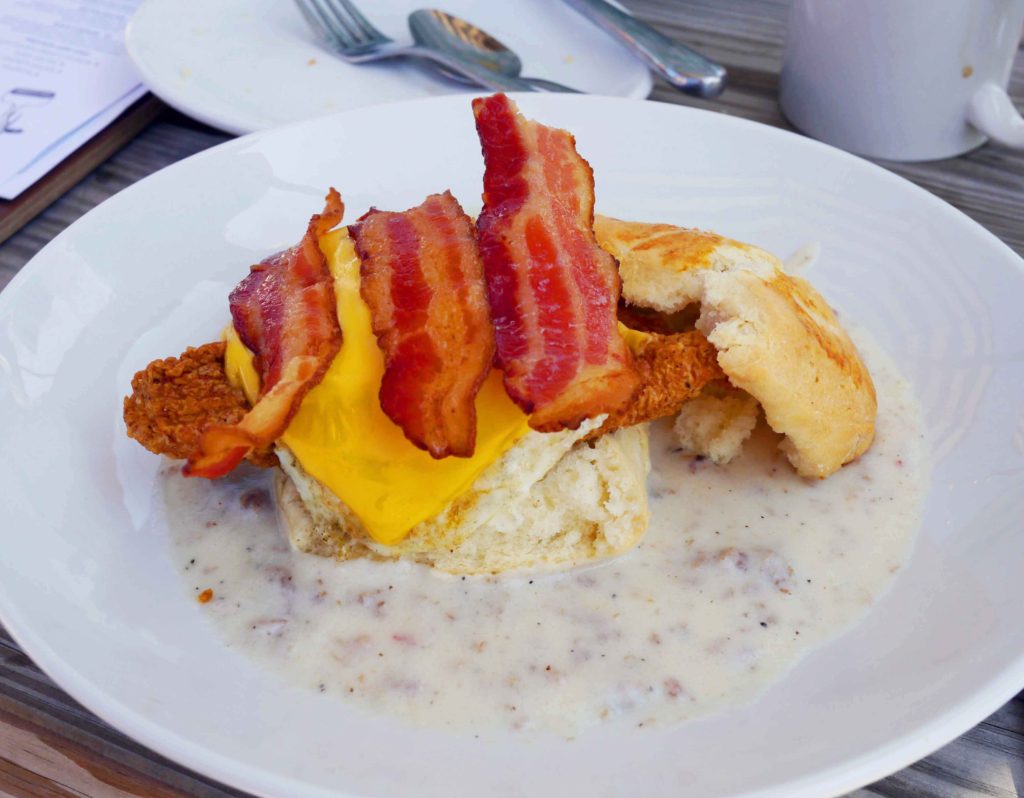 Finn's Southern Kitchen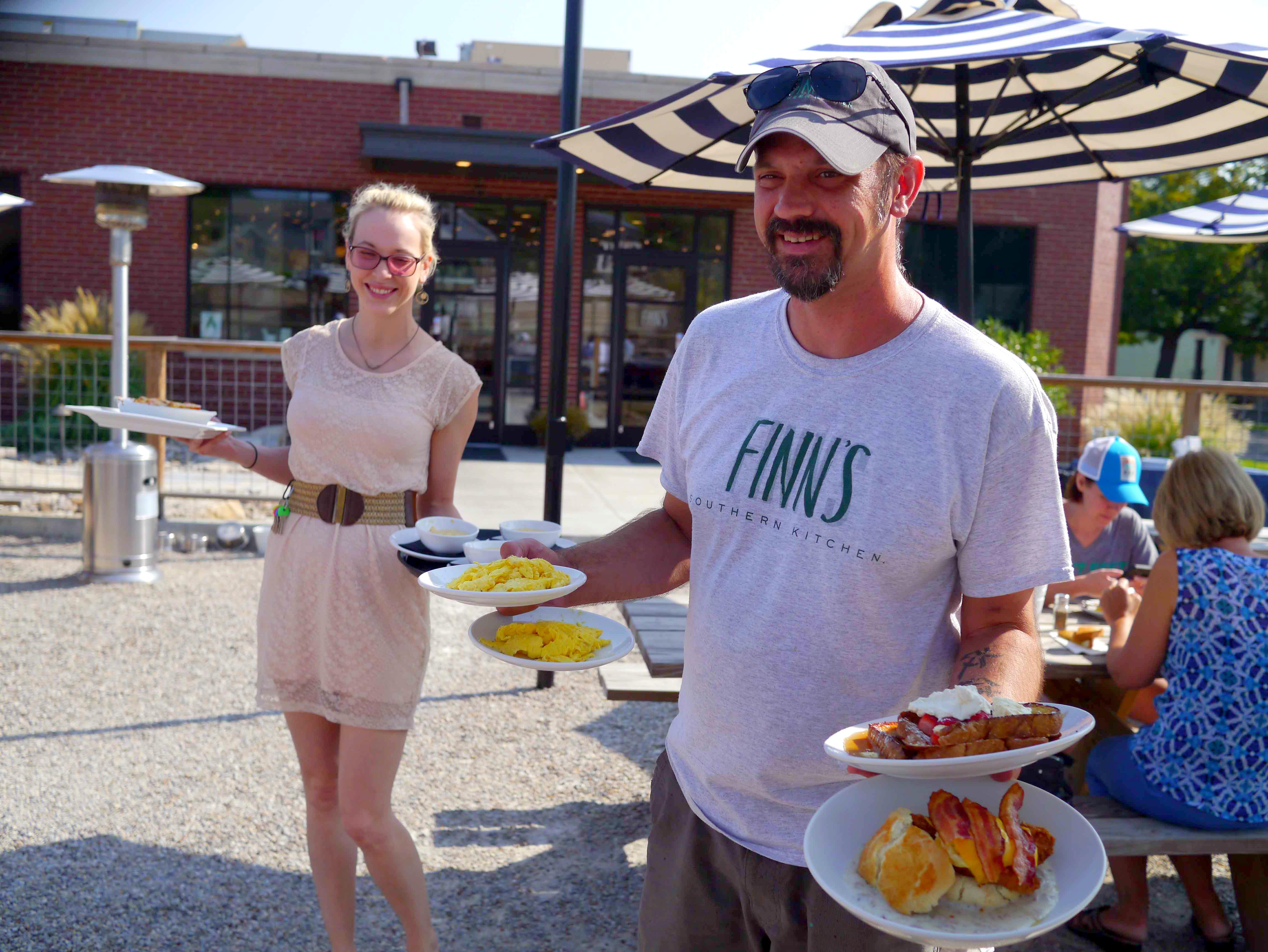 Located in a nice old Deco building, Finn's Southern Kitchen (1318 McHenry St., Louisville, 502-708-2984, finnssouthernkitchen.com) has been a hit since it opened in the spring of 2016. The style is fast-casual but the layout of tables both indoors and out encourages communal eating. The old-fashioned Southern family meal was the inspiration for owner Steve Clements. The lightened (sometimes) Southern fare capitalizes on local products, which is to say that bacon or sausage is often involved.
The folks at Finn's are also very proud of their biscuits. The dish above is called Finn's Ultimate Biscuit Sandwich. It combines three of Finn's specialties on one plate. In addition to the airy biscuit, the dish includes a fried egg, a crispy piece of boneless fried chicken, three strips of bacon, a slice of impossibly orange American cheese, and a puddle of peppery sausage cream gravy. (Pass the Lipitor, please.) Damn, it's good.

The Gralehaus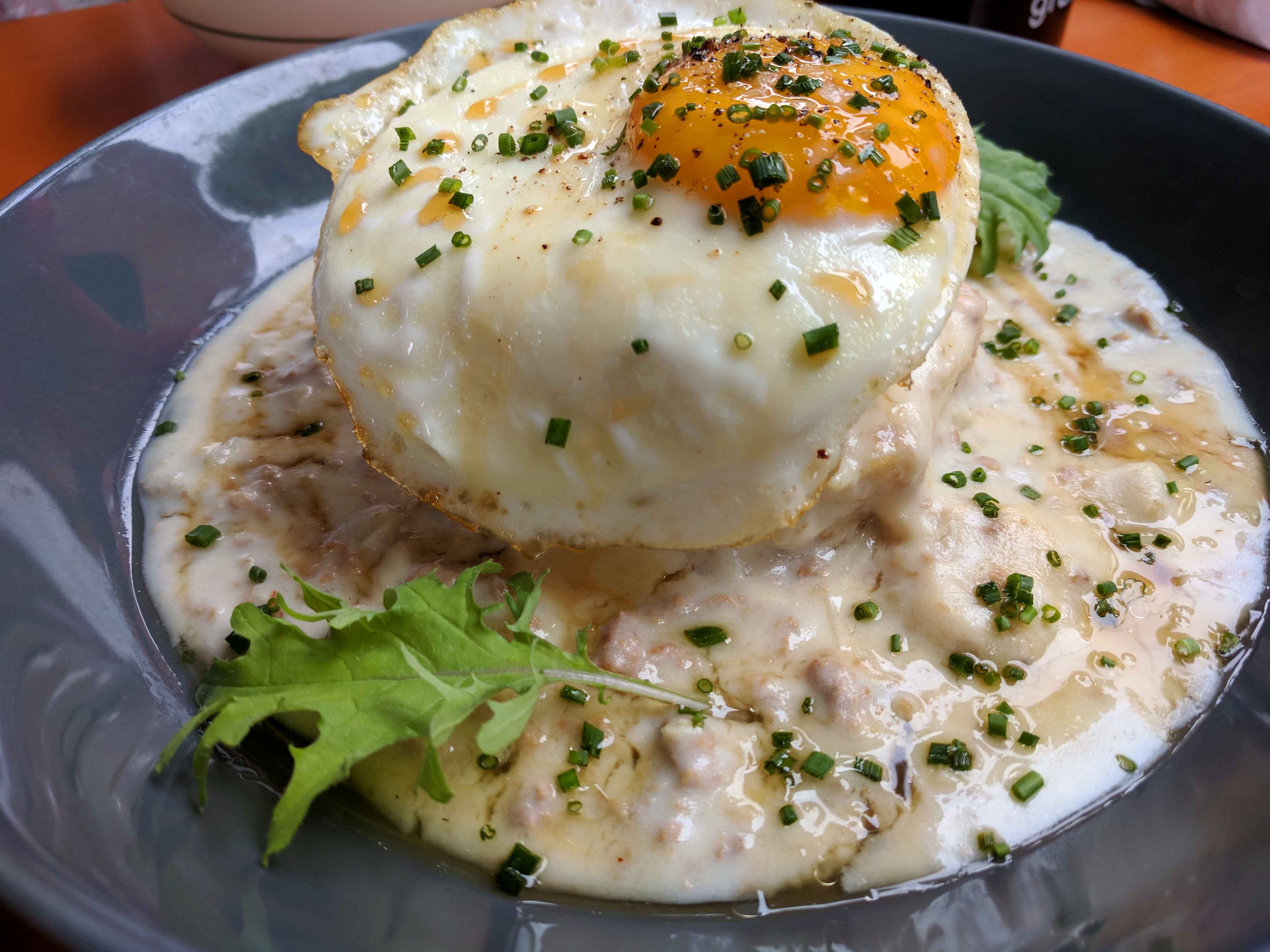 We wondered if we might be going to Aunt Martha's for breakfast as we climbed the cement steps up to a charming Victorian house in Louisville's residential Highlands neighborhood. The Gralehaus (1001 Baxter Ave., Louisville, 502-454-7075, gralehaus.com) is a coffee house and cafe on the ground level, and its has three cute B&B rooms upstairs. Open from 8 a.m-4 p.m., its morning coffee and breakfast segues into craft beer and lunch. (OK, this isn't Boston. You can get beer with breakfast if you want.) When the weather cooperates, the back patio seems like a marvelous, leafy hideaway.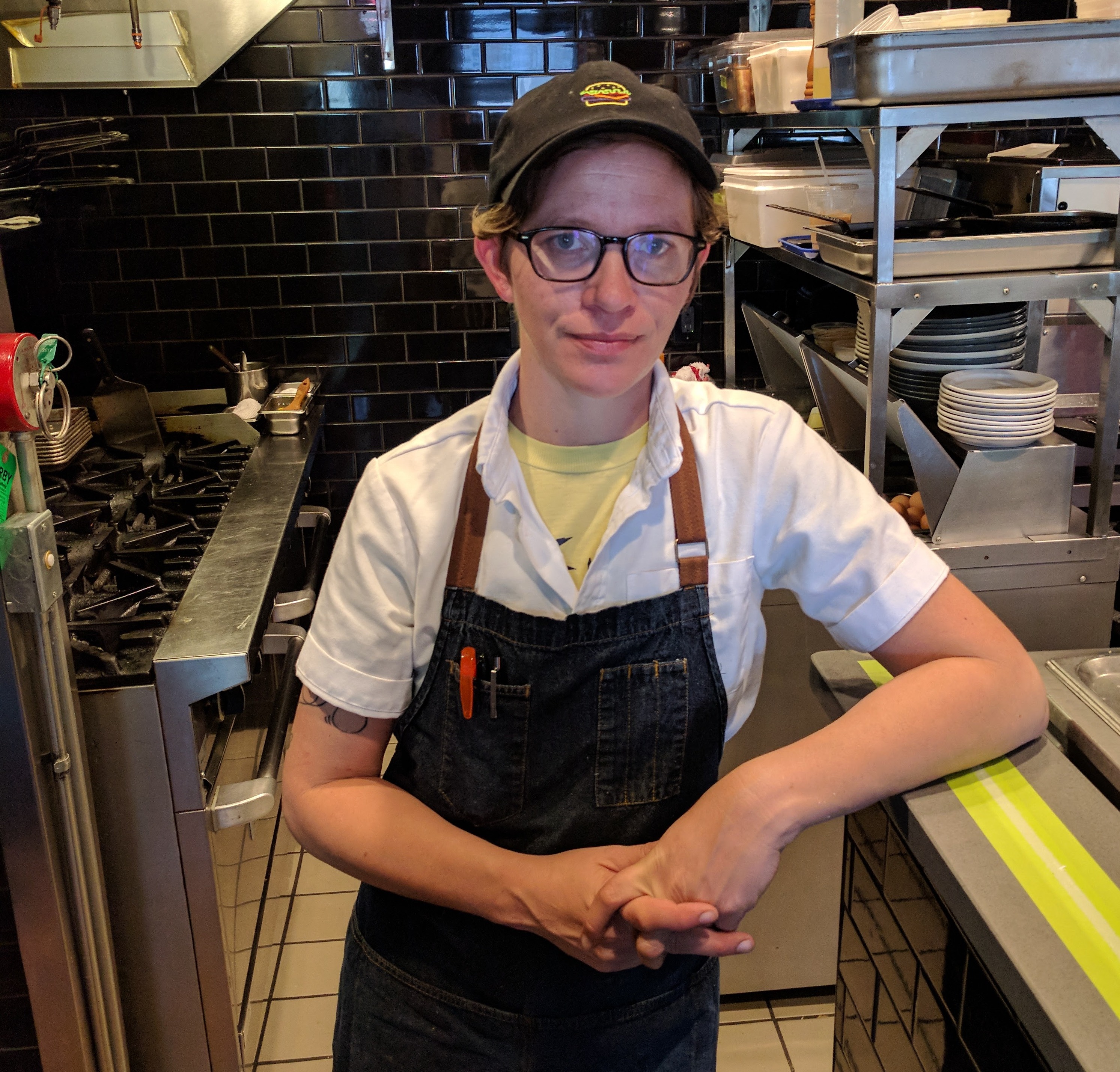 Chef Jen Rock knows Boston (she used to cook at City Girl in Cambridge), but she seems right at home in Louisville. She was cooking the morning we visited, though Andy Myers is the executive chef and general manager. Guy Fieri discovered Myers's clever takes on Southern cuisine last December, and the requests keep coming for the homemade bologna sandwiches. We went instead with the truly epic breakfast shown above: The Duck Sausage Biscuit. Mind you, Gralehaus makes its own duck sausage as well. The fluffy black pepper biscuit (recipe below) is covered with duck sausage gravy, lightly drizzled with duck jus and maple syrup, and topped by a sunnyside-up egg to die for.

The Silver Dollar
This establishment in a former firehouse from the late 19th century definitely has a unique twist on Southern identity.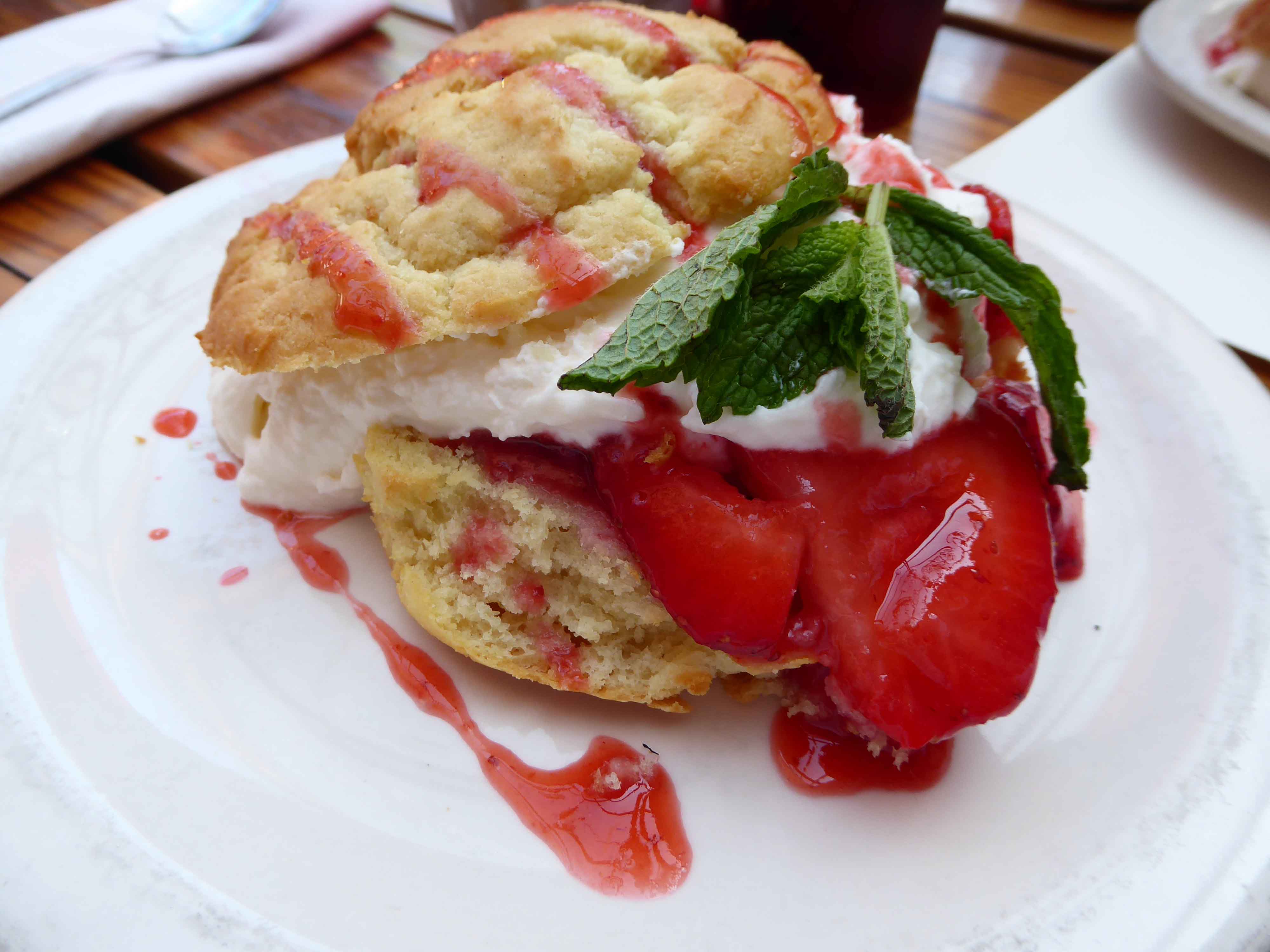 The proprietors describe it as a homage to a 1950s Bakersfield, California, honkytonk—the kind of place that served chicken and waffles and played country music for homesick transplanted Southerners. Of course, the Silver Dollar (1761 Frankfort Ave, Louisville, 502-259-9540, whiskeybythedrink.com) has been transplanted back to Louisville. But the Bakersfield exile might explain why the menu offers molletes next to beer can chicken.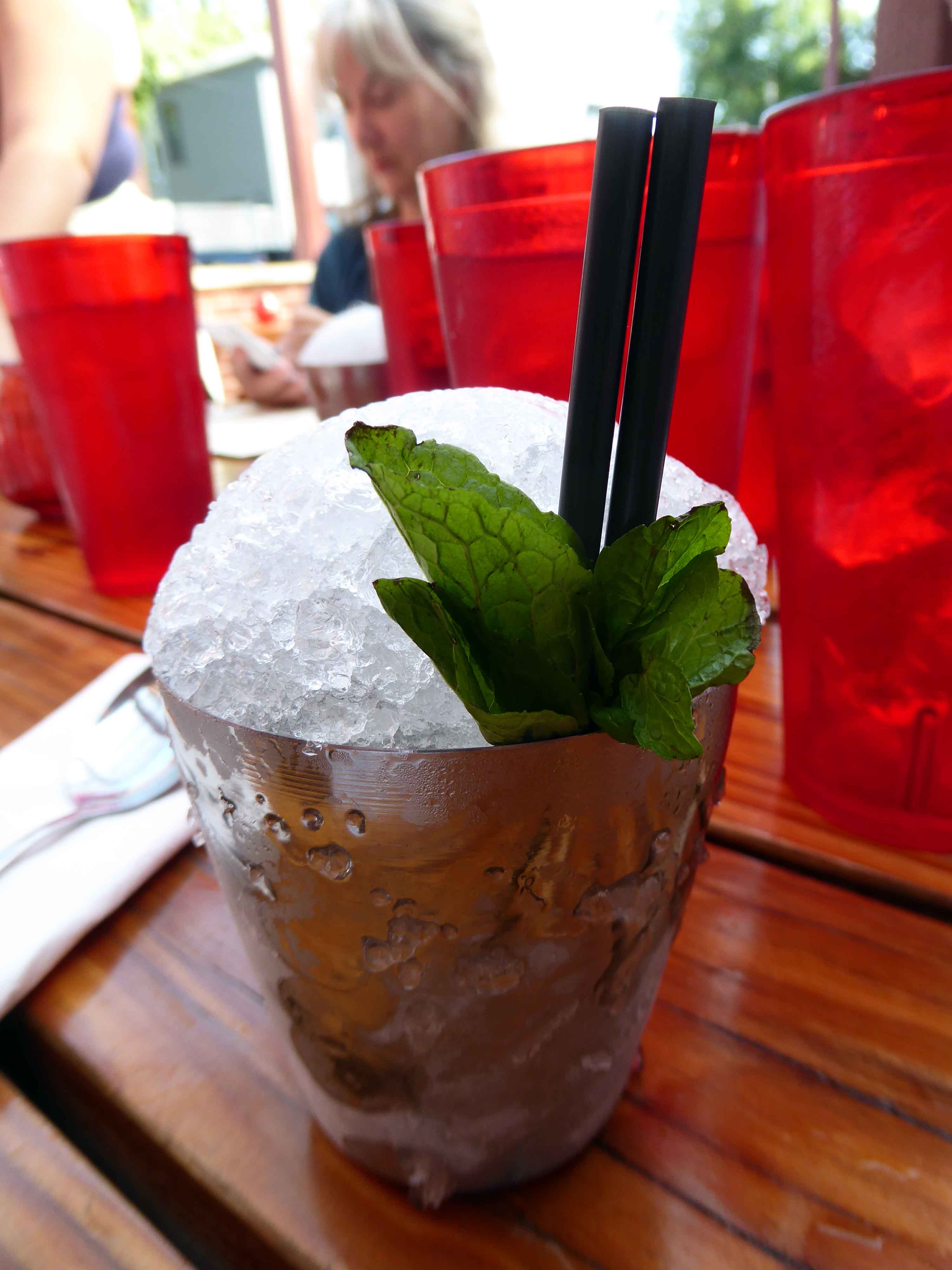 It's all in fun. The bar is ridiculously long and the barroom is cavernous. For those of us ready to make tans while the sun shines, there's a comparatively small outdoor patio. That is where we had a second brunch masquerading as "dessert." The strawberry shortcake consisted of a humongous buttermilk biscuit made on the premises. It was layered with sugared strawberries and slathered with whipped cream. Over the top? Maybe, but it sure was good with the Silver Dollar mint julep served with a straw over a tumbler of crushed ice. That's our kind of snow cone.

GRALEHAUS BLACK PEPPER BUTTERMILK BISCUITS
Gralehaus chef Andy Myers shared this recipe for monster black-pepper biscuits. We've trimmed it down to make eight huge biscuits (instead of 30). These biscuits are best for savory dishes like biscuits and gravy because the black pepper flavor doesn't play well with most jams. If you're salt sensitive, cut the suggested salt in half. The neat trick of grating and freezing the butter lets you make biscuits that stay very cold until baked and come out huge and flaky.
Ingredients
4 cups all-purpose flour
1 tablespoon salt
1 tablespoon baking powder
1 teaspoon baking soda
1 tablespoon fresh ground black pepper
1 1/2 cups buttermilk
2 sticks (1/2 lb.) grated butter
Directions
Set oven to 425°F.
Chill the butter and grate with a cheese grater onto wax paper. Place in freezer.
Combine flour, salt, black pepper, baking soda, and baking powder. Sift.
Once butter is frozen, gently mix it into the sifted flour mixture with your hands. Do not mix for too long; otherwise your hands will begin to melt the butter. The objective is to keep the mixture as cold as possible until it goes into the oven.
Make a well in the center of the bowl as if you were making pasta dough. Pour in the cold buttermilk. Stir with a wooden spoon and start pulling the flour mixture into the buttermilk. Continue working in the flour until the mixture becomes too thick to stir. At this point you can begin using your hands to mix. Try not to overwork the dough. Mix it by hand just long enough to bring the biscuit mix together.
Once mixed, turn out the dough onto a floured surface. Roll out the dough with a rolling pin until it is aproximately 2 inches thick. Fold the dough over in half and roll it out one more time to approximately 1 1/2 inches thick.
Cut the biscuits with a 3-inch round cookie cutter or ring mold.
Arrange cut biscuits on a baking tray lined with parchment paper or Silpat. Once you have cut all the biscuits from the first roll-out, you can re-roll the dough one more time. These biscuits will rise a little more than the first roll but they are still great.
Once you have cut all our biscuits, immediately put them into 425°F oven for 22 minutes turning the tray once halfway through the cooking process (11 minutes).