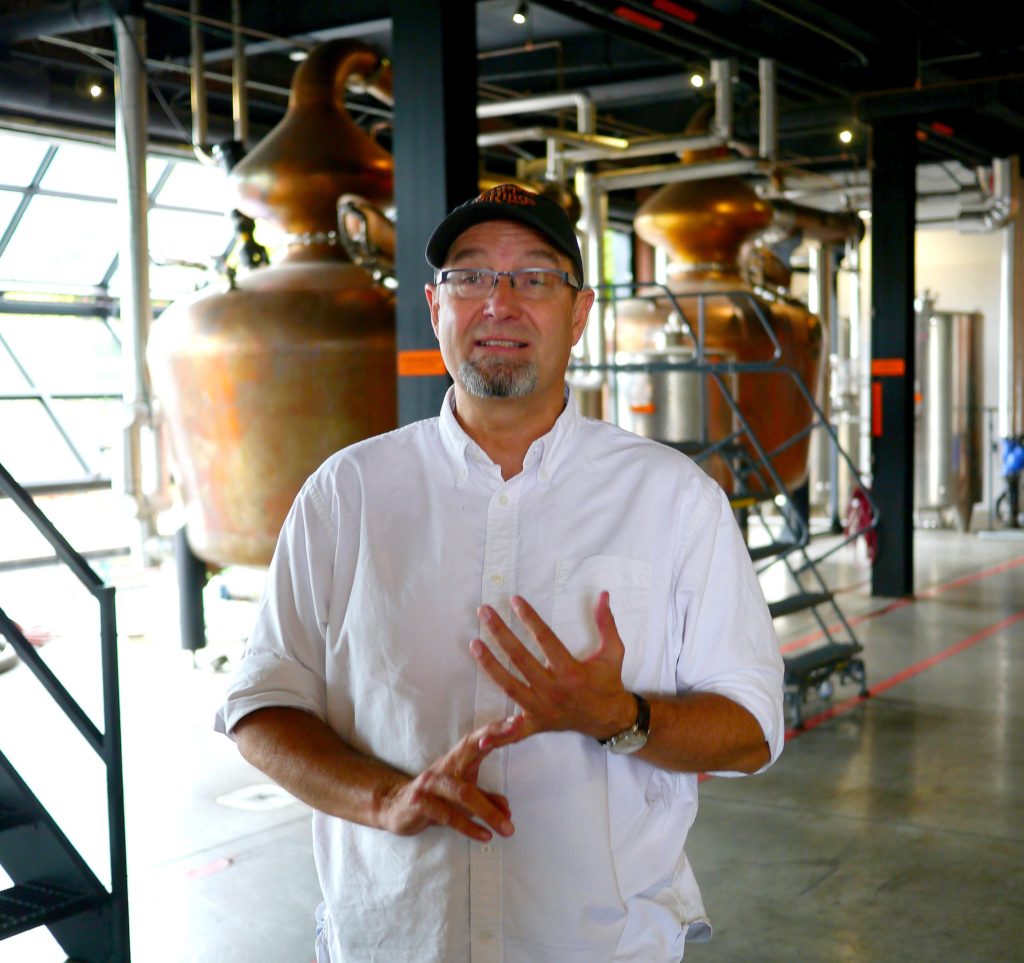 Joe Heron may be the most colorful distiller in all of Kentucky—which is saying a lot in a region that prides itself on colorful characters. In 2014, Heron and his wife Lesley launched Copper & Kings (1121 East Washington St., Louisville, 502-561-0267, copperandkings.com) in the Butchertown neighborhood of Louisville, one of the oldest parts of town. It's now one of the hottest, and Copper & Kings is part of the happening vibe.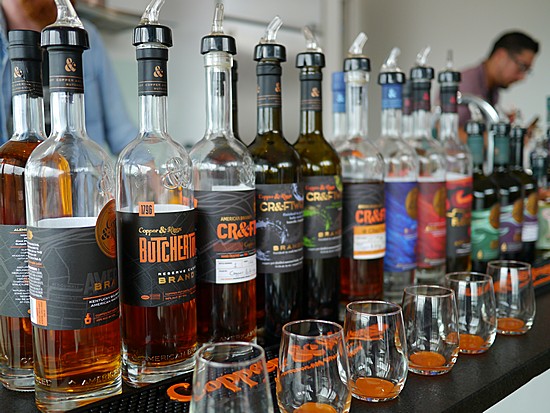 Although bourbon is basking in a renaissance, Heron hasn't jumped on the artisanal bourbon bandwagon. "We would never do bourbon. There are too many good bourbon producers," he told us as he led us through the distillery, which is surrounded by a huge butterfly garden. Instead, Heron said, "we want to make definitive American brandy." He quickly clarified that he didn't mean cognac in the French style. "We're about fruit intensity to reflect the American taste and palate."
Copper & Kings distills grapes from central California and apples from Michigan. Heron himself is a South African who relocated from Minnesota. "We wanted to be anchored in the heart of American distilling in Kentucky," he said, as if there was no other choice. "We wanted to carve out an identity in the land of bourbon."

Named stills and sonic aging
A walk through the facility is a peek into Heron's approach—and the workings of his mind. "Brandy is the one spirit where the philosophy revolves around concentration and retention," he mused. "The pot still is a tool of intensity." Heron has named his three stills Isis, Magdalena, and Sara after women in Bob Dylan songs. "You can't be a real distiller until you've named your stills," he told us with a practiced shrug. He double distills to clarify the spirit, keeping some fermentation flavors and culling out others.
As fond as Heron is of his stills, he contends that "maturation is as important is distillation." As he pointed out, "Brandy is promiscuous. It takes on flavor very quickly." To instill a distinctly American character to the finished product, he ages most of the brandy in Kentucky bourbon barrels. Heron also uses American white oak barrels for the grape brandy and Spanish sherry casks for the apple brandy. Craftwerk series brandy is aged in craft beer barrels.
"You muscle bourbon into shape," he said. "But you stroke brandy into shape."
Don't expect hushed aging cellars at Copper & Kings. Heron has embraced "sonic aging." Music is pumped into the cellars so that giant sub-woofer speakers can "pound a bass pulse into the spirit by increasing the contact between the spirit and the barrel through sound waves," he said. He changes the Spotify playlist daily. "The principle has existed for a while. We are the distillery that has embraced it."

Liquors and liqueurs
It probably goes without saying that Heron and his team like to experiment. The distillery has already launched more than 30 products, including several varieties of absinthe and gin, Orange Curaçao, and Mistelle—a muscat brandy liqueur infused with honey. For the Brewskey line, Copper & Kings distills craft beer and ages the result. "It tastes like whiskey with the flavor of beer," Heron explained.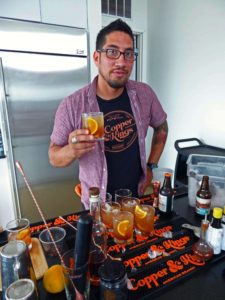 After passing through the art gallery, we reached the top level tasting room with a roofdeck and city skyline views. When we finally got to taste, we were glad that the products seem to justify Heron's enthusiasm. We sampled the lavender absinthe, which had a marvelous swirl of anise and lavender botanicals, in a glass of Death in the Afternoon. (Just add champagne.) And we sampled the flagship spirit of Copper & Kings, the American Brandy. Tasted neat, it had sparkling fruit on the tongue and a long, smooth finish. It was brighter and sweeter than cognac—more like a Spanish brandy made from Pedro Ximenez grapes.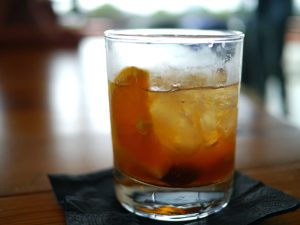 It was showcased well in the trendy Wisconsin Brandy Old Fashioned. Bartender Eron Plevan mixed a jigger of brandy, a few dashes of bitters, a sugar cube, orange slices, maraschino cherries, and a splash of soda. (Copper & Kings made the bitters-infused soda, too.)
"It has all the authenticity of Pabst Blue Ribbon," Heron said with a grin.