We were surprised to read recently that Super Bowl Sunday is the second biggest eating holiday in the U.S., close on the heels of Thanksgiving. Since our own team, the New England Patriots, is not part of the action this year, it's a diminished holiday for us. But we thought we could console ourselves with a good meal, and realized that the one dish we've probably eaten most often while watching football is arroz con pollo.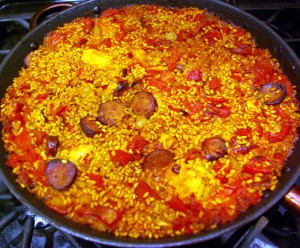 Of course, the football in question is what we Americans call soccer, but the Spaniards are every bit as obsessive about it. As in the U.S., tickets to the games are expensive, and the matches are typically broadcast on premium cable. If you want to see a match in Spain, you go to a bar.
According to Madrileños, Real Madrid is the best known team in the world, and we've watched them play in smoky flamenco bars, in Moroccan couscous joints, in burger palaces, and in "bars deportivos," or sports bars. We drink beer and eat bar food, which as often as not includes arroz con pollo, a sort of poor man's paella of saffron-paprika rice studded with pieces of chicken and sausage. This is our stand-by recipe the way we learned to make it on our first long trip to Spain in 1983.
We have tweaked it over the years, using all sweet red peppers instead of the standard mix of red and green, and going with boneless chicken. (Spaniards take a whole frying chicken and cut it into 16 or more pieces, often cutting right through the bones. Boneless chicken is splinter-free.) Spanish recipes also call for chorizo, which we usually use. This year we decided we would root for the New Orleans Saints, so we are substituting a smoked Louisiana andouille sausage. The Spanish version is more rice than meat. Feel free to add more protein.
ARROZ CON POLLO
Serves 4 hungry eaters or 8-10 if used as one of several game time snacks.

Ingredients
4 tablespoons fruity olive oil
2 boneless chicken breasts, cut into 16 pieces and sprinkled with sea salt
6 oz smoked andouille or chorizo sausage, cut in 1/4 inch slices
3 red sweet peppers, roasted, peeled and cut into 1-inch squares
1 large onion, diced
3 cloves garlic, minced
1 1/2 pounds fresh tomatoes, peeled and chopped, or 1 28-oz can of diced tomatoes (drained-use the juices as part of the stock)
2 teaspoons sweet Spanish paprika (pimentón a la vera dulce)
2 teaspoons smoked Spanish paprika (pimentón a la vera ahumado)
big pinch of saffron
2 cups Valencian rice
1/2 cup dry white wine
3 1/2 cups strong homemade chicken stock
Directions
Heat olive oil in paella pan with 15-inch base or in 17-18-inch shallow, ovenproof skillet. Sauté chicken and sausage until lightly browned. Remove meat from pan and reserve.
Add red peppers, onion, and garlic to pan and cook until onion softens (about five minutes.) Stir in tomato and cook until juices reduce (5-7 minutes). Stir in both kinds of paprika and the saffron, then the rice, turning well to coat rice with oil. Pour in wine and stock. Bring to a boil, reduce heat to simmer, and cook on stove-top until rice is no longer soupy (about 7 minutes). Do not stir.
Remove from heat and stir in sausage and chicken. Pat down until even, then place uncovered in 325F oven and bake for 15 minutes.
Remove from oven, cover with foil, and let sit 10 minutes before serving.