We have been racking our brains for something special to conclude our Valentine's Day dinner. We simply lack the skills to reproduce our all-time favorite dessert from Fauchon, the amazing gourmet shop, tea house, and patisserie on Place de Madeleine in Paris. That would be Megève cake—perfect thin layers of crisp meringue with chocolate ganache and chocolate mousse.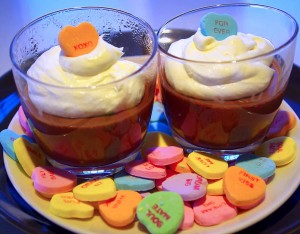 But we did recall a dynamite, foolproof version of chocolate mousse given to us by a French housewife, Madame Picavet. Given that Monsieur Picavet was very fond of Burgundy, it made the perfect companion to the last glass in the bottle. She used dark chocolate, but we've had good luck using an American bittersweet chocolate like Ghirardelli 60% cacao chips.
FRENCH CHOCOLATE MOUSSE
Ingredients
6 oz. bittersweet or semisweet chocolate, chopped
2 tablespoons sugar
pinch of salt
1 egg
1 teaspoon vanilla extract
3/4 cup of whole milk
Directions
Place ingredients through vanilla extract in blender jar.
Heat milk until nearly boiling. Add to blender jar and blend two minutes. Pour into six cups and chill for at least three hours. Serve topped with sweetened whipped cream.
Serves 6.