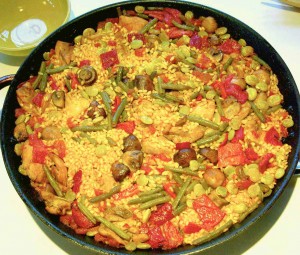 Paella must be popular worldwide, judging by the recipe we received from the proprietor of Ceramicas Terriols (see below) when we purchased our paella pan. The directions were in a babble of languages, including Chinese and Russian. We can't comment on the clarity of the Chinese and Russian, but the English was, shall we say, tortured. (Sample directions: "When the meat is gilding, the tomato and paprika are thrown well moved till the whole is lightly fried.")
Still, we got the gist of it and we wanted to try it when we got home.
Since we have to traipse halfway across the city to buy rabbit, we decided to see if chicken thighs would make a good substitute. We can get good periwinkles in our neighborhood but rarely find live land snails, so we substituted button mushrooms to approximate the chewy texture and earthy flavor. Likewise, fresh favas would be nice, but lima beans are much easier to find.
We tinkered with the recipe over several months. The chicken is not as delicate as rabbit, but has similar size, texture and flavor. The lima beans are less meaty than favas, but as a close relative, they have a texture that is similar enough to pass muster. The mushrooms are definitely a compromise, but better than periwinkles. For an authentic version, you really need land snails. Still, we think this take on paella valenciana is better than any we've found outside Valencia. Our friends like it.
One additional cooking note: The broad base and shallow depth of a traditional Spanish paella pan ensures the classic texture with a slight crust on the bottom. You can also use a 15-17-inch shallow ovenproof skillet but you probably won't get the crunch.
PAELLA VALENCIANA
Ingredients
2 tablespoons olive oil
24 button mushrooms
8 chicken thighs, skinned and cut in half (about 2 pounds)
1 cup chopped tomato, drained
2 teaspoons sweet or smoked Spanish paprika (pimentón a la Vera)
2 roasted and peeled red peppers, cut in 1 inch squares
1 1/2 cups green beans, fresh or frozen
1/2 cup lima beans, fresh or frozen
3 cups strong chicken stock
1 cup white wine
1 thick pinch saffron (about 1 gram)
1 3/4 cups Valencia rice (ideally, Bomba)
Directions
1. Heat olive oil in 15-inch paella pan over medium heat.
2. Brown mushrooms on all sides (about 5 minutes).
3. Add chicken pieces and brown on all sides (about 7 minutes).
4. Add tomato and paprika. Stir well to loosen browned bits in pan.
5. Add red pepper, green beans, lima beans, stock, wine, and saffron. Stir well and simmer 10 minutes.
6. Stir in rice to distribute evenly. Simmer 7 minutes while preheating oven to 350 degrees.
7. When rice is still moist but not soupy, move pan to preheated oven. Bake 7 minutes.
8. Remove pan from oven and cover loosely with foil for 7 minutes.
Serves 4.