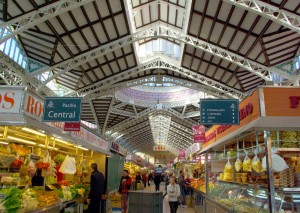 After tasting paella at La Pepica (see previous post) , we were able to identify the essential ingredients and seasonings we needed to bring home to recreate the dish. The best place to shop for in Valencia for paella fixings is the soaring Modernista train-shed of the Mercado Central (Tel: 963-829-101. www.mercadocentralvalencia.es, open 7:30 a.m.–2:30 p.m. Monday–Saturday). It's one of the largest fresh markets in Spain, perhaps because the area around Valencia is intensively agricultural. The subtropical climate not only permits year-round cultivation of greens and legumes, the swampy lagoons are also home to some of Spain's most prized rice plantations. You cannot take home the fresh veggies, but you can bring the heirloom rice, the spices, and the special pans for making paella.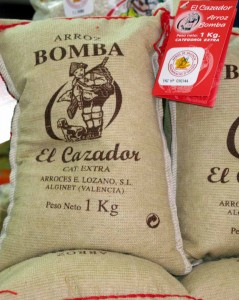 The best paella is made with Bomba rice, an heirloom variety introduced to the area by the Moors in the 8th century and still grown in the Albufera wetlands south of the city. It is nowhere as productive as modern rice, but has an exceptionally nutty flavor and will absorb nearly twice as much liquid as other short-grain rice while still remaining al dente. La Pista Pastor, at stall #43, sells it.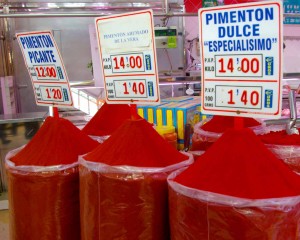 The other critical items for a good paella are saffron and Spanish paprika. Pimentón a la Vera is a subject unto itself, but let it suffice that Antonio Catalán (stall #457) drew us into his orbit with heaping mounds of bright red sweet and hot paprika and a brick-colored hill of smoked paprika (pimentón ahumado). He also has the best prices in the market on saffron, and cheerfully educates buyers on the subtle differences between grades. (Bottom line: Try to purchase whole threads with few or no golden flecks.)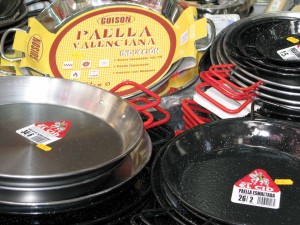 Strictly speaking, of course, "paella" is not the rice meal, but the metal pan in which it is cooked. The shallow pans ensure that the rice is spread out well, and the thin metal guarantees a fine crust on the bottom. It is only a slight exaggeration to say that you can't make a proper paella without a real paella pan. We knew we could purchase one at home (where it would be more expensive) but couldn't pass up the array of iron and stainless steel pans at Ceramicas Terriols (stall #51), where the proprietor provides a recipe with every purchase.