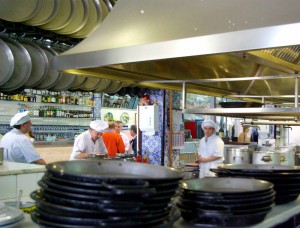 When Valencianos say that they are "going to the beach," they usually mean Playa de Malvarossa, an urban strand blessed by fine sand, gentle waves, surprisingly clean waters—and the mother of all paella restaurants, La Pepica. While three-quarters of the menu of this venerable eatery (founded 1898) consists of fish and shellfish, the other quarter is a golden litany of nearly two dozen classic Valencian rice dishes.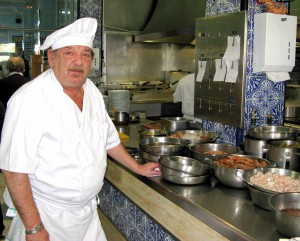 The main entrance is on the beach, but we prefer entering from the street just to walk past the dynamic kitchen where dozens of cooks in gleaming kitchen whites prepare pristine ingredients and juggle huge paella pans. The dining room is daunting. In foul weather, it seats about 450. In good weather, outdoor tables can accommodate another 200. Yet the food and service remain every bit as good as when Hemingway feasted here 60 years ago, and wrote glowingly of the meal. (Unlike some Hemingway haunts, La Pepica has aged well.)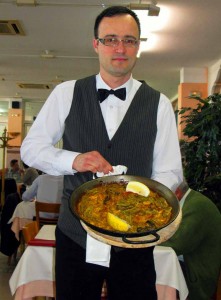 It is uncanny how the waiters in white shirts and black vests can service 450 diners at a time and still get the orders out lickety-split. They bring each finished paella to the table for approval, then retire to a serving station to dole it out on individual plates.
Every tourist eatery in Spain sells plates of orange rice festooned with shrimp and mussels; in Valencia that dish is known as "arroces con mariscos," or "rice with shellfish." Paella valenciana, the authentic local paella, comes from the garden, not the sea. Filled with vegetables, land snails, and pieces of chicken and rabbit, it's cooked in a shallow pan over a very hot fire. La Pepica serves an exemplary version—redolent of saffron and paprika, with al dente rice cooked to a thin crust on the bottom. The vegetables and snails are earthy, the chicken and rabbit sweet and falling off the bone.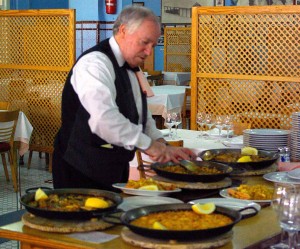 Reservations are not essential, but might help avoid a wait on the weekend. La Pepica, Paseo Neptuno, 2-8. Tel: 963-710-366, www.lapepica.com. Open daily for lunch and for dinner Monday-Saturday.