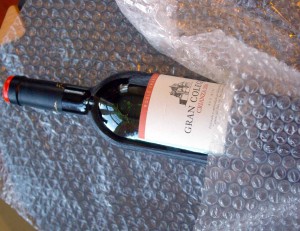 When we posted What to buy in an Italian grocery store and What to buy in a Spanish grocery store, we neglected to mention how to get those delicacies home. International airline security restrictions limiting liquids, gels, and pastes (including most soft foods) to 3 ounces in carry-on luggage means entrusting your goodies to the gorillas who slam around checked luggage.
Leaving home, we try to fill our checked bags only halfway, taking up the extra space with bubble wrap and really large plastic bags. (A friend once suggested we have a bag fetish.) Hefty One-Zip 2 1/2 gallon bags are ideal. A few 1-gallon sliding zipper plastic bags are also handy. Small items like jars of anchovies, truffle oil, or pistachio butter from Sicily can go in the gallon bags after each is padded with some bubble wrap (the smaller the bubbles the better).
Bottles of wine and olive oil are a little trickier, since they're bigger and make an unholy mess if they break. We haven't had a suitcase ruined, but we did manage to saturate a Spanish rental car trunk with two liters of Núñez del Prado olive oil.
We tend to wrap each bottle in a plastic laundry bag (thank you, hotel), then in bubble wrap before inserting into a Hefty. Each of these mummy-wrapped bottles is packed strategically in the suitcase padded by lots of dirty clothes. Practically speaking, this means no more than 3-4 big bottles per suitcase to stay under the airlines' increasingly strict weight limitations.
If you're flying an airline that allows two pieces of checked baggage, you can also ship wine in its own box. Ideally, that would be a box with styrofoam shipping inserts (sometimes called a "wine shipper"), but we've had good success with a standard wine case and lots of bubble wrap (limiting you to about 8 bottles per 12-bottle case). Attach a secure handle, which can be made from strapping tape, and pray you're not flying Alitalia, which requires you to sign a waiver before they will accept the box as checked luggage. (They won't guarantee safe arrival–or even arrival at all.)