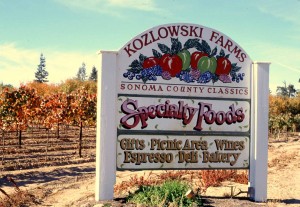 I like California's Sonoma County because viticulture and winemaking haven't yet overwhelmed traditional farming. Almost everything seems to grow there, and one great place to sample the agricultural traditions is Kozlowski Farms (5566 Gravenstein Highway 116, Forestville, California, 707-887-1587), one of the oldest family farms in the county. The farm store is open daily 9 a.m.-5 p.m.
When Carol Kozlowski's parents bought the farm nearly 60 years ago, they began growing apples and then branched out into raspberries. "We had an overabundance and began to make jam," she says. "So we put a sign on the side of the road and that launched our business." The family still grows apples and makes cider, but concentrates on developing new products and operating a farm stand stocked with about 100 different jams, jellies, salad dressings, chutneys, vinegars, fruit butters, mustards, barbecue sauces, and honeys. You can almost make a meal just from the samples. A bakery on the premises offers one of the Kozlowski family's most inspired raspberry concoctions: a raspberry chocolate chip cookie that, while not quite as decorative as some seasonal cookies, is a big hit around our house at Christmas.
Kozlowski Farms Classic Raspberry Chocolate Chip Cookies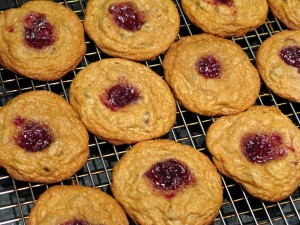 Ingredients
1/2 lb. butter or margarine, softened
2 cups (packed) brown sugar
1/2 cup granulated white sugar
2 eggs
1 teaspoon vanilla
3 cups all purpose flour
1 teaspoon salt
1/2 teaspoon baking soda
12 ounces semi-sweet chocolate chips
1 10-ounce jar red raspberry jam
Directions
In large mixing bowl, blend butter with brown and white sugars. Add eggs and vanilla and beat well.
In a medium bowl, sift together flour, salt, and baking soda. Add dry ingredients to creamed mixture and blend together well. Add chocolate chips.
Roll a rounded teaspoon of dough in a ball and set onto a greased cookie sheet. Flatten cookie slightly and push down center to create a small indentation. Fill these indentations with a dab of jam. Space cookies about 2 inches apart.
Bake 8-10 minutes in preheated 375 degree oven.