The explosive growth of top-flight restaurants on tiny Grand Cayman has jump-started local agriculture on this haven for snowbirds and international finance located west of Jamaica and south of Cuba. At the Brasserie, for example, much of the produce on the menu comes from the restaurant's own gardens and much of the rest from tiny farm patches on the east side of the island.
We would love to bring home some of the local fruits and particularly the Cayman seasoning peppers, which have all the flavor of a Scotch Bonnet and only a fraction of the heat. But US Customs would frown. There are, however, a few preserved foods worth tucking into your suitcase. The Foster's IGA grocery stores carry Caymanian products that are impossible to find off-island. They also cost far less at Foster's than in souvenir shops or the hotels. The grocers also carry a nice selection of Jamaican and certain British goods.
Here's our Grand Cayman shopping list: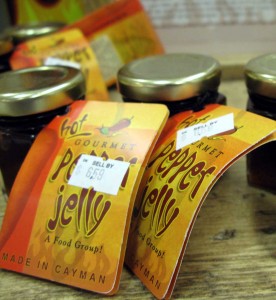 Hot pepper jelly.
A tiny amount of Scotch Bonnet pepper supplies the heat to this jelly from Pepper Patch on Grand Cayman, but Caymanian seasoning peppers are responsible for the depth of the flavor. Some 16 ingredients in all go into the tangy jelly, including traces of sweet spices like allspice (called pimento in the Cayman Islands), nutmeg, and cloves. Local residents spread it on water crackers, but we find that a dab of the jelly is the perfect accompaniment to Manchego cheese from Spain.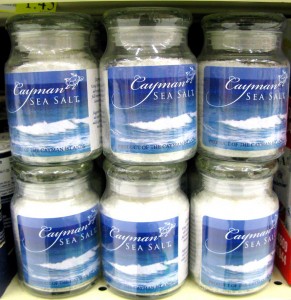 Cayman sea salt.
Sea salt in most countries is an inexpensive commodity often produced by evaporation in heated pans. This delicate salt is made strictly through solar evaporation and is hand-harvested. It is too expensive to use in marinades, but makes a good finishing salt. The flakes provide delicious salinity and textural crunch. We sprinkle them judiciously on grilled fish and on salads with mangos and baby greens.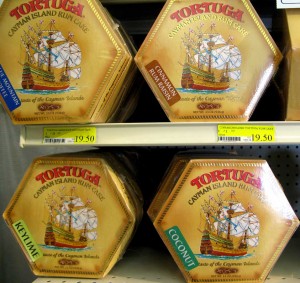 Tortuga Rum Cake.
Except for turtle-shaped key chains, rum cake is the #1 Cayman tourist souvenir. They are sweet, dense crumb cakes with a light rum flavor enhanced by the addition of key lime, coconut, or chocolate chips. We are not huge fans and consider them pricey (even at Foster's). But some of our friends love Tortuga rum cakes, so we bring them home when we have space in the luggage.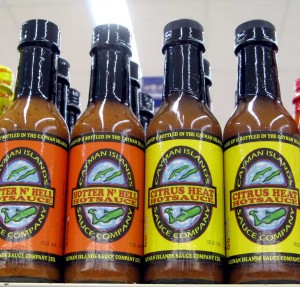 Hot sauces.
Our appreciation of hot sauces is restrained, since every yahoo with a kettle seems to have started a hot sauce company. Even so, it's worth cruising the aisles at Foster's for either of the local companies. Hawley Haven Farm makes down-home farm products, including a hot pepper sauce, while Cayman Islands Sauce Company emphasizes firepower with the likes of Hotter N' Hell Sauce. Both products are worth a try, though we are just as likely to resort to the Pickapeppa Hot Sauces from Jamaica, readily available at Grand Cayman markets. A few drops of the Spicy Mango or the Gingery Mango Pepper are especially good on grilled mahi.