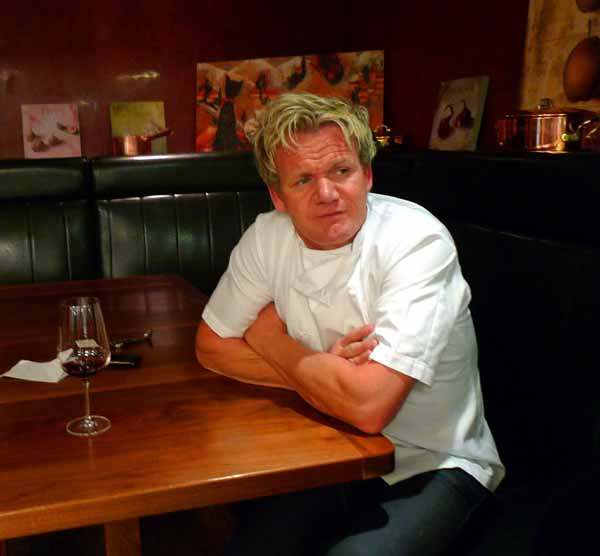 Superchef Gordon Ramsay has 19 restaurants in the United Kingdom, France, Italy, Qatar, and the U.S., but only one in Ireland. It's at the plush Ritz-Carlton Powerscourt outside Dublin, where I visited in the spring when Ramsay was on hand to mark the restaurant's re-launch.
I have to admit I didn't know what to expect from the flamboyant TV personality. But Ramsay was on his best behavior and only let an occasional profanity slip, and always with a wink. Perhaps the gracious setting had a mellowing effect, or perhaps the broadcast persona is just that. At any rate, the Powerscourt Estate is truly magical. It was established in 1169 as one of the grand medieval properties forming a defensive ring around Dublin. (See "The Eyes Have It" in this fall's Fashion Forum.) The woodlands seem positively Druidic. The 200-room resort, which opened in 2007, was the most expensive hotel project in the history of Ireland, and it reflects the Georgian architecture of the estate's manor house. Current general manager Massimiliano Zanardi lives for good food and wine and the chance to share both. It is no coincidence that not long after Max arrived, the Gordon Ramsay restaurant changed its focus from formal dining on classical cuisine to relaxed dining on farm-to-fork dishes. Hence the re-launch in May.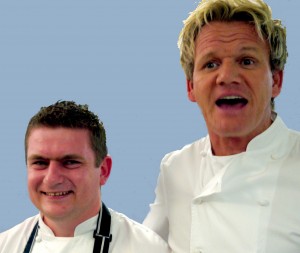 Like many of the Gordon Ramsay Holdings operations, the menu is developed by Ramsay and implemented by a chef de cuisine–in this case a super-talented Peter Byrne, whose previous gig lasted more than seven years at Chapter One, the Michelin-starred restaurant at the Dublin Writers Museum. Byrne knows the farmers and the shepherds and the foragers of the County Wicklow countryside. Thus the restaurant serves lamb raised less than 20 minutes from the hotel, the vegetables come from an organic farm a 10-minute walk away, and some herbs and mushrooms are foraged on the Powerscourt estate itself.
"I'm from Dublin," Byrne told me, "born and raised on the flavors of the Republic. My main goal is to keep the food fairly simple and focus on the natural flavors." It's a radical idea in a country that has always had wonderful bounty and seemed intent on spoiling it by overcooking or over-fancying the dishes.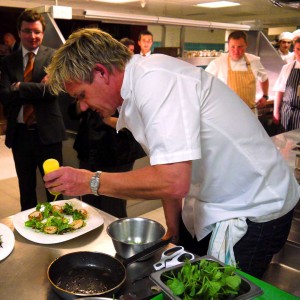 Veteran showman that he is, Ramsay couldn't resist giving some cooking lessons for the attendees at the re-launch dinner. He certainly made it all seem a lot easier than on an episode of Hell's Kitchen. I was particularly taken with the ease–and great taste–of his simple dish of scallops with spring vegetables. The West Cork sea scallops were so big and meaty that he cut them in half so they would cook in the 3 1/2 to 4 minutes required for a normal sea scallop.
Here's my adaptation of that recipe:
SCALLOPS À LA GORDON RAMSAY
Serves 2 as an appetizer or lunch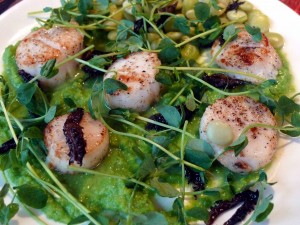 This is adapted from Gordon Ramsay's recipe for West Cork scallops that he prepared for the re-launch of Gordon Ramsay at Powerscourt earlier this year. He used fresh spring peas and mushrooms, but with a few substitutions, I found that I can make the dish all year. I use frozen baby peas, for example, and dried morel mushrooms rehydrated in vegetable stock. Ramsay serves the dish with broad beans, but baby limas are a good North American substitute. Pea tendrils, fortunately, are available year-round, though watercress makes a fine substitute.
Pea purée
1 tsp butter
2 scallions, sliced thin
1 cup tender young peas
vegetable stock
To make the pea purée, sweat scallions in butter until soft, add peas, a little vegetable stock and simmer until the vegetables are tender (3-4 minutes). Purée in a blender until smooth, then set aside and keep warm.
Vegetables
1 cup baby lima beans
vegetable stock
1 teaspoon vegetable oil
1/2 cup morel mushrooms
1 teaspoon butter
1 cup pea tendrils
Steam baby limas in vegetable stock until tender (5-7 minutes). Set aside and keep warm.
Heat oil in small sauté pan. Add morels and sauté a few minutes. Add butter and a little vegetable stock to keep moist. Set aside and keep warm.
Scallops
10 scallops (for two plates)
salt and white pepper
vegetable oil
butter
Season the scallops on both sides with salt and white pepper. Place a non-stick pan on medium high heat. Once hot, add 1 teaspoon of oil and the scallops. Let the scallops caramelize for a couple of minutes on the first side. Turn them over, add a knob of butter to the pan and finish cooking the scallops in the butter foam for 1-2 minutes.
To assemble the dish, place a spoon of pea purée in the middle of the plate, place the scallops, lima beans, and morels around and garnish with the pea shoots.