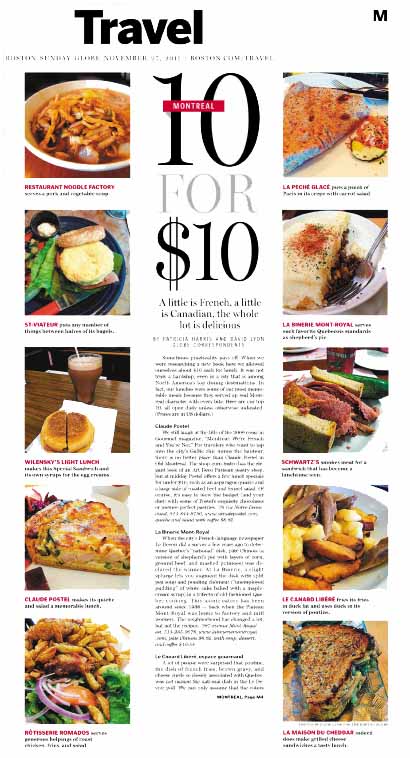 Of all the guidebook series we work on, the research for the Food Lovers' series may be the most fun. Our most recent published volume was on Montreal, but we didn't spend all our time eating foie gras or dining at innovative contemporary restaurants.
We're always on the lookout for good values, and we found 10 great lunches for about $10 where we could tap into various strains of Montreal culture. We recently published that roundup in the Boston Globe. You'll find the results as a pair of PDFs on our Sample Articles page.
We are just about finished writing our next volume, Food Lovers' Guide to Vermont & New Hampshire, and have a refrigerator full of artisanal cheese, cured pork products, and storage vegetables that we brought back to Cambridge from our research forays. Inspired by the great grilled cheese sandwich we had at Maison Cheddar in Montreal's Outremont neighborhood (it's in the Boston Globe article), we took some of that provender to improvise a New England locavore grilled cheese lunch.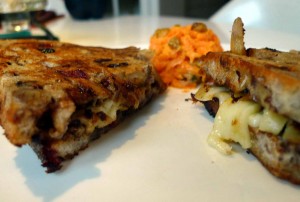 The sharp cheddar cheese came from Vermont, a fig-walnut jam spread came from Stonewall Kitchen in Maine, and a few slices of Fox Smoke House bacon hailed from the woods of New Hampshire. We put those ingredients between a couple of slices of Nashoba Brook Bakery's "Harvest" bread, a sourdough studded with nuts, fruits, and candied ginger. (Nashoba Brook is in West Concord, Massachusetts.) As a counterpoint, we grated some Vermont carrots, added some golden raisins, and tossed them with a little cider vinegar, salt, a pinch of sugar, and a few drops of milk to make a Montreal-style carrot salad. Not bad. It succeeded in bring a taste of travel back home.