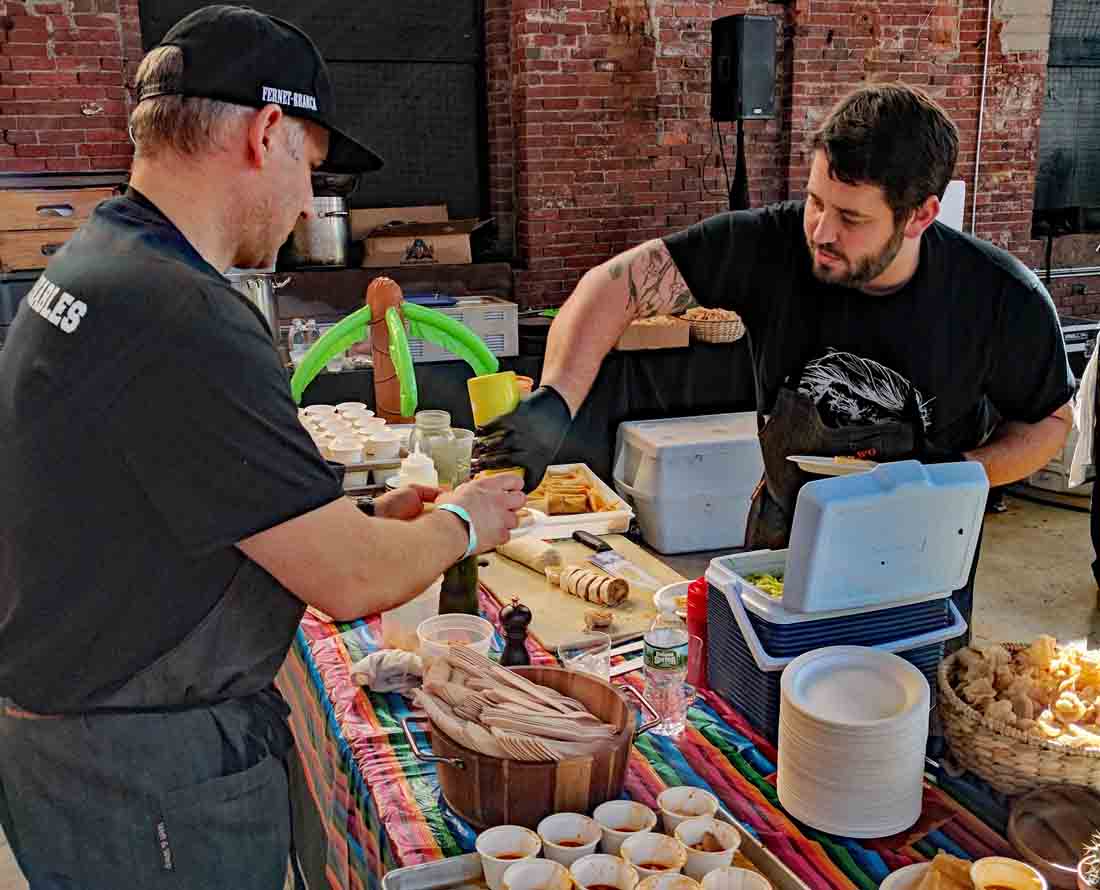 Roughly five hundred folks feasted on about 1,500 pounds of succulent heritage pork last weekend at the Boston stop on the Cochon555 (cochon555.com) national barbecue competition tour. And they drank a surprisingly broad array of wines, cocktails, punches, and spirits selected by local sommeliers to pair with the cuisines.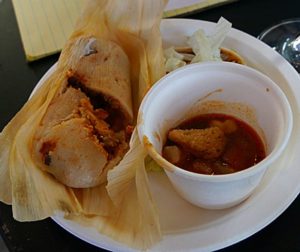 The winning team opted for a Mexican menu with six different dishes served on two separate plates. Working with a 281-pound Mulefoot hog from Dogpatch Farm in Maine, the "Deporkables" were led by Matt Jennings of Townsman (townsmanboston.com), a brasserie-inspired restaurant on Boston's Greenway. The plate at right included bbq pork head tamales with a thin slice of a pork loin burrito. They were contributed by team member Will Gilson of Puritan & Co. (puritancambridge.com) in Cambridge. The little cup held a delicious sample of pig skin noodle and smoked tripe menudo created by team member David Bazrigan of Bambara (bambara-cambridge.com) in Cambridge. Additional dishes include Jennings' chorizo verde with sliced cactus leaves and guacamole, pork belly al pastor from Colin Lynch of Bar Mezzana (barmezzana.com), and a Yucatecan-style roast pork from Matthew Gaudet of Superfine Food (superfinefood.com) in Manchester By the Sea.
The annual Cochon555 US Tour consists of similar super-local events at 20 cities across the country. It wraps up on October 1 in Chicago. Ten chefs will face off at the Grand Cochon competition. The series is in its tenth season. It was organized to publicize heritage breed pigs and a portion of the proceeds supports the Piggy Bank—a farm ark of ten heritage breeds that gives piglets to farmers trying to build heritage pig herds. (It's a good charity. For more about it, see www.piggy-bank.org.)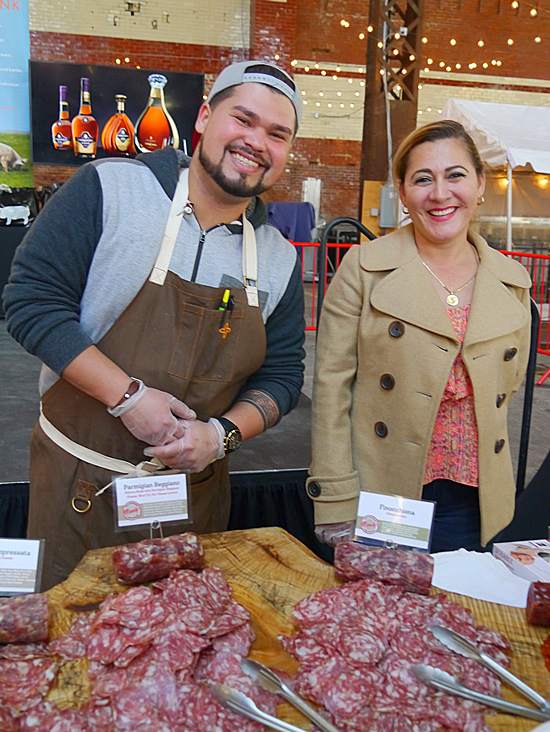 A nod to the butcher

Moody's Delicatessen & Provisions (moodyswaltham.com) ran a pop-up butcher shop at Cochon555, with the proceeds supporting the Piggy Bank. They were featuring a Berkshire/Tamworth cross from Brown Boar Farm. And, contrary to the years of advice to cook pork to death, they were advising that the roasts go into a 375°F oven for 35 minutes per pound until the internal temperature reaches 135°F. As a treat for the guests at Cochon555, Moody's was also giving away samples of some of their exquisite charcuterie. That's sous chef Christian Asencio (Moody's Back Room is the restaurant behind the butcher shop and deli) with his friend Marte.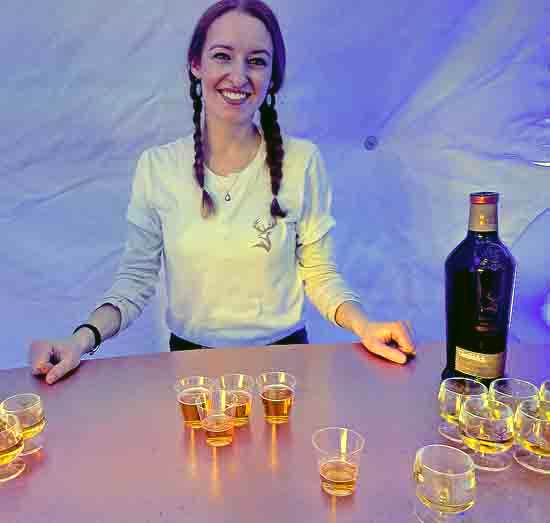 A taste of Scotch with that 'Q

The tour has a number of local and national sponsors. One of the most unusual was Glenfiddich, the Speyside single malt Scotch whisky. At the Boston event, the distiller erected a domed tent that offered several cocktails made with Glenfiddich as well as some sensory tricks designed to make drinkers pay closer attention to what they taste. Samples of Glenfiddich 12 Year Old colored red or green made some tasters think one was spicy and the other minty. (They were identical.) Distillers William Grant & Sons have been experimenting with variations on their lightly peated single malt, offering a Glenfiddich 14 Year Old sweetened by aging in bourbon casks. (It's the base for the Old Fashioned recipe below.) They have also started aging in IPA casks, which imparts a nice bite of herbal hops to whisky. That's Rhode Island's own Riane Justin offering samples in the photo above.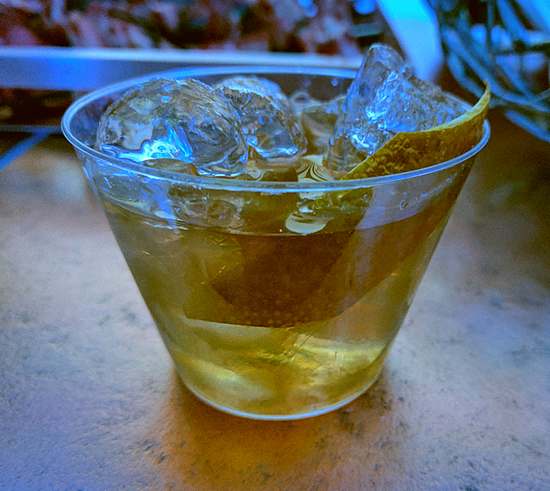 GLENFIDDICH 14 YEAR OLD FASHIONED

Aging in bourbon barrels makes this whisky sweeter than usual, while the peach bitters accentuate the peat very nicely. It's very good with pork barbecue.
Ingredients

2 parts Glenfiddich Bourbon Barrel Reserve 14 Year Old
1/4 part Demerara syrup (equal parts hot water and Demerara sugar)
2 dashes peach bitters
grapefruit twist to garnish
Directions

In a double rocks glass, add the Demerara syrup and bitters. Add the Scotch, then ice, and stir. Garnish with a grapefruit twist.