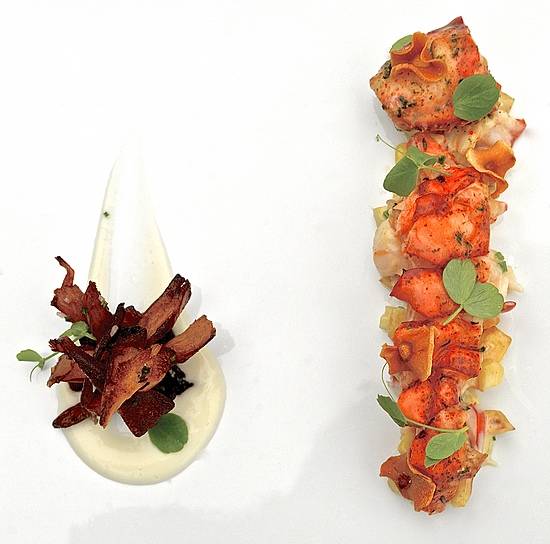 Prepared with grilled maitake and oyster mushrooms along with a corn-parsnip ragout, this is the recipe that won Chris Long plaudits as the 2013 Maine Lobster Chef of the Year. The recipe below and photo above are adapted with permission from Natalie's Restaurant (nataliesrestaurant.com) at the Camden Harbour Inn (camdenharbourinn.com). (The corn stock directions are ours, so don't blame Chris and Shelby.)
Ingredients

1 Maine lobster
1 pound butter at room temperature
2 ounces fresh thyme
1 shallot, minced
1 cup corn stock *
1 cup corn kernels
1/2 cup chopped parsnips
1 lemon
salt and pepper to taste
2 ounces wild mushrooms
parsnip chips
micro arugula
basil flowers
Directions

Boil lobster in salted water, 7 minutes for claws and 3 minutes for tail. Shock-chill in ice water to stop the meat from further cooking.
Remove lobster meat from shell and place claws and tail in bowl with 10 ounces of butter.
Chop the thyme and fold in 4 ounces of butter to mix well.
To make the ragout, sauté shallot in remaining 2 ounces of butter. Add corn stock and reduce by half. Then add corn, parsnips, and juice from half of the lemon. Season with salt and pepper and simmer until corn is cooked (about 3 minutes).
Grill mushrooms and set in bowl with lobster and butter. Transfer the mix to a pan and gently heat to warm up the lobster.
Assembly

Place the ragout in center of plate. Take lobster and mushrooms out of the butter. Season with salt and pepper and lemon juice. Arrange on top of ragout. Spoon thyme butter around lobster and ragout. Garnish with parsnip chips, micro arugula, and basil flowers.
*To make corn stock, bring to a boil a quart of lightly salted water with four corn cobs (kernels removed), a peppercorn, a few strands of parsley, a few sprigs of thyme, and a small bay leaf. Reduce heat and simmer for an hour. Strain well.