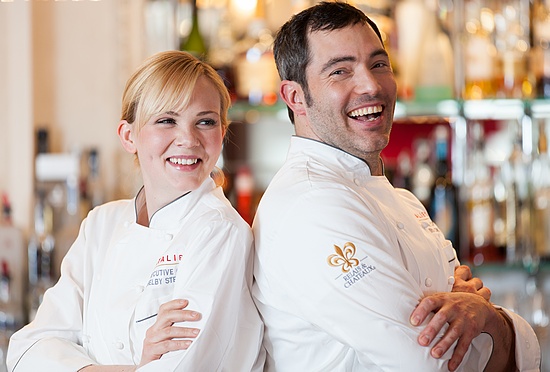 Natalie's co-chef Shelby Stevens is a Mainer, but she's not from lobster country. She grew up in Farmington, an inland town where mountain timber meets upcountry lakes. But perched on the hillside over picturesque Camden harbor, Natalie's occupies a prominent spot on the Times Square of Lobster Land. Roughly half of the state's annual lobster catch—130 million pounds in 2016—is landed at Penobscot Bay ports. Stevens and her husband, co-chef Chris Long (pictured above in their official portrait), naturally developed an extensive repertoire of lobster fine-dining dishes to wow the guests at the tony Camden Harbour Inn (camdenharbourinn.com). When the crustacean is in season, Natalie's offers a five-course tasting menu of four lobster dishes and a dessert as one of its menu options.
When we visited the Danforth Inn in Portland for the Natalie's popup in March, David ordered the lobster tasting. It's easy to go gaga for lobster, as it's a luxury ingredient. But many years ago, David was a Maine lobsterman and, as it will, familiarity bred contempt. We figured that any chefs who could overcome David's blasé attitude about lobster were doing something right.
Stevens and Long won a convert. They have put a lot of thought into their lobster dishes. Many are classics of European fine dining given a modern presentation. Others are true originals in the spirit of the classics.
Drawing from the nearby sea and woods

As they enter their fifth season at the Camden Harbour Inn, Stevens and Long have set down culinary roots. Their menus speak with a local accent because many of the ingredients are either caught or foraged in the immediate environment.
"Our next-door neighbor is a lobsterman," Stevens says. He also brings them a lot of his bycatch—mostly sweet Atlantic rock crab, aka "peeky-toe crab"—that they cook at home. "He's really proud of his shellfish," Stevens notes. Maine lobster is in season, even now, thanks to the Monhegan Island lobstermen. Finding ingredients to complement the crustaceans is more challenging, but the Natalie's chefs were up to it.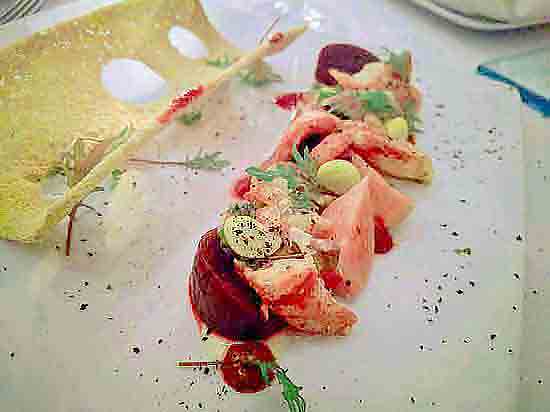 Lobster and golden beet salad

Clever presentation made the first salvo in the lobster tasting menu a genuine surprise attack. The elegant salad was served with the crisp half round of bread (on the left) laid over it like a lobster shell . Smile one. Alternating wedges of red and golden beets and pieces of lobster claw created another visual joke. Smile two. Liberal use of Urfa pepper elevated the usually earthy beetroot into something more complex. Urfa is a moderately hot Turkish pepper with overtones of chocolate and a touch of smoke. It also produces a slightly rasping, puckery mouth feel like the tannins in red wine. That helps open up the otherwise unctuous quality of the fatty lobster claws and sweet beets. Smile three. Pairing beets and lobster isn't common, but U.K. and Scandinavian chefs do it on occasion—usually in a heavier presentation. Kudos to Stevens and Long for keeping it light.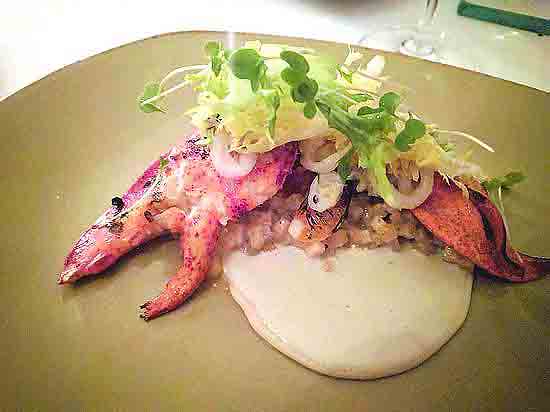 Deconstructed lobster chowder

There's something inherently funny about chowder. Maybe it's the look of the word, or the way we say it—as if we were already chewing the dish. Philosophically, deconstructed chowder is the ghost of that joke—an ironic rendering of what is typically the most straightforward food in the lexicon of New England eating. The biggest complaint about lobster chowder in most restaurants is that there's too much chowder and not enough lobster.
As befits a deconstructed version, Natalie's turns that upside down with a heap of claw and knuckle meat atop the fine dice of onion, celery, and (we think) parsnip. The decorative squid rings on top are a nice nod to the other seafood that usually finds its way into chowder. The actual "chowder" was more a velouté based on shellfish stock and thickened with butter and cream. If there had not been more courses coming, we might have asked for more chowder.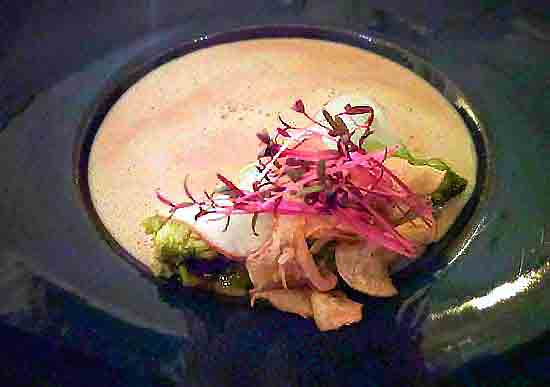 Poached lobster bisque

Any restaurant that serves a lot of composed lobster dishes has mounds of lobster carcasses and bits and pieces of shell left over from the prep process. The classic French response to all this chitinous material kicking around is to throw it in a stew pot with a mirepoix of onions, celery, and carrots. Simmer for hours, and strain, strain, strain to get a gorgeous lobster stock. Add heavy cream, sherry, and some cooked lobster, and Voila! You have lobster bisque. This version is a little more complex, and we suspect Madeira pinch-hit for sherry. (Several other dishes used Madeira as well.) It was also laced with spicy Urfa chile pepper. The ultra-rich bisque with a side of shredded lobster, some greens, and paper-thin slices of pickled Jerusalem artichoke made a nice interlude.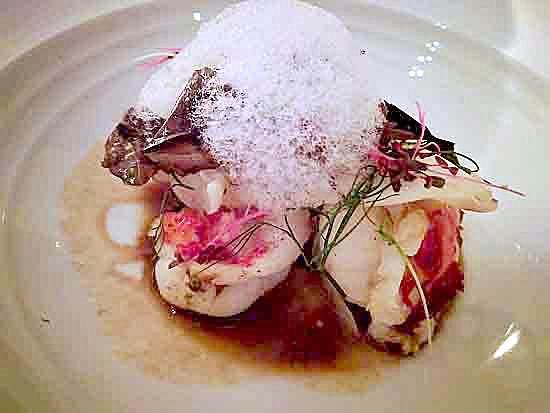 Butter-poached and grilled lobster

After three dishes with claw and knuckle meat, it was time for the tail. The meat was simultaneously buttery and smoky, so we're guessing it might have been first grilled, then removed from the shell and poached in butter. Judging by their recipes, Stevens and Long sometimes cook lobster in pieces. It's a logistical nightmare in the kitchen but allows them to cook the tails less than the claws or body. That keeps the proteins in these long-fiber muscles from overcooking. In other words, they stay tender.
Lobster heated in butter is always good, but to make it into a fine-dining dish, the chefs pulled out all the stops. It was paired with finely shaved raw fennel, placed on a cooked fennel purée, topped with a piece of salty-cracker crisped seaweed, and arranged in peekaboo fashion beneath a cloud of seaweed foam. All that made for a great visual presentation. Better yet, the elements came together nicely in the mouth.
One final note: We enjoyed some terrific wine pairings by the new sommelier at the Danforth Inn, Ryan Eberlein. Working with a wine cellar built for Southeast Asian and Indonesian cuisine, he plucked some amazing, often obscure wines that complemented dishes perfectly. Perhaps observing the chefs' fondness for Madeira, he paired the final lobster dish with a Verdelho—the principle grape of Madeira. It happens to make amazingly complex, zesty white table wine when grown in Australia. The Mollydooker 2016 Violinist had a crisp lemon and lime palate followed by the flavors of ripe pineapple and lychee. It couldn't have been better if it had been grown for the dish.