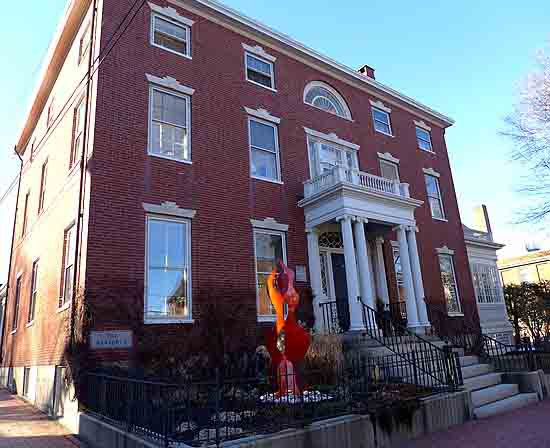 With nine handsome rooms in an 1823 Federal mansion, Portland's Danforth Inn (danforthinn.com) is a nifty hideaway in Maine's biggest city. That's what hoteliers Raymond Brunyanszki and Oscar Verest, owners of the Camden Harbour Inn (camdenharbourinn.com), had in mind when they purchased the Danforth in 2014. Their extensive upgrades included creating Tempo Dulu (tempodulu.restaurant), a fine-dining restaurant focused on Southeast Asian, Indonesian, and Malaysian cuisines. Chef Michael McDonnell recently got a few days off from riffing on rijsttafel. At the end of March, Tempo Dulu hosted a popup of Natalie's (nataliesrestaurant.com), the Camden Harbour Inn's gastronomic showcase. It was a homecoming of sorts. Natalie's co-chefs Shelby Stevens and Chris Long were married at the Danforth last year. (That's a picture of the dining room below.)
Stevens and Long serve a thoroughly modern New England cuisine. Their dishes are very seasonal and rely heavily on local ingredients. Both chefs trained at the New England Culinary Institute in Vermont. Stevens also worked under Daniel Boulud at Restaurant Daniel in New York. And Long was a kitchen leader under perfectionist Charlie Trotter at his eponymous Chicago restaurant. A stretch in San Francisco ("nothing beats the San Francisco farmer's markets," says Stevens) rounded out their fine dining influences. Both joined Natalie's in 2013. In their first season, Long's inventive treatment of the state's signature crustacean won him the Maine Lobster Chef of the Year title. (We'll post that recipe in a few days.)
Since we're usually to be found eating at Waterman's Beach Lobster when we're anywhere near Camden, we thought we'd take advantage of the late March popup to sample Midcoast Maine's fine dining leader. In summer, the chefs draw extensively from the Camden Harbour Inn's kitchen garden. They also rely heavily on local foragers, and we wondered they would do in mud season.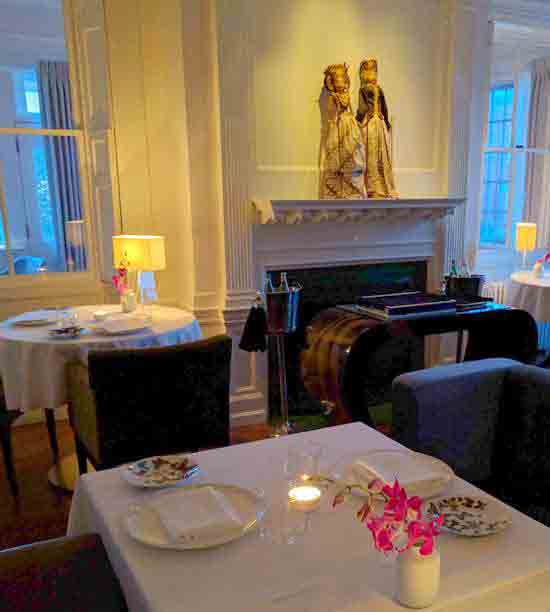 What's local in Maine right now?

Maine overflows with corn, blueberries, tomatoes, and heaps of lobster in the summer. In late March, not so much. Part of the fun of eating the Natalie's dishes was seeing how the chefs used the current provender and found ways to incorporate preserved provisions. To that end, one of us ate the tasting menu described below. We'll talk about the lobster tasting menu in the next post.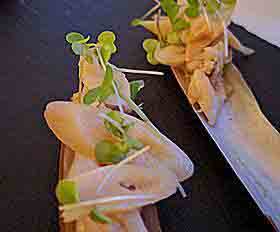 But we shared a plate of hors d'oevres that included two revelatory mini-dishes. Dark, lumpen roasted Jerusalem artichokes initially seemed unpromising, a kind of seasonal vegetable consolation prize. But they were stuffed with sweet foie gras that played perfectly against the earthiness of the tubers. The delicate razor clams were an even bigger surprise. Once relegated to the category of "bait" by most denizens of the Penobscot Bay, the Atlantic jackknife clam (to keep from confusing it with the Pacific razor clam) has been making a culinary comeback in recent years. It is milder and more tender than a quahog. Finely sliced and drenched with yuzu juice, it made a ceviche that was a great palate opener for both tasting menus.
Fried Maine oyster with osetra caviar

The seven course tasting menu started off with a real bite of Maine. The chefs served a plump local oyster (Damariscotta, we're guessing) with all its flavor sealed inside a crisp crust. Little black pearls of osetra caviar tumbled off the top from beneath fronds of microgreens. The rich mouthful swam in a pool of buttery oyster velouté almost rich enough to be a bisque.
Two more plates followed—truffle-scented panna cottas on a purée of caramelized onion and a rather traditional French flounder-wrapped crab with grapefruit and lobster bisque.
Grilled maitake evokes taste of the woods

Serving a trio of "entrée" dishes was a nice touch in a tasting menu. The triplet began with the flounder-crab dish and ended with a perfectly grilled piece of farm-raised ribeye steak with a black garlic demiglace.
The surprise came in between. "Maitake," as Japanese mushroom farmers call it, has become all the rage in fine-dining restaurants. Mainers know it as "hen of the woods," so-called because it looks like a chicken with all its feathers fluffed up. The clumping mushroom grows on decaying main roots of hardwoods like oak, maple, beech, and birch. It's widely distributed in northern New England and clumps can reach up to 30 pounds. Its "leaves" have no gills (it spreads its white spores through tiny pores), so they are very meaty and perfect for grilling.
The grilled mushroom perched atop a mushroom risotto. It was drizzled with a Madeira emulsion. Shavings of P'tit Basque ewe's milk cheese played up the earthiness of the hen of the woods—one of the rare mushrooms that keeps very well in the freezer for cooking all winter.
The table was too dark to capture an image, but the Natalie's cheese course was another unexpected surprise. Rather than just another plate of cheese, it consisted of an open-faced caramelized onion tart oozing with melted Vermont raclette cheese. It was described as a tarte tatin, but the crust was more bread than pastry and apples were nowhere to be seen. It was closer to an Alsatian flammeküche. By whatever name, it was a great way to present a cheese course.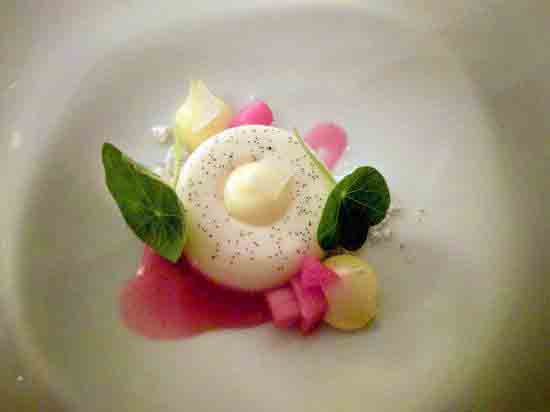 Something sweet (and complex)

The tasting menu dessert was big and complex, incorporating roasted butternut squash and chocolate ice creams along with candied pecans. After six other courses and assorted intermezzos, we wished we could have saved the big finish for another night. The perfect ending for a large meal was the dish presented as a pre-dessert (pictured above). The small jiggle of orange blossom panna cotta, pictured above, was flecked with ground black pepper and topped with a tart dot of lemon curd. It sat on a rhubarb sauce with small bits of citrusy Buddha's hand fruit and itty-bitty but peppery nasturtium leaves on top.
And it tasted every bit as good as it looks.