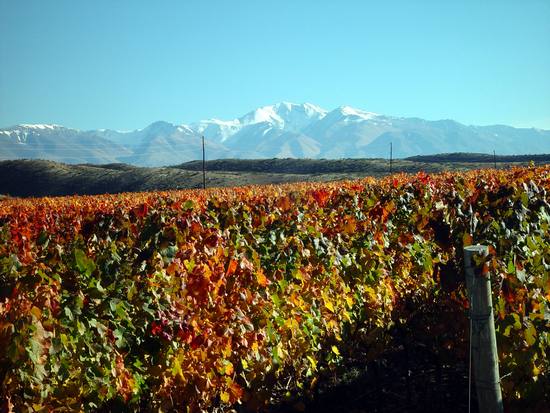 In November, we wrote about the CARO Amancaya blend of Malbec and Cabernet Sauvignon as a bargain big red. (See this post.) On a cold and rainy March weekend, we decided it was time to dust off a bottle of that wine's big brother. The 2013 CARO is a 50/50 blend of Malbec grown in Mendoza's Lujan de Cayo district (above, courtesy of Bodegas CARO) and Cabernet Sauvignon grown in the adjoining Uco Valley. The CARO wines are a joint project between Nicolas Catena and the Barons de Rothschild. In this top wine of the collaboration, intense Argentine fruit meets Bordeaux-style winemaking to great effect. It retails for $50-$60.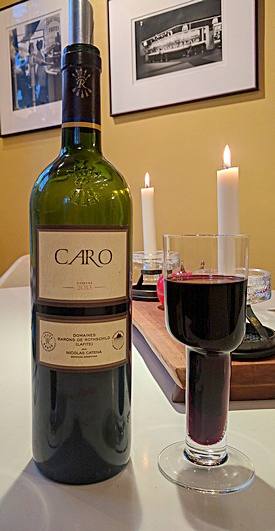 We pondered what would pair well with such a voluptuous red and decided that grilled steak alone wasn't up to the task. We like beef with Cabernet and blue cheese with Malbec. So we created a variant of boeuf en croute that uses an easy rough puff pastry with a potent Roquefort substituting for some of the butter. The result was even better than we expected.
CARO 2013 is still evolving in the bottle, and we found it changed markedly in the course of a meal. Intense initial aromas conjured blackberries and cassis with resinous overtones of the dry brush in the Andes foothills. The balance between Malbec rigor and Cabernet lushness was quite appealing. The acidity cut through the lusciousness of the pastry crust while the elegant, supple tannins brought out the meatiness of the filet mignon. The sweetness of the roasted tomatoes brought out the leather and tar of the wine's Malbec component. As the meal progressed, Cabernet came more to the fore. The wine is ready to drink now, but we'd love to try it again with the same dish in a few years.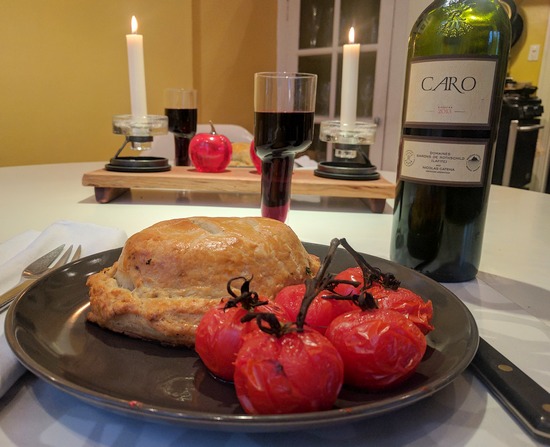 BOEUF EN CROUTE ROQUEFORT

We knew that we wanted to combine the intensity of a good Roquefort with the richness of puff pastry. Most versions of boeuf en croute that we found (or beef Wellington, for that matter) used frozen puff pastry. So we resorted to rough puff pastry, which is folded about a thousand times less than the real thing. Substituting bleu cheese for 20 percent of the butter provided just the right flavor without overwhelming the dish or messing up the texture.
Serves 2
For rough puff pastry

Ingredients
1 2/3 cups flour
1 teaspoon sea salt
1 stick plus 5 tablespoons butter at room temperature but not soft
3 tablespoons Roquefort bleu cheese
1/3 cup cold water, more as needed
Directions
Combine flour and salt in a large bowl. Cut butter and bleu cheese in small pieces and add to the bowl. Using pastry cutter or two knives, combine until texture of fine gravel. Pieces of butter and cheese should be visible.
Make a depression in center of mixture and add about 1/3 cup of cold water. Mix until a firm, rough dough forms, adding more water as needed. Cover in plastic wrap and refrigerate 20 minutes to rest.
On a lightly floured board or counter, knead dough gently and form into a smooth rectangle about 7 inches long on one dimension. Keeping edges straight, roll out dough to roughly 7 by 21 inches. Butter and cheese should create marbled effect.
Fold 1/3 of dough down from the top, then fold from the bottom to overlap. Turn 90 degrees and again roll out to three times its length. Fold as before. Cut into four equal pieces. Cover pieces in plastic wrap and refrigerate at least 20 minutes until ready to roll out to encase beef.
For beef and mushrooms

Ingredients
two 6-ounce filets mignon
salt and pepper
1 tablespoon olive oil
2 tablespoons butter
1 shallot, minced
8 ounces mushrooms, sliced then chopped
1/2 teaspoon dried thyme
1/4 teaspoon dried tarragon
1 bay leaf
1/4 cup sherry
1 teaspoon cornstarch
1/4 cup plain yogurt
1/4 cup minced parsley (about 6 sprigs, finely chopped)
1 egg, beaten with 1 teaspoon water
2 clusters cocktail tomatoes (Campari tomatoes) on the vine
Directions

Season beef with salt and pepper. Heat a large cast iron skillet over high flame. Add olive oil and 1 tablespoon butter, then sear beef on all sides. Remove to a rack over a plate to catch juices. Let cool, wrap and refrigerate.
Make mushroom duxelles in same pan. Add remaining tablespoon butter to pan and cook shallot until translucent. Add mushrooms, thyme, tarragon and bay leaf. Cook until tender. Add sherry and turn up heat. Cook until liquid has evaporated.
While cooking, combine cornstarch and yogurt in a bowl, mixing well. As mushroom mixture loses excess moisture, add yogurt mixture and stir well. Reduce heat and cook slowly until thick and pasty. Stir in minced parsley and reserve.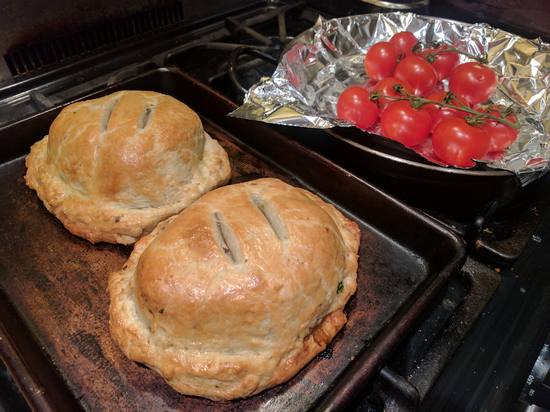 To assemble

Roll out a quarter of the pastry into a circle about 2 inches bigger than one filet. Roll out another quarter slightly larger. Spoon mushroom duxelles on smaller piece. Place filet on top. Paint the exposed edges with egg wash. Lay second piece over top and pinch at edges to seal. Place beef case on aluminum foil. Repeat with second filet. Refrigerate two beef cases until ready to cook.
About 1 hour before serving, set oven at 425°F and place a heavy baking sheet inside on middle rack.
Brush both pieces of pastry with egg wash and make two slits on top to let steam escape. After oven is preheated, carefully lift pastries onto the preheated baking sheet. Bake for 10 minutes. Reduce oven to 400°F and continue to bake 20 minutes for medium rare.
Remove from the oven and let stand about 10 minutes before serving on individual plates with quickly broiled tomato cluster.