Talk about timing! Le Picnic: Chic Food for On-The-Go crossed our desk just as the azaleas burst into bloom and the purple finches laid their first clutch of eggs in the blue spruce outside our desk window. This Australian book by food writer Suzy Ashford is published by Smith Street Books in Melbourne, but it's distributed in North America by Rizzoli. Suzy had us with the cover shot of a roast chicken and Camembert baguette (see above). By the way, the two photos in this post are courtesy of Smith Street Books.
The book breaks down roughly into gorgeous sandwiches, baked tarts or flatbreads, salads you want to eat with your eyes, and drop-dead gorgeous desserts that seem a little delicate to transport to a distant picnic site. We usually fall back on a few sure-fire pasta or rice salads for picnics because they're easy to tote. But Francophile Ashford's recipes are more aspirational. They aim for gorgeous summer meals to wow your guests. They seem best suited for serving on the back patio or deck. Because they are so well-conceived, it's worth the time to shop for all the ingredients and prepare the food. The beautiful sandwich on the cover, for example, serves four and calls for a whole French cheese, half a roasted chicken, and a beautiful crusty baguette.
The strikingly simple recipe for tarragon lemonade cordial is one of our favorites. It's very spring-centric, since the first tender leaves of tarragon are always the best of the season. The publisher was kind enough to let us pass it on to you, provided that we kept the multiple measurements. The concentrated cordial can be diluted to make lemonade, but Ashford also suggests using it to spike iced tea. We're waiting for the thermometer to hit 90°F for her best suggestion of all: Mix two parts gin to one part lemonade cordial. Pour over ice and add a cucumber stick as a stirrer.
Le Picnic: Chic Food for On-The-Go by Suzy Ashford, Smith Street Books, Melbourne, $19.95. Here's the link to buy it on Amazon.com.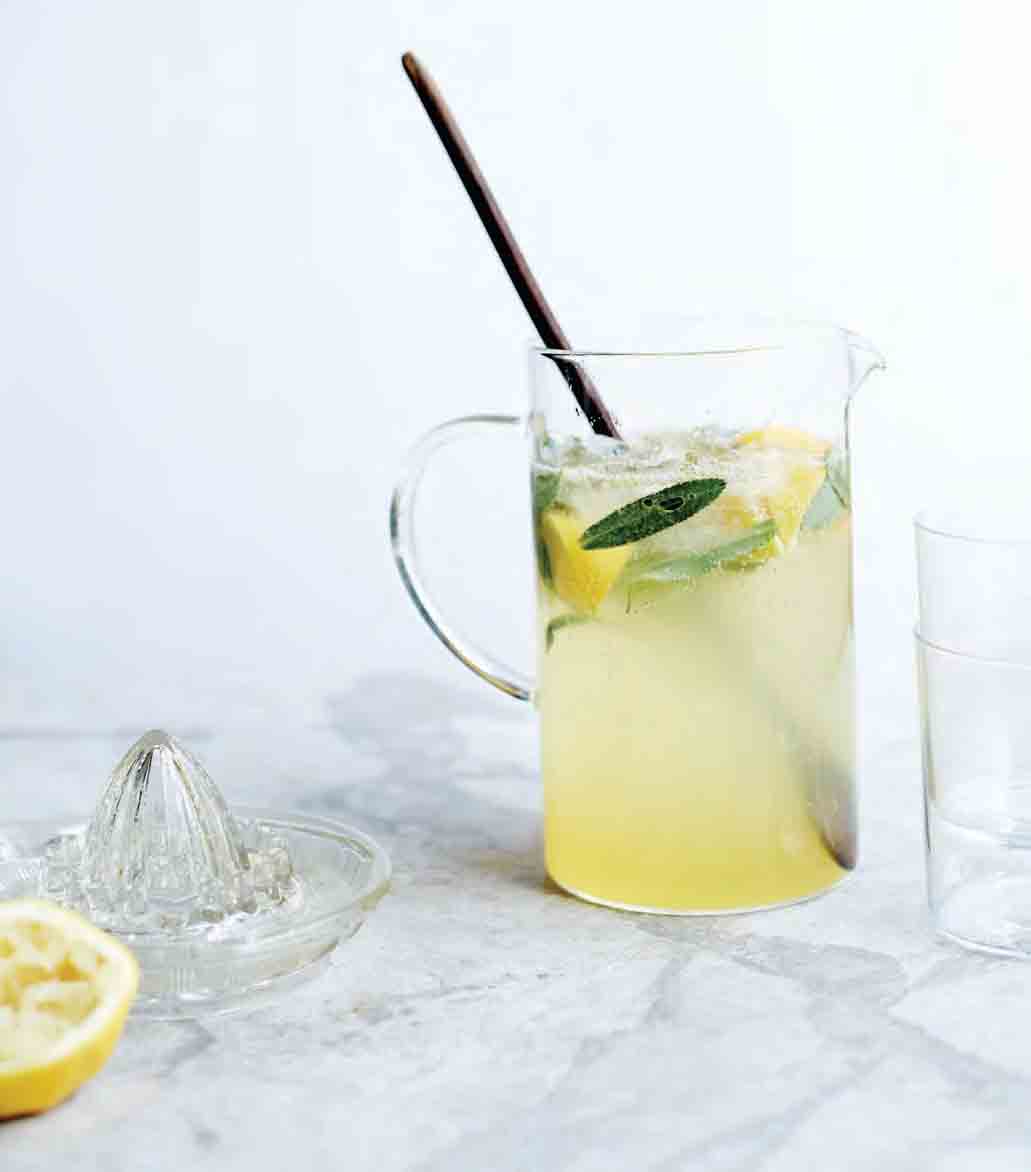 TARRAGON LEMONADE

Makes 450 ml (15 fl oz) cordial
230 g (8 oz/1 cup) caster (superfine) sugar
8 tarragon sprigs, leaves picked, plus extra to garnish
250 ml (8 fl oz/1 cup) lemon juice; you'll need about 5 lemons
chilled soda water (club soda), to serve
lemon slices, to garnish
Combine the sugar and 125 ml (4 fl oz/ 1/2 cup) water in a small saucepan. Cook over medium heat, stirring, until the sugar has dissolved. Remove from the heat, stir in the tarragon leaves and lemon juice, then leave to cool to room temperature.
Remove the tarragon leaves and pour the cordial into a sterilized bottle with a tightly fitting lid. Seal tightly and store in the fridge, where it will keep for up to 1 month.
To serve as a lemonade, simply combine 1 part cordial with 4 parts soda water. Garnish with extra tarragon sprigs and lemon slices.