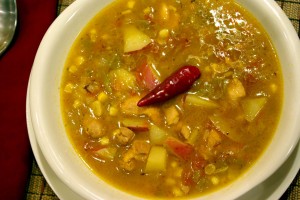 El Pinto Restaurant (10500 4th Street NW, Albuquerque, NM, 505-898-1771, www.elpinto.com) may seat up to 1,000 people at a time, yet the quality of the handmade New Mexican food belies the size. Maybe that's because it is a family restaurant run by the grandsons of Josephina Chavez-Griggs. Her daughter Katy opened La Posta de la Mesilla in 1939, and Katy's nephews Jim and John Thomas Meek ("the salsa twins") operate El Pinto. Many of their recipes, though, go back to Josephina. When I was there recently on a cold November night, the green chile chicken stew lifted both the chill and my mood. It's a perfect winter warmer and simple to make at home once you have the green chile sauce (see the recipes page or the post of November 19). Here's the recipe adapted from El Pinto:
GREEN CHILE CHICKEN STEW
Ingredients
1 tablespoon corn or canola oil
1/4 cup all-purpose white flour
1 quart homemade chicken stock
1 lb. boneless chicken thighs cut in 1/2″ pieces
3 cups (about 4 medium) red potatoes, scrubbed and cut in 1/2″ cubes
3 cloves of garlic, minced
1 recipe green chile sauce (2 cups)
1 1/2 cups whole kernel corn (fresh or frozen)
salt and pepper to taste
Directions
Heat oil in 1 gallon or larger Dutch oven. Blend in flour and make into a roux, heating and stirring until golden brown.
Whisk in chicken stock to make smooth sauce.
Add chicken. potatoes, garlic, and chile sauce. Bring to a boil; reduce heat and simmer about 45 minutes until potatoes are tender and chicken is very tender.
Add corn and bring back to a boil. Season to taste with salt and pepper. Serve with warm tortillas.
Serves 12.