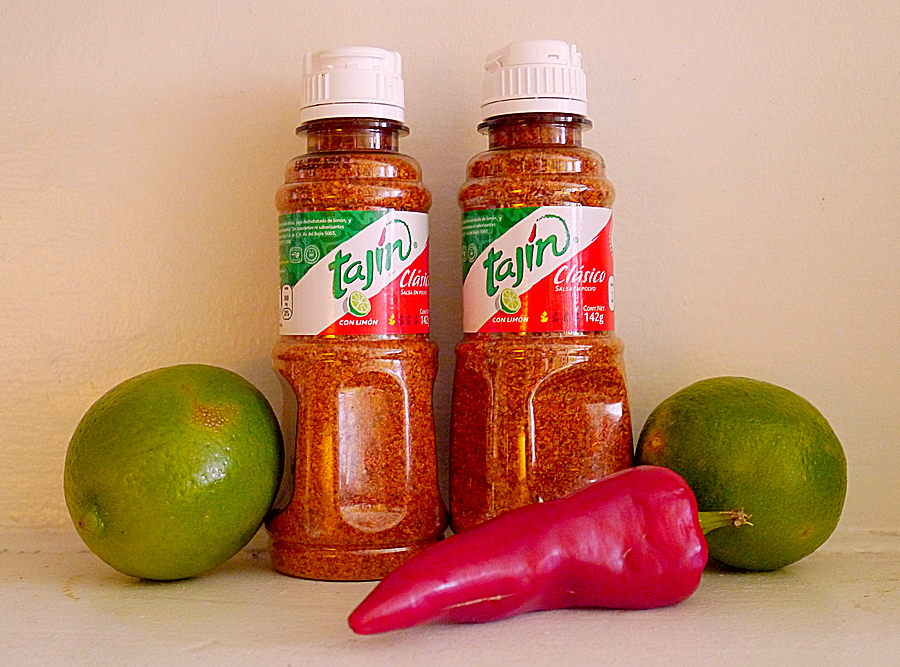 A bartender at the Occidental Cozumel resort in Mexico (occidentalgrandcozumel.com) introduced us to Tajín, the blend of lime, chile peppers, and sea salt that seems to be one of the country's favorite seasonings. It's produced in Zapopan from mild chiles grown in the region. The company aims for a mix with a lot of flavor and just enough heat to keep the taste buds alert. Tajín certainly did the trick rimming the glass of a cucumber habañero margarita.
The manufacturer suggests sprinkling Tajín on everything from marinated beef and vegetable skewers to chicken salad sandwiches and avocado ice cream. The web site (tajin.com) offers a recipe for the popular street food esquites. The concoction of corn kernels, cheese, chiles, cotija cheese, and mayonnaise is served in a cup as a less messy version of elote, or roasted corn on the cob slathered with all the same toppings. The Tajín recipe relies on canned corn. Honestly, it's probably pretty good for the minimal effort required.
Fortunately, esquites—and Tajín—are also popular in Los Angeles. Restaurant Salazar (2490 Fletcher Drive, Los Angeles, salazarla.com) in the Frogtown neighborhood shared its version of the dish with Alison Clare Steingold. It's one of the 100 recipes in her book The L.A. Cookbook (Rizzoli New York, 2018, $40). It's a good opportunity to see how a talented chef can put a new spin on on old classic—and to appreciate how much effort can go into even a simple dish. © The L.A. Cookbook by Alison Clare Steingold, photographs © Noah Fecks.
ESQUITES
MEXICAN STREET CORN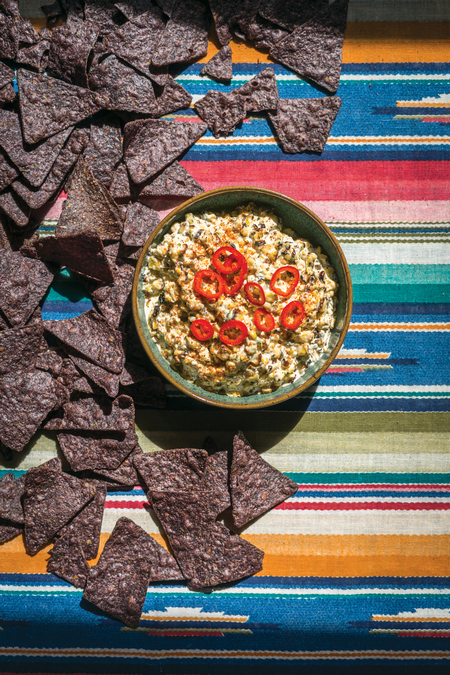 At Salazar, [owners] Edras Ochoa and Aaron Melendrez's mostly al fresco patio in Frogtown, this clever take on L.A.'s favorite street food—a freshly roasted ear of corn slathered in mayo, cotija cheese, and Tajín—is served stylishly off the cob as a creamy, smoky, lightly spiced dip. To avoid a gloppy consistency, use European-style as opposed to Greek-style yogurt. Check Latin American markets or farmers' markets for pungent fresh epazote, which doesn't have a great stand-in; you might see it labeled as wormseed, Mexican tea, Jesuit's tea, herba sancti mariae, or paico.
Do you know Tajín? Just as a Mexican flag is red, white, and green, Tajín blends chile powder, salt, and dehydrated lime in one delicious, ubiquitous condiment. A big bottle or handy travel-size shaker is a common sight. Equally at home rimming a michelada, sprinkled liberally on a fruity paleta, or here, Tajín is to Angelenos what Old Bay is to most Marylanders.
—Alison Clare Steingold

Serves 4 to 6
1 to 2 Fresno chiles
8 ears fresh white corn, shucked
6 ounces aioli or mayonnaise
4 ounces cotija cheese, grated
1 tablespoon sea salt, divided
2 tablespoons chopped fresh epazote
1/2 cup plain yogurt
1/4 to 1/2 cup mascarpone cheese (or crema, yogurt, sour cream, or crème fraîche)
1 teaspoon garlic powder
Tajín powder (or chile powder), for garnish
Stem and slice the Fresno peppers into thin rings or cubes, and set aside. (Remove the seeds if you are sensitive to heat.) Heat a grill. Place the corn on the grates and char until evenly blackened, about 25 minutes, turning the corn every 3 to 5 minutes. (If using a broiler, paint the corn with olive oil and place on a broiler pan under the broiler, rotating every 5 minutes for 20 minutes total.) Using tongs, transfer to a clean cutting surface and let cool enough to handle. Using a sharp knife, shave off the kernels, and transfer to a large bowl. Add the aioli, cotija cheese, 1/2 tablespoon salt, and half the epazote. Mix thoroughly until well incorporated.
In a small bowl, mix together the yogurt, mascarpone, the remaining 1/2 tablespoon sea salt (or to taste), and the garlic powder until you reach a creamy consistency. Add the mixture into the corn in small increments and mix well until the consistency is creamy but not gloppy—add according to taste; you may not need all of it. Transfer to a serving bowl and dust with the Tajín. Garnish with the Fresno chiles and the remaining epazote.