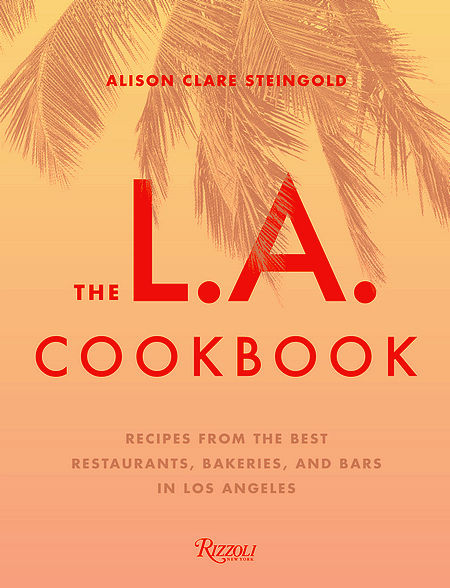 Reading Alison Clare Steingold's new book, The L.A. Cookbook , makes us want to eat our way through Los Angeles. Her compilation of 100 recipes from some of the city's best restaurants, bakeries, and bars includes everything from whitefish salad to black cod in miso, from adobo chicken with mole sauce to black-eyed pea falafel tacos.
Of course, you'll also find a great burger, fluffy pancakes, and a rhubarb-berry pie with a lattice crust. But the book is primarily a celebration of the international flavor of the L.A. dining scene. We don't have a California trip in the works right now, but we were happy to find new uses for a couple of culinary ingredients that we've brought home from recent travels.
Earlier this year, we wrote about how charmed we were by Béatrice, who sold us culinary lavender at the farmers' market in Aix-en-Provence. She gave us a number of ideas for adding a hint of lavender to sweet and savory dishes. A little goes a long way, so we've still got a good supply. Béatrice never mentioned lavender lemonade so we were happy to discover this perfect summer drink in Steingold's book.
It's courtesy of chef Kevin Meehan of Kali restaurant in Hollywood (kalirestaurant.com). The restaurant blends Meehan's fine dining experience in other kitchens with his popular pop-up dinner events for the perfect California combination of great food in a casual setting. The native Long Islander boasts an east coast pedigree—an education at Johnson & Wales in Providence, R.I.—but two decades on the left coast has made him a champion of California flavors. Meehan's lemonade is a good example of how a little tweak to an old standard can make a big difference. We'll be thinking of other uses for our lavender as it heats up here in New England. In the meantime, here is Meehan's recipe. © The L.A. Cookbook by Alison Clare Steingold, photographs © Noah Fecks.
LAVENDER LEMONADE
Plain lemonade is for suckers! This elegant refresher on Kevin Meehan's midsummer menu is redolent of Ojai's rolling purple fields, just outside of L.A. While fragrant lavender overwhelms more subtle flavors, lemon is a worthy partner. Judicious use of culinary lavender—which is additive-free, uses sweeter varietals, and increases in potency as it dries—will steer this cooler away from sachet territory. The method for crafting lavender syrup here can be exchanged with most herbs. Imagine the possibilities: rosemary, lemon verbena, lemon balm, Thai basil, bergamot . . .
—Alison Clare Steingold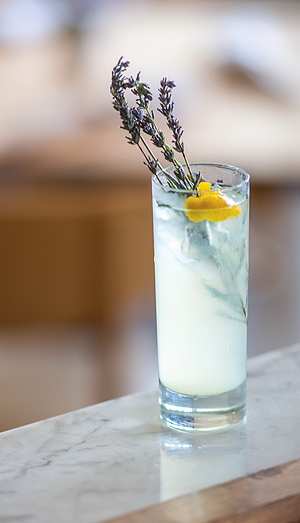 Makes approximately
1 quart lemonade, plus additional lavender syrup
1 cup sugar
4 cups water
1 heaping tablespoon culinary
lavender, roughly chopped
1 cup fresh lemon juice, or to taste
Lavender sprigs, for garnish
Combine the sugar, 1 cup water, and the lavender in a small saucepan and bring to a simmer over medium heat. Once the sugar has dissolved (it'll be tough to see with the flowers, so give it a taste to feel for any sugar crystals on your tongue), turn off the heat and allow the syrup to cool, then strain into a bottle. In the refrigerator, the syrup will keep for up to 1 month.
Pour the lemon juice and the remaining 3 cups water into a pitcher. Add lavender syrup to the desired sweetness, taste, and adjust the acid with more lemon juice as needed. Stir and pour over ice to serve. Garnish glasses with a sprig of fresh lavender.