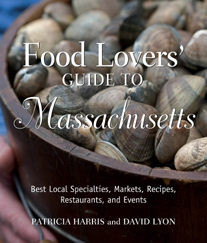 Please forgive the shameless plug, but the second edition of our locavore book, Food Lovers' Guide to Massachusetts, has just been published by Globe Pequot Press. We love researching the farmstands, restaurants, bakeries, fishmongers, chocolatiers, and cheesemakers that are featured in the book. Food people are some of the nicest and most generous folk in the world, and they remind us that we don't have to go to exotic locales for wonderful tastes. We are already at work on the next edition.
Of all the great places in the book, Tower Hill Botanic Garden (11 French Drive, Boylston, MA 01505, 508-869-6111, www.towerhillbg.org), home base of the Worcester County Horticultural Society, is one of the best places to learn about New England heirloom apples. The society maintains one of the most comprehensive collections of New England heirloom apple trees in its orchard and even sells scions for grafting in the spring.
Ironically, the delicious recipe that Cecile Collier, chef at the botanic garden's Twigs Cafe, shared with us for Food Lovers is for blueberry bread pudding. Craving a little taste of summer, we made one this week with our last cup of frozen berries.
With apologies to Massachusetts, we confess to being Maine wild blueberry chauvinists. David grew up in coastal Maine, and spent many backbreaking summer days raking wild blueberries for the local cannery. We're both convinced that the flavor of one tiny wild blueberry is greater than the flavor of a half dozen larger cultivated berries. So during the brief season from late July into mid-August, we drive up to Maine and buy them from enterprising pickers who sell along the side of Route 1. What we can't eat immediately, we save by spreading them in a single layer on a baking sheet and freezing. Within an hour they're ready for heavy-duty freezer bags. When we pulled them out six months later for this recipe, they were as tasty as they were in August.
BLUEBERRY BREAD PUDDING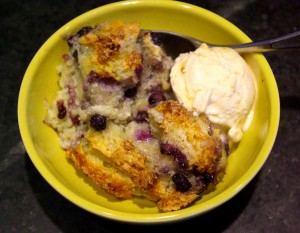 Ingredients
4 eggs
2 cups half-and-half
1/4 cup milk
3/4 cup plus 2 tablespoons granulated sugar
1 tablespoon vanilla
7 to 8 slices of stale bread, crusts removed
1 cup blueberries
Nutmeg to taste
Directions
1. Preheat oven to 350°F. Combine and blend eggs, half-and-half, milk, 3/4 cup sugar, and vanilla.
2. Tear up bread and mix with blueberries. Place in a 9-by-5-inch bread pan. Pour egg mixture over bread and berries in pan. Sprinkle with nutmeg and 2 tablespoons sugar.
3. Place loaf pan into a larger baking pan that has been filled halfway with hot water. Bake for 60-75 minutes, until pudding is set and top is browned.
4. Serve pudding warm, pairing each dish with a small sidecar of vanilla ice cream.
Serves 4.