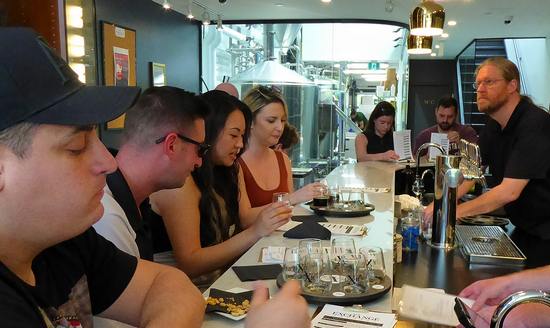 The craft brewing scene on the Niagara peninsula is, appropriately enough, fluid. Small breweries pop up in every town and their styles range from simple session ales to extreme brews. We stopped in to taste one of the newest and most experimental—Exchange in Niagara-on-the-Lake—as well as one of the pioneer craft brewers, now operating as Syndicate Restaurant and Brewery in a newly gentrifying neighborhood in Niagara Falls.

Exchange Brewery
Shiny black walls, shiny black bottles, and a marble bar immediately signal that Exchange Brewery (7 Queen St., Niagara-on-the-Lake; 905-468-9888; exchangebrewery.com) is not exactly a suds-soaked beer bar. The brewery and tasting room in the Old Town heritage district strike a sophisticated urban tone in striking contrast to Oast's aw-shucks country brewery image. The building was the town's first telephone exchange, which explains the name and the fixation on naming each the beers with a numeral or symbol found on the phone keypad or dial.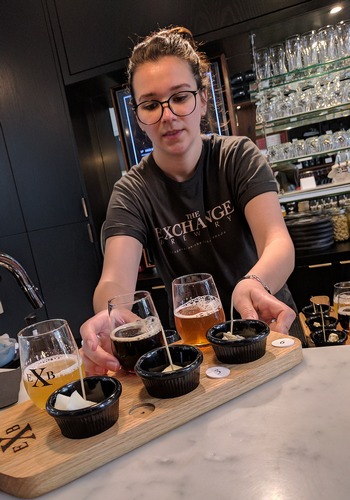 Exchange was founded in 2016 by Robin Ridesic, a management consultant with a passion for sour beers and hoppy IPAs. She brought on a team of professional brewers to execute a wide range of beers. (Exchange made more than 30 different beers in its first year.) Those bottled with a symbol have been aged in oak wine barrels, those with a number matured in stainless steel. Ridesic chose 750 ml. Prosecco bottles for all the beers because the glass is manufactured can withstand the pressure of carbonation.
As the brewery finds it niche, it has come to focus increasingly on barrel-aged beers. The # Witbier, for example, spends three months in Hungarian oak. Head brewer Sam Maxbauer combines malted and raw wheat with orange peel and coriander in the beer. The Exchange strain of house yeast contributes nice pepper and clove notes as well. The popular Belgian Golden Ale spends two to four months in used Chardonnay barrels.
The tasting room offers eight lines on tap drawn directly from the brewery in the back of the building. In addition, there's usually a cask-aged ale of one sort or another (frequently a sour). Flights are available as well as a very nice cheese and beer pairing board. Shown above, it includes three cheeses with three complementary beers and crostini.
Brewery tours are available on the weekends.

Syndicate Restaurant and Brewery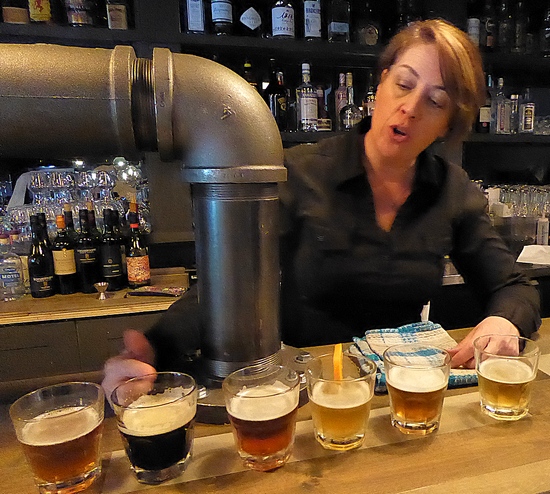 There's a tangled story behind Syndicate, but the most important thing for a beer-lover to know is that it descends directly from Taps Brewing Company. Founded in 2004, Taps was one of Niagara's pioneer craft breweries. The building of the Niagara Falls flagship of Syndicate Restaurant and Brewery (6863 Lundy's Lane, Niagara Falls; 289-477-1022; syndicaterestaurant.ca) also contains Niagara Falls Craft Distillers (289-681-0124). The salesroom on the ground level sells the beers and spirits, while the pubby restaurant upstairs serves some unusual grub for a drinking establishment. (Think duck gravy poutine, fresh pasta stuffed with truffles, or dry-aged beef steaks.) The beers tend toward food-friendly familiar styles—an IPA, a fullsome lager, a crisp rye pale ale, and a porter or two. The brewery makes several house beers for other restaurants as well.

In the spirit of things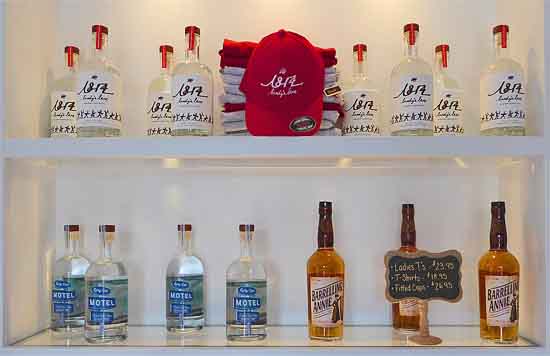 The distillation business started up in early 2017. All the liquors are beer based. As assistant brewer and distiller Mike McCormack explained to us, he brews a high-alcohol beer (about 10%) from roughly equal parts rye and barley, and pumps it over to the distillery side for distillation in a fractional column still. The Barreling Annie rye whiskey aims to pull through most of the aroma and flavor of the grain while the clear spirits (Lucky Coin Motel Vodka and 1814 Lundy's Lane Gin) are double-distilled to make the spirit as neutral as possible. McCormack and head distiller Chris Jeffries are experimenting like mad. They are aging whiskey in three-liter barrels to see if the small format can accelerate the marriage of spirit and wood. (Yes, it does.) And they are crafting a heady absinthe with a swirling world of botanicals in addition to the classic anise and wormwood. We tasted and felt it had just the right balance of aromatics and alcohol. Despite being clear, it had the characteristic cough medicine quality of historic versions of the green fairy. So far, no date is set for release.


For an overview of attractions, restaurants, and lodging on the Niagara Peninsula, see Visit Niagara (visitniagaracanada.com).