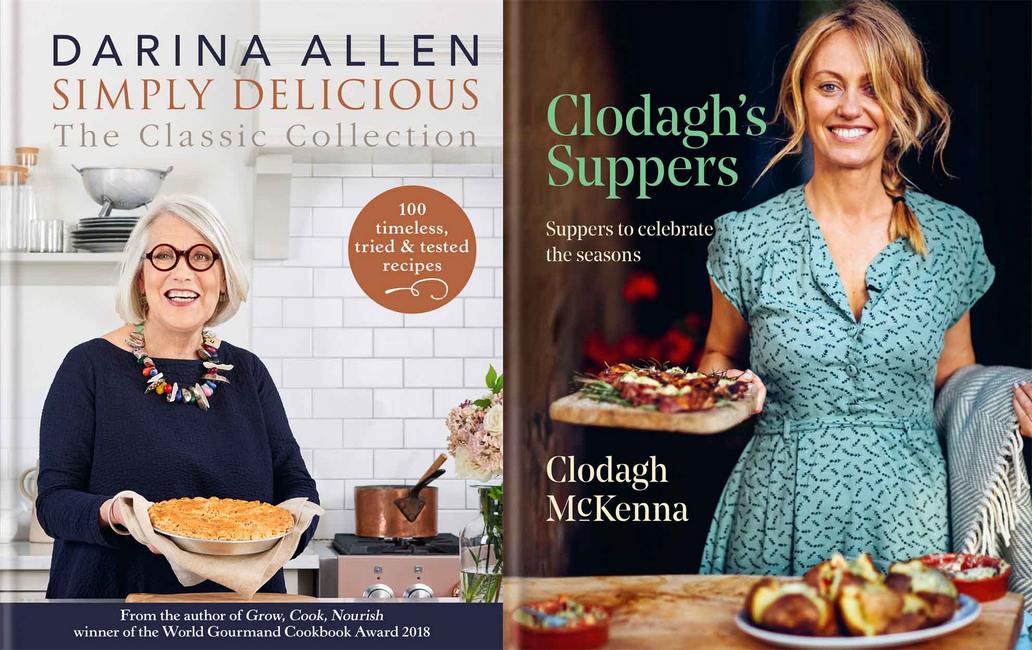 No corned beef and cabbage for us this year. As we were contemplating a lighter meal to celebrate St. Patrick's Day, we turned to two new cookbooks by great Irish chefs. We've written before about Darina Allen, the cookbook author and co-founder of the Ballymaloe Cookery School, which is located on an organic farm in County Cork. Her new book, Simply Delicious: The Classic Collection (2019, Kyle Books, $29.99), gathers some of her favorite recipes from her television cooking show and cookbook series of the same name.
The 100 recipes illustrate Allen's love of traditional Irish cooking as well as her enthusiasm for cuisines around the world. They represent her straightforward approach to creating good, flavorful food. We have to admit that we were initially drawn to her recipe for Green Pea Soup by its beautiful, fresh color in the photograph in the book. We thought it would make a lovely dish for a light St. Patrick's Day lunch. It would also remind us of the promise of spring as we made our way through the dreary days of March. Unfortunately, it's a little early in our part of the country for fresh green peas, but Allen advises that good-quality frozen peas also create a beautiful, tasty dish.
We found a good bread to accompany that soup in another new book, Clodagh's Suppers by Clodagh McKenna (2019, Kyle Books, $24.99). McKenna, a cookbook author, television personality, and chef/owner of Clodagh's Kitchen in Dublin, also trained and worked at Ballymaloe. Like Allen, McKenna celebrates the food traditions of her native Ireland while embracing global cuisines. Both women also share a deep appreciation of the power of food to bring people together. In fact, McKenna literally asks her guests to break bread around the table. It's usually her Rosemary Clodagh Bread, a rustic variation of traditional Irish soda bread. It was just right with Allen's soup.
Allen and McKenna kindly allowed us to share their recipes. Both recipes are courtesy of Kyle Books. The soup photo is by Peter Cassidy, the bread photo by Dora Kazmierak,
GREEN PEA SOUP WITH FRESH MINT CREAM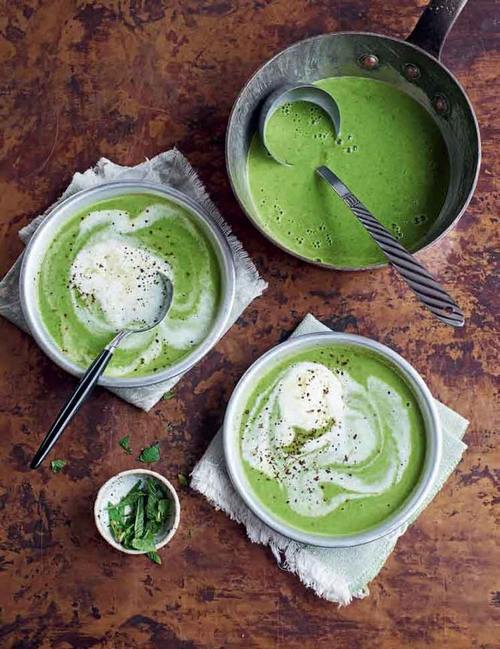 Serves 6–8
This soup has the quintessential flavor of summer. If you can get beautiful fresh green peas, use the pods to make a vegetable stock as a basis for the soup. Having said that, best-quality frozen peas also make a delicious soup. Either way, be careful not to overcook.
This soup may also be served chilled in smaller portions. It can be enjoyed unblended but the flavor is more intense when pureed. To serve, put a few fresh peas and pea shoots into wide soup bowls. Put the soup into a pitcher—each guest then pours the soup into their bowl themselves.
1 ounce Irish bacon or lean ham
1 tablespoon salted butter
2 scallions, green and white parts, chopped
outside leaves of 1 head lettuce, shredded
1 mint sprig, plus freshly chopped mint to garnish
5 cups light homemade chicken or vegetable stock or water, boiling
pinch of granulated sugar
1 1/2 pounds fresh or frozen green peas
2 tablespoons heavy whipping cream, or to taste
sea salt and freshly ground black pepper
whipped cream, to garnish
Cut the bacon or ham into very fine shreds. In a saucepan, melt the butter and sweat the bacon or ham for about 5 minutes. Add the scallions and cook for another 1 to 2 minutes. Next add the lettuce, mint sprig, and boiling stock or water. Season with the sugar, salt, and pepper. Return to a boil with the lid off, add the peas, and cook until they are just tender, 3 to 4 minutes.
Using a blender or food processor, blend the soup until smooth and add the whipping cream to taste. Serve hot or chilled garnished with a spoonful of whipped cream and some freshly chopped mint.
If this soup is made ahead, reheat uncovered and serve immediately. It will lose its fresh taste and bright lively color if it sits in a bain-marie or simmers at length in a pot.
VARIATIONS
Pea & Bacon or Chorizo Soup: Add a few tiny crispy bacon or cured Spanish chorizo pieces as a garnish.
For a vegetarian version: Use vegetable stock and omit the bacon, ham, or chorizo. For a vegan version, use extra virgin olive oil instead of butter and omit the cream too.
ROSEMARY CLODAGH BREAD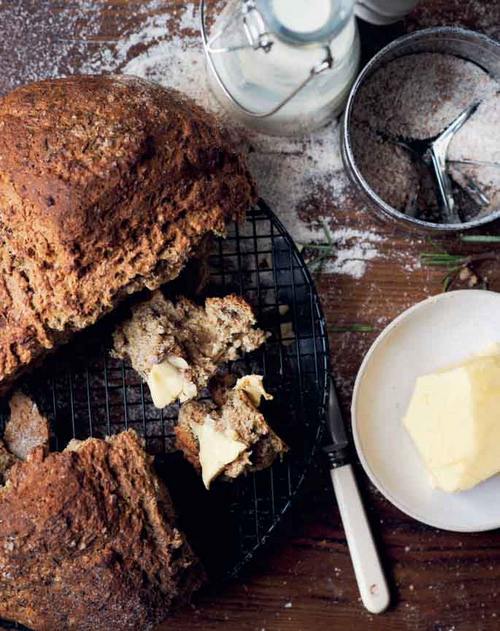 Makes 1 loaf
No matter which supper I am cooking, I always serve this bread in the center of the table and I ask my guests to break the bread with me. This is a big tradition in my home; for me, it symbolizes the beginning of the supper, a shared and peaceful offering. It is a very simple bread to make because there is no kneading or resting involved. It's a take on the traditional Irish soda bread—it's wholesome and crumbly but doesn't leave you feeling bloated like yeast breads can. It takes 20 minutes to prepare and then it's straight in the oven.
1 1/2 cups bread flour, plus extra for dusting
2 teaspoons baking soda
3 cups whole wheat flour
2 tablespoons finely chopped fresh rosemary
1 teaspoon sea salt
1 1/2 cups milk
1 cup plain yogurt
milk and yogurt mix, for brushing
Preheat your oven to 425°F.
Sift the white flour and baking soda into a large mixing bowl and stir in the whole wheat flour, one tablespoon of finely chopped fresh rosemary, and the sea salt. Using clean hands, mix the dry ingredients together to make a well in the center of the bowl.
Whisk together the yogurt and milk and slowly pour into the well of the dry ingredients. Use your free hand to mix the dough lightly, spreading your fingers far apart. Make sure that there are no dry patches and that the dough is completely wet.
Pat your hands with flour and shape the dough into one round. Place on a floured baking sheet. Flour a large knife and cut the shape of a cross into the top of the dough about two-thirds of the way through.
Brush the round of bread with the milk and yogurt mixture using a pastry brush—this will give a lovely golden color to the bread once baked—and sprinkle the remaining chopped rosemary on top.
Bake for 25 minutes, then reduce the heat to 350°F for another 25 minutes. To test whether the loaf is cooked, tap the bottom with your knuckles; it should sound hollow. Let cool on a cooling rack.